Charles Gregg Weferling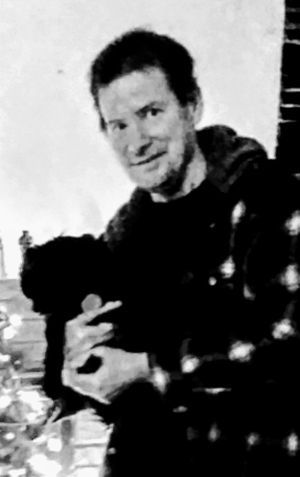 Charles Gregg Weferling, known to his friends as "Greg", passed away at the age of 59 on December 14, 2019 in Seattle, Washington.
Greg was born in Wilmington, Delaware on April 6, 1960 to Charles A. "Bud" Weferling and Nancy J. (Miller) Weferling Hornick and was the youngest of three children from that union.
Greg lived in Delaware, Florida, New York, Texas, Idaho and for the last eleven years he called Seattle, Washington his home.
Greg first worked as a window glazier at his stepfather's company.  He also worked for QFC and Safeway, where he became Deli Manager.  While living in Bellevue and Seattle, he worked at an assisted living facility and became a home care worker for four years. Greg made friends easily and enjoyed helping people.  In his life, he struggled with addictions to smoking and alcohol. Later, Greg was a great support to others fighting addiction. He made a difference in the lives he touched.
In March of 2011, Greg was diagnosed with small cell cancer.  He endured five surgeries and showed incredible strength during his long battle against this disease.
Greg was preceded in death by his parents.  He is survived by sisters Cheryl Weferling of Richmond, Virginia, Debbie Weferling of Houston, Texas and nephews Sean and Daniel Wade, Brother Chad Hornick (Kathleen) of Glen Allen, Virginia and nieces Stella, Siena and Vivian. Aunts Sandy "Sam" Miller of Hope Sound, Florida, Joan (Bob) Vardaman of Port Orange, Florida and Trudy Mallonee of Lancaster, Pennsylvania.Cousins Ann Mallonee Gordon of Falls Church, Virginia and Bill (Sheila) Mallonee of Eugene, Oregon.
Greg was ever so grateful for the love, friendship and support he received from his best friend, Teresa Shields of Seattle, Washington.
Greg will be greatly missed by his sisters, extended family and friends.  He will always be remembered for his kind, giving heart and his wonderful sense of humor. Greg was a huge animal lover, especially of cats.  Memorials may be made in Greg's honor at www.houstoncaresrescue.org
 
---
Comments
---
I met Greg one time and could tell right away what a nice person he was.
Debbie (my sister-in-law), Cheryl, Chad and Teresa are heartbroken. He will be missed. Rest in peace, Greg
Cindy & John Wade
---