Charles Kenneth Terrill
March 17, 1951 - October 20, 2017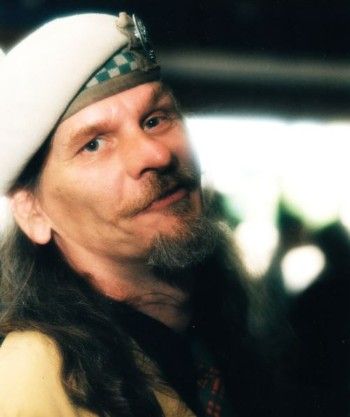 On October 20, 2017, Charles "Chuck" Terrill went end of show, as they say in the circus. He died peacefully surrounded by friends and family.
Chuck was a soldier, a sailor, a circus hand, a raconteur and a flaneur. He was born March 17, 1951, in Detroit to Lena Nelle McMinn and adopted by Carolyn and Kenneth Terrill of Sebewaing, Michigan. 
He grew up on the family farm and enlisted in the U.S. Army in 1969. He served three tours of combat in Vietnam, his first with the Big Red One 1/5 Bravo Battery, where he rose to the rank of E5. His wartime experiences made him a lifelong progressive who believed the Constitution protects all citizens, not just the powerful. In the early 1980s, he worked with the Vietnam Veterans Leadership Project (VVLP). He was chosen by Senator Slade Gorton as an official state representative to the dedication of the Vietnam Veterans Memorial on November 13, 1982.
After the war, Chuck traveled the country working in bars and oil fields, and on boats in the Gulf of Mexico. In the late 1970s, he found a passion for the circus and traveled for several seasons with Carson and Barnes and Kelly Miller Bros. circuses. He also worked one season with the red unit of Ringling Bros. and Barnum & Bailey circus.  
Chuck moved to Seattle in 1980 to see Mount St. Helens erupt and, with the exception of one year in northern California, never left. Throughout his life here, he bought, sold and collected antiques and weirdabilia. He and his partner, the late Roger Hinen, spent nearly 20 years on the hunt up and down the West Coast. Few things delighted him like a good "find." He had a wealth of knowledge on a wide range of topics and was generous in sharing what he knew. 
In 1986, he traveled to North Carolina to meet his birth mother Nelle and his younger brother William "Bill" Goniwicha. His mother died in 2004. His warm relationship with his brother continued until Chuck's death. He often said that becoming part of his birth family completed him.
He is survived by a large circle of friends and a devoted family of choice, including Irene Svete, his wife of 29 years. Other survivors include his birth brother William Goniwicha and his wife Patricia; nephew and namesake Charles "Tony" Goniwicha, his wife Wendy, and their daughters Haley and Taylor; niece April Davis and her husband, Ryan; and two goddaughters, Lydia Noyes and Gretta Collins. He is also survived by his son Andrew Terrill and his adopted brother Clarence Terrill, his wife Judith and their children, John and Colleen.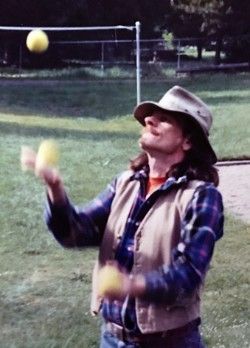 A memorial will be held November 10 at 4:30 p.m. in the West Hall of the Century Ballroom (915 E Pine St, Seattle, WA 98122). In lieu of flowers, the family asks that donations be made in his honor to the American Civil Liberties Union (https://tinyurl.com/ACLUmemorials). 
"And did you get what
you wanted from this life, even so?
I did.
And what did you want?
To call myself beloved, to feel myself
beloved on the earth." 
 -- Raymond Carver, Late Fragment
---
Comments
Our condolences to Irene and friends. I am so thankful we got to meet and become so close. I will miss our Sunday chats on racing. I'll never forget our times together especially the trip to NASCAR Hall of Fame. I Love and miss you Chuck.
William Goniwicha
---
I never got to meet you but my mother talked of you often ( your aunt Delores Podeski ) May you Rest In Peace , Bill Goniwicha is also my cousin , Prayers to all the family of Chuck and my thoughts and prayers are with you all Lillian Raymond (Dyer)
Lillian Raymond Dyer
---
Our thoughts and prayers are with you Irene and everyone that knows and loves Uncle Chuck. It was such a blessing to have Uncle Chuck in our family. I will always treasure our time together, especially our DC trip and visiting Seattle. I will love and miss him always.
- Auggie (April) Davis
---
Sending prayers to your family. We never got to meet from your cousin Pamela Young Prince and family.
Pamela Prince
---
Chuck, chuck - you were like no other! Part big bear, part soft-bellied kitten. Fierce and tender. One of the big souls. You are loved.
Leah Kohlenberg
---
We met Chuck in the 1980s through his cousin Ken Terrill. He was known as Chesney then
We invited him to join our exclusive club, the Bull Lee Club. His initiation feat was to "Streak McDonald's".He willingly obliged
He was definitely"one of a kind" and heaven will never be the same.
    
Màureen and Steve Roeder, San Diego, CA
---
Chuck was my dad and was one of the most interesting people I've ever met in my life. Though I didn't get to know him as well as I wanted to or wished I could have I was trying to build a relationship at the end with him again what after I came back from the Army. I only got to meet him a handful of times in my life and though I love him I wish I could have been in his life more. I'm so glad he had reached out and was glad to get in contact with me at different points in my life. He helped me through some very hard times even recently I love him and he will be missed.
Andrew Terrill
---
Our prayers go out to Irene in her time of loss. Sad to say i never met my father in law , Chuck , but he sounds like a gem. My husband must get his fiesty and fun spirit from his dad. Susie
    
Susie Terrill
---
From early on Chuckles marched to the beat of a different drummer. I recall several incidents from his youth but one of the most notable was when he was about 6. Carolyn caught him putting a cat between two boards. When asked what he was doing Chuck seriously replied that he was preparing to test the tensile strength of the cat. Who knows where he came up with that at the tender age of six. Chuck and I were close throughout his life. His unique wit & perspective will be missed by myself and many others.
Bon Voyage Chuckles, where ever you land will never be quite the same.
    
Ken Terrill
---
R.I.P. "Lizard", remember the Cornerstone days
Tim Smith, Sebewaing MI
---