James Harold Weber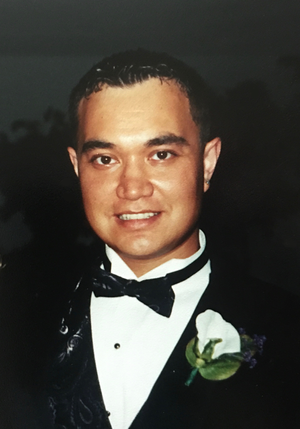 James Harold Weber was born October 11, 1971 in Nausori, Suva, Fiji. He was the firstborn grandson of Semesi and Garisau Samuela of Rotuma (South Pacific Islands) and Harold and Lorraine Weber of Missoula, Montana. On July 12, 2020, James passed on to the house of the Lord in the arms of his youngest brother, Paul Weber, surrounded by family at Virginia Mason in Seattle, following a short and mighty battle against pancreatic cancer. The song, "I'll Fly Away," sung by Gillian Welch and Alison Krauss was playing in the background.
As a descendant of a chiefly Rotuman family, James exemplified many qualities associated with the people of the small Polynesian island. Fierce strength, intelligence, abundant hospitality and unwavering loyalty to family and friends - James was one of our very finest. He spent his first years at the Colo-I-Suva Forestry Reserve where his family lived while his father, Gerard Weber was serving in the Peace Corps. His curiosity and love of the natural world blossomed in his early days exploring the forest with his mother, Lusie Manao Samuela Weber and his aunties and uncles. 
When James was a toddler, the Weber family moved to the United States. His early years were full of adventure with his brother Ian and his sister Liz - they were inseparable. They spent many hours together on the family's small farm in Stevensville taking care of the farm animals, swimming in the creek and even sledding with their pig, Petunia. The family later moved to Missoula where James graduated from Hellgate High School in 1990. He built a name for himself with his strength, athletic ability, hilarious wit and unwillingness to back down to bullies. He enjoyed hunting with his Dad and brothers, and night fishing with the family at Georgetown and Hauser Lakes. James was later drawn to the mountains, the ocean and diversity of the Seattle area where he lived for 22 years.
James will be remembered for his indomitable spirit and work ethic. He worked his way up from cleaning the meat department at Tidyman's in Missoula to eventually becoming a journeyman meat cutter and department manager at Haggen in Woodinville. As a manager, James was respected and loved. He took joy in leading his staff and helping them grow, while having fun at work. He was a great boss. 
Over the years, he dedicated himself to speaking Spanish and learning how to cut meat for different ethnicities because he could see the sadness in the eyes of customers from other countries who came to the meat counter and did not see what they were looking for. He felt that if he could learn their customs and cut meat according to the traditions of many different ethnic groups, he could use his expertise to help give people a taste of home, a taste of comfort amid their isolation in America. 
The same strong hands that hauled large frozen slabs of meat and cut them delicately with care for 30 years also lifted up his 9 beloved nieces and nephews. His amazing way of creating fun from thin air and lighthearted approach to life is already terribly missed. For many who have met James, he will go down in history as, "The funniest person I ever met." James had a great voice, loved to sing and knew the words to hundreds of songs. 
Against the odds, James survived six Hail Mary surgeries in seven weeks, as he wanted to swim in the ocean, see a full sunset, and to sing and laugh with family and friends…one last time. Before and after every surgery, he thanked Jesus for walking with him and he gave credit to everyone's prayers for pushing him over the line. His deep well of faith is a comfort to those mourning.
His final words to his sister Kathy were, "Thank you. I love you." As the eldest, James always protected his younger siblings. He was always the first to jump in the water. James was the king of the mountain. He shared that same kindness and care with everyone he met. He fought for the underdog. He was self-sacrificing and made everyone he encountered feel special. Even as the man in the arena in a hard-fought battle against cancer, he expressed constant concern for others. 
He is preceded in death by his loving mother, Lusie Manao Samuela Weber. Like so many brave things James was willing to do first, we are grateful he is the first to hug our mother. For this gift, and for his enduring generosity of spirit, we say to James, "Thank you. We love you."
James is survived by his close friend of 28 years, Matthew Helfrich, with whom he shared his hopes, dreams and most of his life. He is also survived by his best friend, Jason Trimble. Jason and James planned to grow old together and had many trips planned to Hawaii, Trout Creek, Montana and the Oregon coast. The family would like to thank Jason, Matthew and dear friend Matthew Valgenti for their love and care for James over the years.
James is also survived by his father Gerard Weber (Missoula); brother Ian Weber (Dawn, Jacki, Matthew, Abigail, Anna); sister Elizabeth Schulz (Zephaniah, Emmett, Daniel, Jenna, Colter); sister Katherine Weber-Bates (Joe, Isalei, Kavika); and brother Paul Weber (Missoula).
In lieu of flowers, the family requests that you consider sharing unconditional love as James did so freely. Please also consider a donation to your local blood bank. And, the next time you swim in the ocean or see the sunset, you might consider sharing a moment of gratitude in honor of our dear James.
A private memorial will be held in Seattle August 15, 2020.
---
Comments
Such a beautiful obituary for a wonderful man. We always enjoyed his peaceful aura, humility, humor, and incredible smile.
    
Chris Weber
---