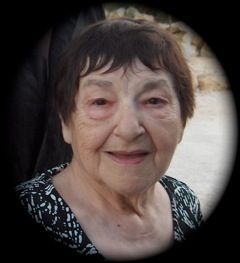 Constance ("Connie") Marie Carroll (nee Manzella)
September 11, 1927 – June 13, 2014
Born in Brocton, NY, on September 11, 1927, Connie Carroll left us on Friday, June 13th, after giving more than 86 years of grace, humor, kindness, and love to those whose lives and hearts she touched.   
Though born in small town in western New York State, and raised in a sweeping rural landscape, from a very young age, Connie was focused on an adult life in "the city."  So, upon her graduation as salutatorian from Brocton High School, she moved to Dunkirk, NY, where she began her in secretarial studies, and found work as a medical secretary at the Veteran's Administration.  And city life suited her well, for it was in Dunkirk that she met her one true love, Bob, set up on a blind date by mutual friends.
 
Connie was not quite ready to settle down, though, so it was only after six years of romancing and wooing, that Bob was able to get her to "Yes," and the two were wed in early 1951.  To many, they seemed an unusual match, he the only child in a classically stoic family of Scotch-Irish Pennsylvanian Protestants, and she a first-generation American in an expansive – and highly expressive! – family of Sicilian-American Catholic immigrants. But perhaps it was this attraction of opposites that cemented a romance and love, that endured until Bob's death, and beyond.  In fact, in the years following Bob's passing, when asked about the possibility of dating, Connie would set cock her head, and wistfully state with a girlish smile,  "When you've had the best, to hell with the rest!" a sentiment that she held firmly until the end of her life. She had known great love, and to those who would listen, she would pass on her best advice to ensure a long and happy relationship: love each other and trust each other, be kind to each other, realize that it is more important to agree and say "yes, dear" than to set your heels and be "right," and NEVER go to bed angry.
In December of 1951, Connie & Bob had their first son, Dennis, truly her best Christmas present ever, she would say. Together, this young family made a life in Kenmore, New York, on Coventry Road.  Although they had wanted more children, Dennis remained an only child until his 12th year, when Rob was born, a happy surprise, but certainly an adjustment for Connie, who was suddenly thrust back into the world of formula and diapering!
With a newborn and a pre-teen to manage, Connie had her hands full.  But she loved every minute of it, and motherhood suited her well, a role she cherished until the end.  Blessed with a keen intelligence and life-long quest to learn more, Connie chose to eschew a "work world" career, and instead focused her skills, energy, creativity, and dedication to making a home and nurturing her family.  
And she never regretted that choice.  Moreover, she welcomed new challenges and continued to open her heart – and home – to family members who needed her support, watchfulness, and loving care.  When her own mother – "Ma" – could no longer manage life on the farm in Brocton, Connie and Bob brought her to Kenmore, where she lived until her  99th year.  And later, in 1993, following Bob's death, Connie relocated to Rochester to live with Dennis and his family.  After a year alone in Kenmore, she loved being back around family, working her magic in the kitchen, and helping watch over her young grandson Alex.  As he entered elementary school, she became a daily touchstone for Alex, and their relationship grew and remained strong for the remainder of her life.
When Alex had grown up a bit, Connie decided to try a new adventure, and headed West, to join Dan & Rob in Seattle.  Over the years, she had developed a loving network of strong friends in Seattle, so her life there was filled with excitement and new escapades.  And though she relished her independence in her apartment at Rob & Dan's house, she became a welcome and joyous addition to their family.  Connie loved to cook, and in Seattle, owing to the eclectic tastes of "the boys," she learned to cook Asian and Greek foods, though her greatest (Italian) satisfaction came from making a fresh pot of tomato sauce, a hearty kettle of chicken soup, or a special pan of eggplant parmesan.
In addition to her love of family and friends, Connie had a wide range of interests that often surprised those around her, including fashion and style.  She was a Chico's girl to the end, and knew the impact of a good haircut, new manicure, and assertive swipe of a deep red lipstick!  She also loved learning about science and health, and frequently started a conversation with a conspiratorial "Well, Dr. Phil had quite the show today…" or an enlightening "Wait 'til you hear what Dr. Oz had to say about …"
Foreign lands and travel intrigued her, and she was always game for a new adventure.  With Bob by her side, she enjoyed her summer trips to Cape Cod, visits with family outside of Kenmore, and trips to North Carolina, Houston, Atlanta, and Portland, OR.  Sadly, she didn't get to travel with Bob as much in retirement as she would have liked.  However, before she left us, she happily joined family and friends to visit such far-flung destinations as Wallowa Lake and Arch Cape, Oregon, New England and Quebec (with her sister-in-law Arlene) and Hawaii (with Dan's mom Darlene  and grandmother Laura). She also enjoyed a cruise to Alaska with "the boys," Laura, and Alex, and celebrated her 80th birthday with a trip to Rome and Sicily with Alex, Margaret, Dan, Rob and her niece Jeanne. The advancement of time and aging limited her voyages in her last months, but she still loved her outings to Green Lake, Woodland Park, and Mamma Melina's, where she could surreptitiously indulge in a blood orange martini!
At the end of life, Connie enjoyed yet another group of new friends at Columbia Lutheran Home.  She loved her games of bingo, topingo, & bowling, and always looked forward to spending time with her friends at meals and the regular entertainment gatherings in Luther Hall.  Moreover, she always enjoyed the company of the CLH staff, especially the Nursing staff and pastor Thom, and was quick to laud their care and loving kindness, which made her final years so gratifying.
At the very end, Connie was suffering with the decline of a body that could no longer serve her needs, but with her mind intact, she was able to maintain her wit, curiosity about the world, and concern her loved ones. Connie still maintained her optimism, however, and when talking about the limitations and losses she was experiencing, calmly reminded us that "If I died tomorrow, I've had a Good life!."  
Indeed you did, Connie, and all of us are richer for having shared it with you.
Connie will be greatly missed by her sons Dennis Carroll (Judith Murphy) and Robert Carroll (Daniel Yarger), and grandchildren Alex Carroll (Ali Baldari), Jenna Christiansen Rockwell (Jonathan Rockwell), and Erin Christiansen Eppler (Kevin Eppler), as well as  family and friends  from coast to coast.  As she moves on to her next great adventure, she is joining her beloved husband, Robert, who preceded her in death in 1992.  As the youngest of 10 children of the blended family of Antonina & Frank Manzella, Connie was also the last to pass on, following her parents, and siblings Tommy, Mamie, Lucie, Carl, Lena, Bertha, Josephine, Samuel, and Bud (Sebastian). And most assuredly, a host of other beloved family and friends who have passed before her have welcomed her with hearty laughter and open arms.
A Celebration of Connie's Life will be held Sunday, July 6, at 11am, at
the Bathhouse Theater on Green Lake, with a reception to follow in the park.
Theater location: 7312 West Green lake Dr. North, Seattle, WA  98103
Friends and family are all welcome to attend!
Memorial mass in Buffalo area Saturday, August 2, 2014 at 9:30am at St. Andrew's RC Church, 1525 Sheridan Dr., Kenmore, NY 14217, with internment at Mt. Olivet Cemetery.  Reception to follow at McNulty Hall at St. Andrew's. 
Remembrances to honor Connie's life may be made to:
Columbia Lutheran Home
4700 Phinney Avenue North
Seattle, WA  98103
Please sign our memorial book with your memories of Connie!
---
Comments
Connie was a warm and loving neighbor and friend. I will never forget her many kindnesses and her abiding love for her family. My most joyful memory of Connie was while we were traveling in Sicily as she drank in the beauty and friendliness of the birthplace of her parents. Her gratitude and deep faith when visiting St. Peters in Rome touched me deeply. Much love to my friend, Connie. Margaret Nolen
---
I felt Connie was a part of my life through the stories that you and Dan told. I wish I could be there with you, but I will be in spirit.
Patrick Kenny
---
Aunt Connie - May your open optimism and friendliness continue to live in your sons and grandson, and when you look down upon them, to see that they are well and happy, but missing you like the Devil! (Especially when they come home from work, and there is not a big pot of "Sugo" waiting for you for dinner. Rest in Peace Aunt. Niece Jeanie
---
Aunt Connie - May your open optimism and friendliness continue to live in your sons and grandson, and when you look down upon them, to see that they are well and happy, but missing you like the Devil! (Especially when they come home from work, and there is not a big pot of "Sugo" waiting for you for dinner. Rest in Peace Aunt. Niece Jeanie
---
What a beautiful tribute to a life well lived! I only met my great Aunt Connie several times but I remember her smile! Sending love and condolences from niece Jane on Cape Cod and looking forward to Rob and Dan's visit here next month.
Jane Harper
---
I've missed your mom (and my aunt) these past years but know that she's had the time of her life with you two! I remember when my mom, girls, and I visited Seattle. Your mom LOVED the fun jokes you'd play on her (when you had her washing her frozen food in the bathtub or trying to fend off the local Catholic Church (aka Rob) from picking her up for 8 am mass). You kept her young!! I'm going to miss her but am happy that she is finally with your dad (and playing cards with my mother). Anyone who met your mother, knew what a sweet woman she was. RIP Connie until we meet again. Lynne
---
What a beautiful tribute to a remarkable woman! She was such a love... As were her brothers and sisters (my grandma was Mamie). How wonderful that you were able to share such great times together. Your memories are so beautiful and you'll have them forever...she was such a force and had such spirit. Aunt Connie surely lived life to the fullest... Reminds me of my Mom, her niece, Fannie. Godspeed Aunt Connie, and blessings to all she leaves behind.
Karen Harper Sparks and Jim Harper
---
Aunt Connie was an amazing woman. She inspired me in so many ways. I haven't seen her in many years but think of her and Uncle Bob often. Dennis and Robbie you should be proud, as she was with both of you. If you could drop me an email chance_51@hotmail.com or call me at 716-410-1263 there's some things I'd like to share with you, like the passing of your cousin Louie Rizzo Jr. God bless you both and RIP Aunt Connie.  Sandy Rizzo Jakubowski 
---
Very nicely written tribute to Connie. We lived next door at 246 Coventry for 13 years. Connie would watch our daughters, Anne Marie and Michelle, after they walked home from St. Andrews school. This was a great comfort to me and my husband as we both worked. Amazingly, the girls and I were just talking about your family Sunday afternoon. Then, this morning, while I was reading yesterday's paper, I saw the obituary. What a coincidence. I am so sorry for your loss, and grateful that we knew Connie and the rest of your family.
Charlene Reynolds
---