Marian Brammer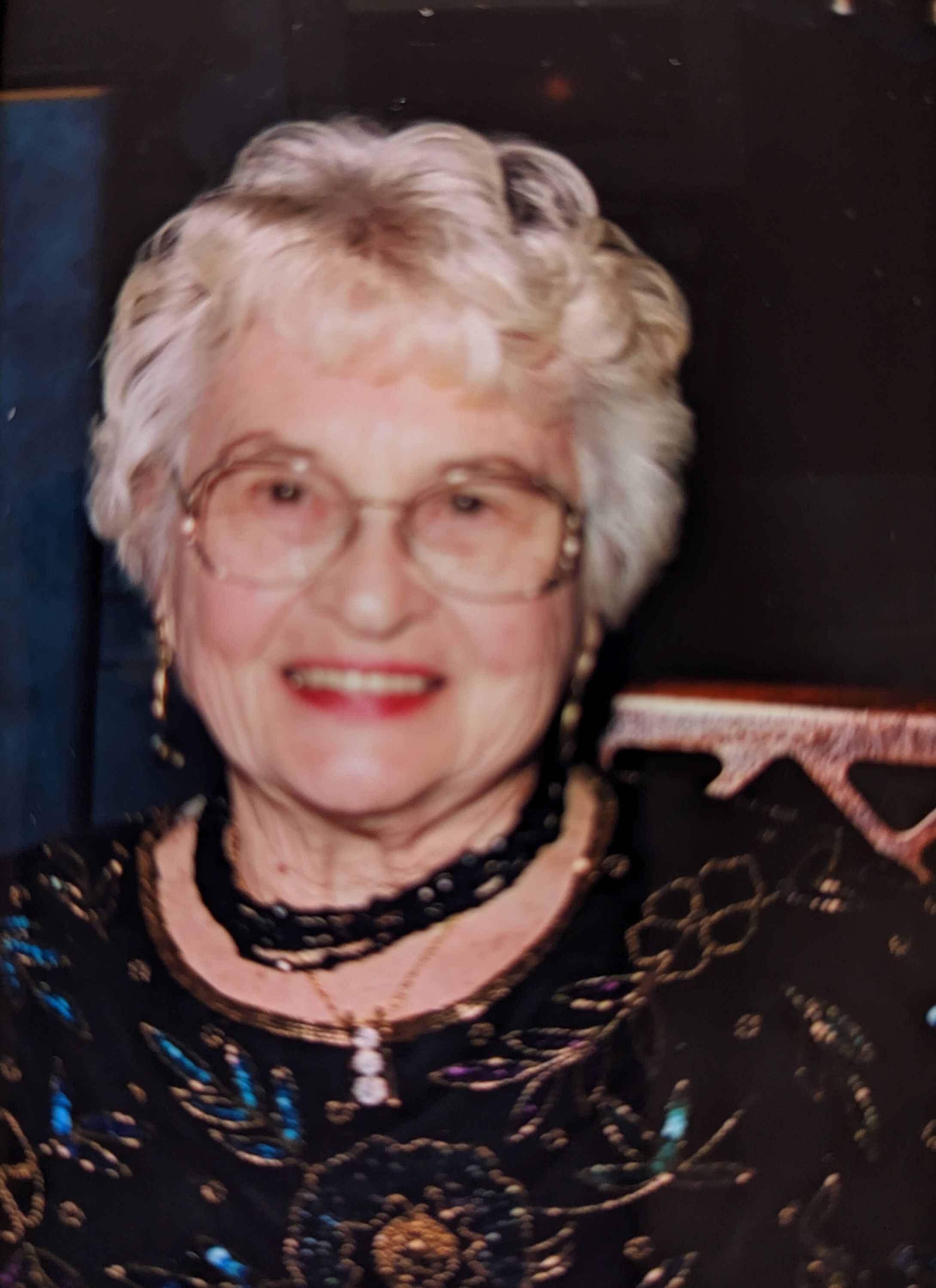 Marian Sofia (Sjolin) Brammer passed away March 3, 2023.  She was born May 29, 1922, in Annandale, Minnesota, the third daughter of Alida Sofia Sjolin and Johan Algot Sjolin.  "Marni" was a strong and capable young woman, excelling in academics and extra-curricular activities, especially music.  Band, chorus and quartets consumed much of her young life in Annandale.  After graduating from high school with honors, Marni headed to St. Cloud State University and chose teaching as her career.  There she met Lawrence "Larry" Brammer, who was to become her life-long partner.  After college, Larry joined the Army, and Marni followed him to Ft. Riley, Kansas where she found a position as a music teacher. On February 11, 1945, they were married.  Larry was assigned to Brooke Hospital in San Antonio, Texas, where Marni worked in occupational therapy with soldiers returning from the war. After military service, they moved to Palo Alto, CA where Marni kept things together at home while Larry completed his PhD at Stanford.  From there, careers took them to Sacramento, CA where Larry taught at Sacramento State College.   
Marni was a modern woman who "did it all".  She cared for their young daughters Karin and Kris, managed the home, provided administrative support for Larry's writing, and emotional support for him and her daughters, all the while teaching full time.  Next, Marni and family moved to Seattle where she taught special education for 20 years while Larry taught at the University of Washington as a full professor.  Marni expanded her career as a teacher and was a pioneer in developing Individual Educational Plans for her students.  She was a devoted advocate for her special needs students, and many stayed in touch with her long after she retired from the profession in 1987. 
Marni kept the family together during extensive world travel, including living for one year in Tehran.  After her daughters graduated and left home, she enjoyed multiple trips abroad with Larry, traveling throughout Europe and Asia.  Their mutual love of music provided hours of entertainment and joy as they both played the organ.  Together, they kept active and frequently were seen "kicking up their heels" on the dance floor whenever the opportunity was present. 
Marni and Larry's daughters, along with their husbands, provided them with five grandchildren and six great-grandchildren, all of whom see "Grandma Boo" as a model of modern womanhood and a caring grandmother.  Drawing on her 100 years of life experiences, and her enduring love for her family, Marni was a solid guidepost, sharing her wisdom and concern. Marni was so admired by her family that her names Marian and Sofia were given to her great-granddaughters, and her great-grandson was named in honor of Marni's father Algot.  Clearly Marni's spirit carries on in the lives of the family. 
Marni demonstrated her strong, capable, and fiercely independent nature throughout her life, and she enjoyed her role as matriarch of the family she so cherished. She was active in multiple community organizations including the University Lutheran Church and Queen City Yacht Club.  Marni made friends easily and always had something positive to say about others. She remained a dynamic and uplifting presence to the end in her Aljoya Assisted Living community. 
Marni and Larry were married for 73 years before his death in 2018. Their marriage was an amazing relationship built on mutual respect and good humor.  Marni was preceded in death by her loving husband Larry, and two sisters, Lillian Teisberg and Edna Carlson.  She is survived by her daughters Karin McKee and husband Denny McKee, and Kristen Taylor and husband Greg Taylor, five grandchildren and six great-grandchildren.   
A celebration of Marni's life will be held on May 3, 2023, at 2:30 pm at Aljoya at Thornton Place Assisted Living, 450 NE 100th Street, Seattle, WA 98125.   
Memorial contributions may be made to: 
Elizabeth Gregory Home                      Lawrence and Marian Brammer Endowed Fellowship for 
1604 NE 5oth Street                               Prospective Teacher-Education 
Seattle WA 98105                                    University of Washington/Foundation 
www.eghseattle.org                                Box 359505 
                                                                             Seattle, WA 98195-9805 
                                                                             (206) 685-1980 
 
---
Comments
---
Marni and Larry were beloved members of our family ever since Denny and Karin were married. We treasured our friendships with them. Their warmth, their wisdom, their humor and their humanity were unequaled. They will be missed.
Janet and Chris Michaelsen
---