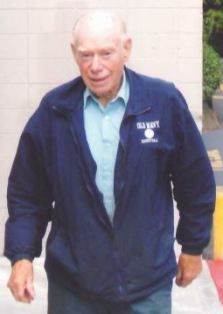 Byron Hook lived life with tenacity, action, and resourcefulness.  From his austere childhood on a farm in southern Illinois to his successful adult life as a business owner, he worked hard, found and seized opportunities, and enjoyed the blessings of family and friends.  On March 25th, at the age of 95, Byron passed away peacefully in his home where he had lived for nearly 67 years.  
Byron started life in Vienna, Illinois, on June 6, 1919, as the fourth of six children of Charles Hook and Sarah Penrod.  The Hooks' 300-acre farm home had no electricity and no running water, but plenty of hard work to sustain multiple crops and livestock.  Perhaps farming never left Byron because he was an original member of Seattle's P-Patch program and had his very desirable plot at Interbay for the remainder of his life.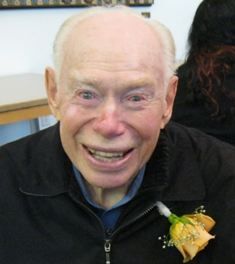 Around 1942, Byron was inducted into the Army.  Thanks to his older brothers' early interest in radios, he learned Morse code as a teenager and the Army quickly put him to work as a radio operator aboard an Army troop transport ship.  On one sailing to the Aleutian Islands, a Japanese submarine torpedoed his ship, causing loss of life and extensive damage.  The horror of that experience stayed with Byron for the rest of his life.  
The Army also led Byron to his wife of 58 years, Marilyn Smith.  She worked at the Port of Embarkation in Seattle, and in 1944 Byron spotted her on the pier and the rest is history.  They married the same year and started life together at the Hollywood Apartments on lower Queen Anne hill.  There, Byron and Marilyn met life-long friends who eventually became their neighbors again on 12th Avenue West in Seattle, where Byron lived the remainder of his life.  Byron and Marilyn had two children, Cheryl and Bryan.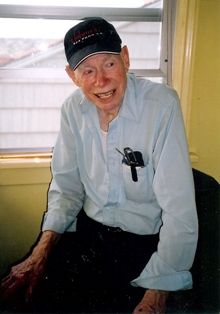 In 1945, the day he was honorably discharged from the Army, Byron walked down Elliott Ave and saw a sign that read "Radio Repairman Wanted".  With the confidence of a man who knew radios, he walked into Poole Electric and was hired on the spot.  Within two years, he had bought out the owner and changed the name to Pacific Appliance.  That started Byron's long, successful career in the appliance business.  But being a man who liked action, one full-time job wasn't enough, so he moonlighted as a taxi driver and a reserve police officer.  The latter job gave him the chance to watch many professional baseball games because he would volunteer for security duty at Sicks Stadium, home of the Seattle Rainiers.  Byron's love of baseball never faded, nor did his comfort with radios, and he listened to nearly every Mariners game right up to the week of his death.  He was also an avid sportsman and spent many weekends hunting and fishing with family and friends.  
Byron was preceded in death by his wife, Marilyn, his daughter, Cheryl Hook Westwood (Bob), and his brothers Charles, Carl, Paul and Henry.  He is survived by his son, Bryan (Patricia) of Seattle; his sister, Ruth Hook Tanner (Earl) of Bellevue, four grandchildren, seven great-grandchildren, and five nieces and nephews. His family and friends will miss his entertaining conversations and his frank, funny, and often acerbic assessments of all things political.  A gathering of family and friends to celebrate his long life will be held at a later time.
---
Comments
Uncle By was a great 'character.' He was a hoot to be with and will be greatly missed. I loved him dearly...
His niece, Francie
---
My brother was indeed a unique fellow. He was his own roll model, independent and a true patriot. The canine world never had a better advocate. He was a brother that gave me a huge introduction and support in to the adult world. My life will be very less blessed without him. --Ruth Hook Tanner
---
Your wonderful sense of humor and love and care of cats are 2 of your great traits. --Jean Unger (ppatch)
---
My father and By were long-time friends, and I always enjoyed our visits in his office. There was always laughter, and once in a while, a shot of whiskey. I especially took pleasure in seeing the cats resting on the carpet samples (but you didn't dare try to pet them (smile.) My thoughts are with his family. --John Sheirbon
---
The neighborhood will not be the same without Byron ...... he was one of a kind!! 
He told me once that he fed the squirrels because he felt bad for them ..... 
"Cause I used to shoot them and eat them!"  --Mary Sullivan
---
Byron was quite the man about town in the 20 years we have known him - always heading out somewhere in the big black Chevy pickup truck. He was passionate about cats, both his own and the feral colony he fed for so many years at his shop on Elliott Ave. We miss his humor and his many interesting stories, but we are glad he passed peacefully at home. --Catherine Walker
---
I met byron many years ago working for my family at the SHIP'S Restaurant. I couldn't tell you how long Bryon visited the Ship's Restaurant, but it was ALOT through the years. I remember my dad always spoke highly of BYron and he made sure that all of our family knew him as a friend and a customer. My dad and BYRON shared shared a great love of cats, he always made sure the dishwashers would save scrapes to feed them. Byron and my dad will go down in Elliott ave and 15th west history for their unknown contributions to the neighborhood!!! Gene Willard
---
I will always remember the funny things my grandpa would say. When it was thanksgiving he would say happy new years and when it was christmas he would say happy easter. :)
Byron loved animals he would nail cans to telephone poles and fill them with peanuts to feed the squirrels. He owned a duplex in Ballard and half of it he left vacant but open and home to a clan of feral cats that he would feed and care for. Not to mention many pet cats and dogs (Meagan and Monty to name two).
I have always held him in high regard because of his strong work ethic and his success in business and have always been inspired by him being his own boss and a self made man.
He loved popcorn more than anyone else I have ever met. He ate the stuff every night :)
I miss you grandpa.
I love you.
--Clinton Westwood
---
My father (Phil Metz) and I worked with By and Katie for decades at Pacific Appliance. We installed appliances, carpet, vinyl and hard surfaces for his many clients and also developed and fixed up a wide range of properties over the years.
The last project we tackled together was the exterior refinish of his home.
By's ready Smiles and amusing Quips made it a pleasure to visit with him.
Chris Peterson
---