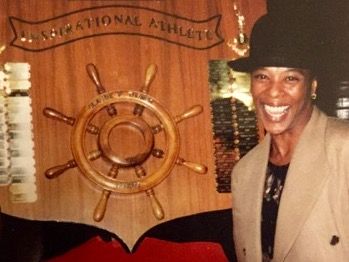 Victoria L. Jackson (Porter) passed away peacefully at her home on Wednesday January 21, 2015. Victoria (or Vicki) was born January 25, 1960 in Columbus OH and was adopted by Wilbert and Ruby Wagner at the age of 9. She moved to Seattle in 1976 and lived with her brother Melvin Prince and his family. Victoria attended Nathan Hale High School class of 1978. Her son Bruce Jackson was born in 1983. She married Arthur L. Jackson in 1988.
She was humorous, caring and had a vibrant spirit. A devoted mother with an amazing personality and composure during times of crisis. Her beautiful smile could light up any room.
In Sept. 2001 she was diagnosed with multiple sclerosis (MS), a disease that seriously impacted her quality of life by 2004. She showed immeasurable strength and determination as she battled MS for over a decade before succumbing to its brutality. Throughout her life she enjoyed cooking, broadcasting, concerts, holidays, and times spent with family and friends.
Victoria was preceded in death by her beloved adopted parents Wilbert and Ruby Wagner; her sister-in-law Betty Prince. She will be greatly missed by her former husband Arthur; her son Bruce; her brother Melvin; her nieces and nephews Vanessa Jenkins, Tanya, Kelvin and Deedric; and her great nephews Solomon, Kesean, and Malik and their families; plus many close friends.
A memorial service will be held at 1:00pm on Friday January 30, 2015 in the chapel at University Lutheran Church, 1604 NE 50th St, Seattle WA 98105.
---
Comments
Praying for God's strength, peace and comfort to the family and friends. No more struggles for your beloved, Vicki. God bless & keep you all. ~ Michelle Gistarb
---