Sandra Kay Hart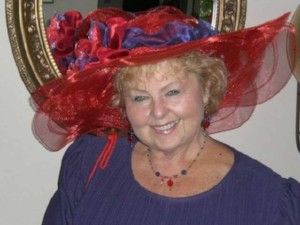 Sandra Kay "Nana" Hart, 73, passed away peacefully at home surrounded by her family on May 30, 2018,  from A.L.S. (Lou Gehrig's Disease).  Sandy was born on February 2, 1945, in Vancouver, WA, to Jack and Gertrude Atkinson.  Sandy grew up in Port Angeles, WA, attending Queen of Angels, Port Angeles H.S. and Peninsula College.   While working for the Port Angeles Newspaper she met Larry G Hart, her Husband of 52 years.  They settled in Federal Way, WA, where they raised their family together.  
She is survived by her husband Larry Hart; daughter Michelle Whitney and husband Robert; son Daniel Hart and wife Darcy; Sister Judith Corning and brother in law Mel; Grandson Joseph Whitney; Granddaughters Carly Felix and her husband Nate, Michelle Keith and husband Jason  and Lauren Hart;  great granddaughters Brady and Kennedy Keith.    She was preceded in death by her brother Kenneth Atkinson and her parents Jack and Gert Atkinson.  
Sandy always enjoyed her family and friends.  Her house was their home.  She was a great hostess, she loved to cook, decorate cakes, make beaded jewelry, sew costumes,  crafts and make porcelain dolls.   Whether it be the holidays, birthdays, dance recitals, soccer games, camping trips, or any special occasion or celebration  Nana was always  there, smiling so proudly and making sure everyone was taken care of and feeling special and loved!
Sandy was a member of the Red Hat Society which she enjoyed very much.  Friends became sisters and they shared so many fun times together creating memories to last a lifetime!  
A funeral mass and celebration of life with be held at St. Vincent dePaul Parish in Federal Way, WA, on Tuesday, June 12th at 12:00pm.  Reception following in the Parish Hall.
*Memorials can be made to the A.L.S. Society or Franciscan Hospice in her name.
---
Comments
---
May your memories give you comfort during this difficult time. Love, light and prayers for you all today and always Hart family!
Sharon Fogo
---
My adopted 'seester', a true friend, and an incredible human being. Sandy stood b y me all of my life..even when I was battling demons. She never judged me , and welcomed Dave as my partner in life. Thank you 'seester' for being in my life, as I am much better for it. I love you
Cheryl Westergaard
---
We lived in Sandy's neighborhood for only 18 months: 1976-78. I've always remembered her sweet, joyful presence. We were just neighbor acquaintances. . (but) I've thought of her from time to time over the past nearly 40 (!) years. A beautiful person. . a blessing to many. . I read of Sandy's passing in the Federal Way Mirror, and was saddened-- and thankful (again) for her presence in our world.
Mary Fierke
---