Marilyn June Scott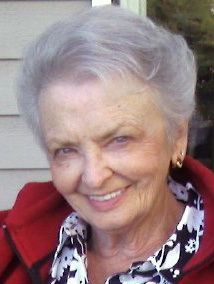 Marilyn (Schlax) Scott passed away October 4 at the age of 92, after battling Parkinson's Disease. She leaves behind a loving family of four children and their spouses, six grandchildren, seven great-grandchildren, her sister, three sisters-in-law, and one brother-in-law. Marilyn is preceded in death by her loving husband, parents and brother.
Born and raised primarily in Seattle, she married her Roosevelt High School sweetheart, Cecil, and embarked on a life as an Army wife, moving nearly 20 times during her husband's career, including Germany, France and Hawaii. Marilyn successfully juggled a household and raising four young children alone while her husband was deployed to Vietnam and Korea for several years. Marilyn and her family moved to Yakima when her husband retired and joined his family's business. A reverse of military life, they lived in Yakima more than two decades. Eventually, they returned to Seattle to be closer to their daughter.
Marilyn loved to travel. She and her husband visited many countries on most continents, including visiting a son who had emigrated to Australia. They also traveled around the U.S. by motor home, snowbirding to Arizona where they golfed daily. Some of their harrowing travel experiences included: an exploding stove in the motor home; losing an engine over the Andes with an emergency landing in Bolivia; flying home from Australia on 9/11; and holding on tight in the dark as their power lost ship rocked in a rough Atlantic Ocean hurricane. In spite of each challenge, her spirit for future travel never dampened.
Marilyn was also caring and selfless. She traveled six hours round trip to take care of her adult daughter's flu, later contracting the flu herself. Marilyn also took care of her daughter-in-law when her lung collapsed. She gladly helped when new grandkids arrived. A fantastic cook, she knew almost every way to cook an egg, and would serve each person their choice, along with sausage, bacon, pancakes or toast. She always remembered birthdays and made holidays special. When her children were growing up, she would put Easter & Valentines surprises on the dining table at each kid's seat. 
Yet through all her work she was elegant and graceful. Most important to her were her family, friends, the Catholic Church and family pets.
She is a warm spot in all our hearts that we will carry with us as her legacy. Her daughter feels honored, fortunate and grateful to have been present to care for her Mom during her illness.  Marilyn's namesake granddaughter found a quote that speaks for us all:
What you leave behind is not what is engraved in stone monuments, but what is woven into the lives of others ~Pericles
---
In lieu of flowers, the family has asked that donations be sent to Pigs Peace Sanctuary, a pig rescue sanctuary that Marilyn and her daughter visited together.
---
Comments
I was thinking about Marilyn just a few weeks ago. We met at the MLT Senior Center and knew each other at St. Pius X Catholic Church. Our conversations were always happy and comfortable and I had missed her deeply. I look forward to seeing her again when we met in Heaven.
Kathy Murphy Oct 18, 2020
---
I had the great pleasure of traveling with Marilyn & Cece in the early days when Travel with Alan was mostly the same group of retirees who became such good friends on our long trips. They were such a delightful pair and we liked them both very much. Marilyn and I have exchanged cards and a note at Christmas, since. My sincere condolences to her loved ones.
Willa Mathison
Oct 18, 2020
---