Janet Ann Volk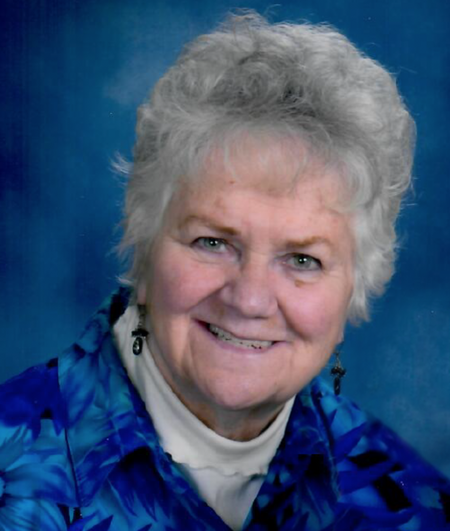 Date of Birth: 8/13/1938
Date of Death: 11/5/2020
Janet Ann Volk was born on August 13, 1938 to Lorion and Eileen LaBarre and passed from this life into the arms of Jesus on November 5, 2020. Jan grew up on a farm in Webster, North Dakota and was the third of 12 children born to Lorion and Eileen. Her early life consisted of love, hard work and fun. As a young woman Jan learned to cook and sew – skills she used to show love to family and friends the rest of her life.
Jan began a new chapter of her life when she met Jim Volk. They were married in October of 1956, a union that would last 64 years. Jim and Jan moved to Seattle in 1959 where they raised their family of five - Jay, Janis, Gail, Geri and, 10 years later, Jim.
Jan was a young mom and full of ideas and energy. We had baseball and kickball games in the street (she was always the pitcher) and it wasn't uncommon for her to grab one of our banana seat bikes and take it for a spin around the neighborhood. Jan had a heart for the poor and shut-ins. She would send us kids around the neighborhood with a wagon, knocking on doors asking for non-perishable food for the poor. If you donated you received a handmade smiley face hung on your doorknob. If she knew of someone in the neighborhood who was a shut-in, she would bring groceries, hot dishes and one or two of us kids. She taught us not to be afraid to reach out to people in need.
As we grew older, married and had children of our own mom delighted in her grandchildren. She attended concerts, sporting events, recitals, graduations and more sporting events (thanks Kingmas!). She sewed amazing Halloween costumes and beautiful blankets and quilts that she loved giving away. She looked forward to holidays, never failing in her quest to get Brian to cook the turkey properly on Thanksgiving. Mom was thrilled to see her oldest grandson, Marcus, married to Julia and her oldest granddaughter, Kristi, married to Shaddye. She was also blessed with two great grandsons, Carter and Miles, with two more great-grandsons coming in February 2021. As the grandkids grew older and she no longer had so many events to attend, she was able to enjoy many adventures with her youngest son Jim.
And finally, Jan was a woman of deep faith. If she knew you, she prayed for you. With every need, crisis, or seemingly insurmountable problem, our first call was to mom. She was a prayer warrior and never stopped praying for each and every one of us.

Proverbs 31: 10-13, 15, 17-22, 25-30 says
"A wife of good character who can find? She is worth far more than diamonds. Her husband trusts her without reserve, and never has reason to regret it. Never
spiteful, she treats him generously all her life long.
She shops around for the best yarns and cottons, and enjoys knitting and sewing. She's up before dawn, preparing breakfast for her family and organizing her day. First thing in the morning, she dresses for work, rolls up her sleeves, eager to get started. She senses the worth of her work, and is in no hurry to call it quits for the day. She's skilled in the crafts of home and hearth, diligent in homemaking. She's quick to assist anyone in need, she reaches out to help the poor. She
doesn't worry about her family when it snows; their winter clothes are all mended and ready to wear. She makes coverings for her bed, and dresses in colorful
linens and silks. Her clothes are well made and elegant, and she always faces tomorrow with a smile.

When she speaks, she has something worthwhile to say, and she always says it kindly. She keeps an eye on everyone in her household, and keeps them busy and productive. Her children respect and bless her; her husband joins in with words of praise: Many woman have done wonderful things but you've outclassed them all!
Charm is deceptive, and beauty is fleeting, but the woman who fears the Lord will be praised!"

Our family wants to thank our dear Aunt Linda Steinhaus, whose devotion and loving care, friendship and prayers during the last six weeks of mom's life eased our pain and helped mom go peacefully from this life to the next. We also want to thank Loretta Fletcher and Tina Jaeger, lifelong friends of mom. We are so grateful they are part of our family.
And finally, the heart of mom's faith and life – St. John the Evangelist church. Mom had many jobs and roles at St. John's...she loved the church and the people in it. A special thanks to Fr. Crispin whom she loved like a son. Thank you Fr. from the bottom of our hearts for your love and care for mom and for attending to her spiritual needs in the final days of her life.

Jan is survived by her husband Jim, son Jay (wife Torrey, children Jack and Anna), Janis Walsh (husband Pat, son Marcus, daughter-in-law Julia and grandchildren Carter and Miles), Gail Kingma (husband Gregg, daughter Kristi and husband Shaddye, Brett, Dan and fiancé Nikki, Kelli and Brooke), Geri Henling (husband Brian, daughter Julie and fiancé Nick, Shelly, Molly, Lily, Carly and Paul) and her youngest son Jim who brought her such joy. She is also survived by her
siblings Dolores, Jim, Lavonne, Betty, Carol, Linda and Lori.
Jan was predeceased by her parents Lorion and Eileen as well as siblings Bob, Judy, Marie and Donny.

Jan's funeral was held on November 23rd at 11:30am. Jan is laid to rest at Holyrood Catholic Cemetery.
---
Comments
We are truly and deeply sorry for your loss. Jan was simply wonderful and generous!
The few chances we had to meet with her will hold a special place with us.
Sending all our love Nadine & family
 
Nadine Schumacher
---
Mrs. Volk, simply was an amazing person who radiated the love of her faith. She was the Matriarch of an amazing family, and if you knew any of her children you were blessed to have met them. I will cherish the memories of the times I spent with her children Geri and Gail. My thoughts are with you in this challenging time. Time heals all wounds and someday you will be able to think of Jan and have a smile on your face.

Sincerely,

Jeff Williamson
---
Sending hugs and prayers to all Jans family. She was always one of my favorites! I have such great memories of being at Aunt Eileens with all of you!
Sometimes getting in trouble but always having fun!
Deb Reardon Anderson
---
Jan a.k.a. MRS.. VOLK had an" Enegetic Soul". She came out of retirement [more than once] to teach any thing the Church needed including but, definitely not limited to, the fine art of "The Server's Schedule. " And the "Holy $5" and pizza party server reward. I gratefully gleamed all her sage advice. A Great Catholic and a Fine Lady, her Spirit lives on in all her family, friends and fellow parishioners.[ Probably most of Greenwood Phinney and Ballard. (Let alone The Greater Seattle Area.)
Erin Donohue-Zink and Family
---
I met Jan when we moved into the neighborhood, I was 24 years old and now I am 80. I just learned about Jan`s passing and felt bad for all her loved ones. A wonderful family. We moved away from the street after 42 years as my husbands health could no longer use stairs. My son Bill used to play with Jay and the girls. I spent many times at Jan`s home, she was a grand person. She loved and prayed for all people.
Once now and again I would drive down the the street where we had lived all those years and Jim might be doing yard work. I would stop and get caught up on the news both ways. He would tell me how many Grandchildren had blessed them. The last count was 13. When my nephew was ready to come into this world so was Jimmy. I had the great pleasure of having a double baby shower for Jan and my sister. So many fond memories. I would LOVE for the family to know I am very sorry for their LOSS.
- Lee Maser
---