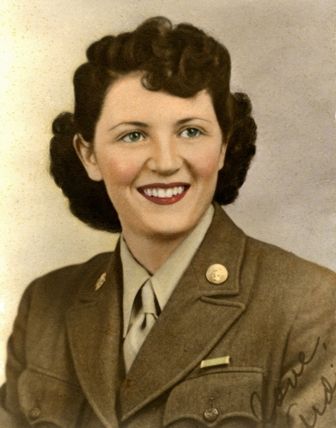 Ardis Ruth (Huffman) Moss, 94, of Seattle, died on Tuesday July 1, 2014. She was born July 26, 1919, to Winifred Agnes (McIlhargey) and George Leslie Huffman in Tenney MN, the third of their six children. When she was a child the family moved to Whitefish MT where she graduated from Whitefish High School in 1937.
Ardis joined the Women's Auxiliary Army Corps (later WACs) during World War II and was stationed at Fort Moultrie SC. After the war she returned to Montana where she met her future husband, William E. Moss, and they moved to Spokane WA for employment and to raise their family. After 40 years in Spokane, she relocated to Seattle to be near her daughters and grandchildren.
Ardis was a passionate reader who loved books, even using a Kindle in her final years. She was expert at crossword puzzles and always welcomed a game of Scrabble or Boggle. After a bad fall at age 90 she was confined to her home, but was able to stay there with the help of family until the end, enjoying the views of her small garden, watching the hummingbirds at her birdfeeders, and cheering on the Mariners.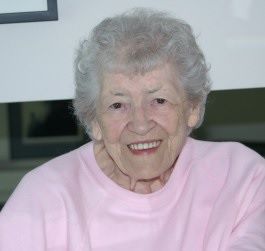 Ardis was preceded in death by all her siblings, her husband William, and her daughter Wendy. She is survived by her daughters Dayle Moss (David Brown) of Seattle and Diane Moss (Robert Zawalich) of Shoreline, her grandchildren Trevor Zawalich of White Rock BC and Tamlyn Zawalich of Seattle, as well as a step-daughter, a step-son, and many nieces and nephews.
There will be no services by her request. In lieu of flowers, the family asks that any donations be made to the Seattle Audubon Society (www.seattleaudubon.org) or the Moyer Foundation (www.moyerfoundation.org).
---
Comments
Ardis did love puzzles: I have a wonderful memory of "helping" put together a complicated jigsaw puzzle one Christmas, enjoying both her skill and her feisty determination to get the thing done. :-) I guess she's solved the puzzle of this life now, and I wish her all the best as she embarks on whatever puzzle comes next. She was so blessed by Diane & Dayle's care in her final years -- may we all be so loved. And thank you to the family for such a lovely write-up and photos!
Harper Tasche
---
What a lovely woman...and Diane, I can definitely see a family resemblance. She looks like she was a happy person, with a ready smile. It sounds like she was a bit of a gardener in her day...how nice that she could enjoy garden views and those feisty hummingbirds! Blessings for her and you!  Diana Beaumont
---
Ardis was feisty and friendly and very well loved by her devoted children and family. The WWII photo is spectacular. Another sad loss of a member of that amazing generation.  Susan Zawalich (Bob's sister in Boston)
---
She was very lucky to have such devoted and loving daughters. - Eileen Warr-Marti
---