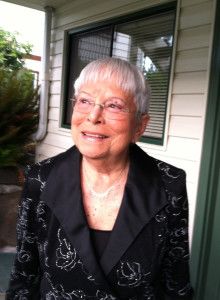 Sara Sanchez passed away on May 24th, 2014 at age 82. Born November 8, 1931 in Cardenas, Cuba the only child of Amador and Sara Benitez. While in Cuba, she received a PHD in Physics and Chemistry and worked as a teacher at Havana University and Vice President of Petroleum Refinery in Havana, Cuba.
 
In 1980 Sara braved a new world and left Cuba for the United States. She was reunited with her daughter and granddaughter in 1982 and with her son in 1985. Sara has lived in Seattle since 1983 where she worked as a Spanish professor at South Seattle Community College for 15 years. After retiring in 2001 she continued to work part-time for the Highline School District as a para-educator, translator, and interpreter. She is survived by her two children, Jose Gruart and Sara Herrett; granddaughters Salome Douglas and Natalia Herrett; and great-grandchildren Zoe and John.
 
Known by many as "Mama", Sara was loved by all. She had a passion for mystery novels and enjoyed tending her gardens, sewing Halloween costumes for her grandchildren, and spoiling her cat. But don't ask her to cook you dinner! Some of her famous quotes include "My religion forbids me to cook", "I only have a kitchen because it came with the house", and "Lawnmowers and Barbeques must come with a man".
 
We will be having a Celebration of Life in her honor. Please contact a family member for details. In lieu of flowers, you may send a donation to the American Cancer Society.
---
Comments
Chris DeBruler
Posted June 3, 2014 at 8:57 pm
Chris Olds here…The first time I met her I knew that she was strength, wisdom, compassion…she had a look in her eye, a feeling of her being like her daughter and her two grand-daughters…once one looks one in the eyes, soul to soul, one knows where the heart is. Blessings beloved ones!
Chris DeBruler
Posted June 3, 2014 at 8:59 pm
U love that you passed on strength to your daughter and grand daughters..I think I did too! Blessings wise one with a great smile!
Sue Lehmann
Posted June 4, 2014 at 12:33 am
This news saddens me deeply. I always thought I would see Sara's beautiful face again and give her a warm hug. You are all in my thoughts and prayers…Sara, Jose, Salome, Natalia…she made you all the quality people you are today. I love you all.
Mitch Herrett Berry
Posted June 4, 2014 at 2:47 am
Thank you Sara for bringing your family into our lives. Much Love to OUR family.
erika del toro
Posted June 10, 2014 at 6:52 pm
SARA, es el vivo reflejo de la fuerza, por que eso fue lo que ella siempre inyectaba.
y aunque el mundo estuviera colapsando, siempre en su rostro se dibujaba una sonrisa, y en su mirada había fuerza.
un buen día, encontrándome en una situación difícil, y yo casi dándome por vencida, me dijo con voz fuerte y mirándome fijamente a los ojos: erika! los problemas NO existen, lo único que existe son SOLUCIONES! .. ella fue una gran bendición en mi vida, y un ejemplo a seguir. vivira siempre en nuestros corazones. descanse en PAZ. nuestra amada SARA.
---