Lloyd Clifford and Joan Ruth Koch Arnold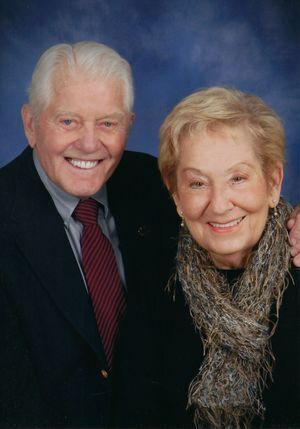 Lloyd Clifford Arnold died on November 8, 2020, at the age of 94. He was the son of Walter Ulysses Arnold and Ruth Marie Flohr Arnold. He was born and raised in York, PA, in the Church of the Brethren.
Joan Ruth Koch Arnold died on June 7, 2023, at the age of 95. She was the daughter of William Richard "Pater" Koch and Beulah Estelle "Bootie" Cooper Koch. She was born and raised in York, PA, in the Episcopalian Church.
Joan and Lloyd knew each other in middle school and became reacquainted and began dating in their late teens when they were both students at York High School. Lloyd served in the Army Medical Corps in World War II from 1944-1946, where he worked in physical rehabilitation of amputees. Joan and Lloyd married on August 22, 1946, immediately following the war. They then moved to Springfield, MA, where Lloyd earned BS cum laude in Springfield College's YMCA leadership training program in 1949.
Joan and Lloyd had two sons, Stephen Lloyd born in 1949 and Richard William in 1950. The family lived briefly in Bellefonte, PA, where Lloyd earned his MS from Penn State in 1950 and served as the Physical Director of the Bellefonte YMCA. The family lived in Canton, OH, from 1950 to 1954 when Lloyd served as Physical Director for the Canton YMCA. The family moved to Irondequoit, NY, in 1954, where Lloyd served as Physical Director for the Rochester Central Branch YMCA.
Lloyd moved to regional YMCA management in 1962, becoming Associate Executive, Central Atlantic Council of YMCAs. The family settled in Berkeley Heights, NJ, as Lloyd commuted to the regional office, first to Newark and later to Princeton. 
In 1968 there were many transitions. Both boys were in college when Joan entered Newark State College (now Kean University of New Jersey) to earn her BA in education in 1970. Lloyd was appointed National Director, Health & Physical Education, National Council of YMCAs, and began commuting to their office on Broadway, New York City. Lloyd was in graduate school at New York University, earning his EdD in 1976.
After graduating, Joan taught second grade at Woodruff School in her Berkeley Heights neighborhood from 1970 until her retirement.
After Lloyd's retirement from YMCA work he continued to be a trailblazer in the developing field of population health, leading one of the first major corporate fitness programs, Live for Life, in the United States at Johnson & Johnson. He received national recognition and awards for his contributions to the field, including naming as a Distinguished Alumnus of Springfield College in 1977 and induction into the National YMCA Hall of Fame in 2002. 
In their retirement, Joan and Lloyd visited and fell in love with Fripp Island, SC, and bought a vacation home there. They later built a home and moved to Fripp full time. There they met new friends and reunited with old friends who became their community and extended family for the next 25 years. They enjoyed golf, swimming, and boating around the Low Country.
Joan, long a painter, began to work in watercolors and she enjoyed painting beach and marsh scapes as well as still life pieces, and sold her work at galleries in Beaufort. Joan became interested in anthroposophy, which she studied for many years in Charleston, SC. 
After briefly living at The Marshes at Hilton Head, Lloyd and Joan moved to Seattle, WA, to be closer to Rick and his family. They lived at Áegis Living Queen Anne Rogers Park. After Lloyd's death, Joan later moved to the Bayview Retirement Community, also in the Queen Anne neighborhood. In their final years in Seattle, they were kindly and lovingly cared for by their communities' staff and son Rick and daughter-in-law Johanna. Lloyd passed away at Áegis and Joan passed away at Bayview, surrounded by numerous members of their family.
Among the most powerful values in Joan and Lloyd's lives were education, spirituality, sport and health, kindness, equity, and service to others, and they planted the seeds of these values in their family who in turn lived these values. This legacy was their greatest source of pride and accomplishment.
Joan and Lloyd are survived by their sons and daughters-in-law, Steve and Nancy Arnold of Fitchburg, WI, and Rick Arnold and Johanna Surla of Seattle; their grandchildren Kimberly Arnold Moreland (Chris) of Oregon, WI, Amy Arnold (Kelsey Sauber-Olds) of Viroqua, WI, Cassidy Arnold (Lily) of Charleston, SC, and Liliana Arnold of Seattle; and their great-grandchildren, Jae Arnold, Solvin Arnold, Elizabeth Moreland, Pelle Arnold, Olivia Moreland, and Fox and Ford Arnold. They were preceded in death by their parents Walter and Ruth Arnold and Bootie and Pater Koch, Joan's brothers Phillip and Richard Koch, Lloyd's siblings Lillian, Walter, Bill, Naomi, Donald, and Edna, and their daughter-in-law Gina Clifford (Rick).
Lloyd and Joan requested that any gifts in their memory be made to the Fripp Island Community Center, Inc., 205 Tarpon Boulevard, Fripp Island, SC, 29920.
Joan and Lloyd will be interred in the columbarium at the All Faiths Chapel of the Fripp Island Community Center according to their wishes. A Celebration of Life will be held on a date and at a place to be determined later.
 
---
Comments
---