Earl W. Fleehart
July 31, 1929—October 12, 2019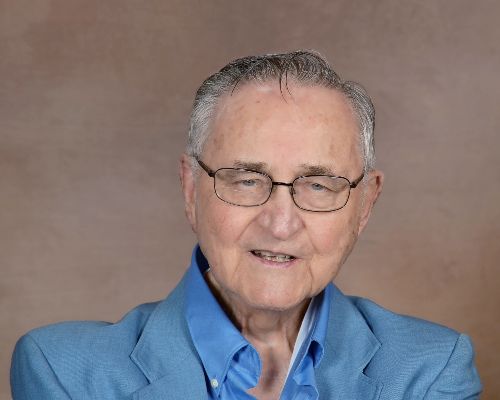 Earl W. Fleehart, beloved father, grandfather, and great-grandfather, passed away Saturday, October 12, 2019, at the age of 90, after a long and fulfilling life. He was loyal, active, committed to family and church, and loved by many friends. He is survived by three children (Alexandra, Rand, and Rick), two grandchildren (Greg and Karen), and five great-grandchildren (Noah, Jacob, Jovianne, Brannon, and Lena).
Earl was born July 31, 1929, in Seattle, Washington, and adopted as an infant by Louise and Earl Fleehart Sr., a dentist. His mother died when he was three years old, and he was brought up by his father, housekeepers, and later his aunt during the summers.
Earl entered Broadway High School in Seattle in 1943. He loved math and physics and took all the classes offered in those subjects. He played football, basketball, and baseball, and was on the football varsity team in his junior year. He also loved drama and was the male lead in the senior play in 1946.
Earl transferred to Queen Anne High School as Broadway closed. There he met his life partner of over 60 years, known then as Patricia Ann Boeck. They were married on July 15, 1950.
Earl attended electronics school through the University of Washington, and then joined the Marine Corps Reserve.  He transferred to the Navy, and during the time of the Korean War, he trained United Nations personnel in radar and CCI operations. He then continued in the Naval Reserve and became the Executive Officer of the Naval Reserve Armory on Lake Union.  He retired in 1970 with the rank of Lieutenant Commander.
In 1966 he formed the partnership of Fleehart & Sullivan, electronic manufacturers' representatives. The firm represented 13 Japanese electronics manufacturers and sold equipment to broadcast operators, electronic contractors, and consumer outlets in five western states. As the years went by, they eventually employed 16 sales and support staff amid the expansion and rise of the electronics industry.
Earl was active in several professional organizations. He was at one time National Vice President of the Electronic Representatives Association (ERA), and served as President of the local chapter of the Society of Broadcast Engineers (SBE). In the 1970's he started a local trade show sponsored by SBE, which grew to over 200 booths and was hosted at the Seattle Convention Center.
Earl had an enquiring and lively mind and attended classes through Bellevue College's Continuing Education program in such subjects as cosmology, physics, and popular culture. 
He was an active member of Eastshore Unitarian Church for over 60 years. During that time, he designed the sound system for the sanctuary, as well as the sound booth, intercom, video, and closed-circuit TV systems. He could be found every Sunday in the sound booth with the ACE Media Team.
A Celebration of Life will be held Saturday, December 14, 2019, at 2 pm, at Eastshore Unitarian Church, 12700 SE 32nd Street, Bellevue, WA 98005, with a reception to follow.  Remembrances may be made to the Eastshore Unitarian Church Memorial Garden (with "Memorial Garden" in the Memo line), or to Boys Town (boystown.org).
---
Comments
So sorry, Alex he sounded like an interesting and active person
    
Alice Bruist-Mak and family
---
My name is John L Taylor. I knew Earl reasonably well. He was a Navy veteran. As the senior veteran
here, I coordinate all Veterans Day celebrations here. Earl was great in his assistance to me. Also. he was the Director, Resident Council which made suggestions to the Managers to improve our living conditions . He knew ever residents' and the background of most. He implemented a Wall of Heros
where the name, Armed Service, and a picture is mounted. Earl was a leader, teacher, a counselor
a businessman and a great friend. 'Your job on earth is done, A good job well done. Rest. Be Thou at Peace
- JOHN L TAYLOR
---
Earl and I were friends and colleagues at East Shore Unitarian church for 40 years -- on the board together, pulled a lot of wires through a lot of walls for the sound system, chased a lot of gremlins out of the sound system, laughed a lot. I miss him.
Ron Hammond
---