Anne R. Gulbranson
1923–2023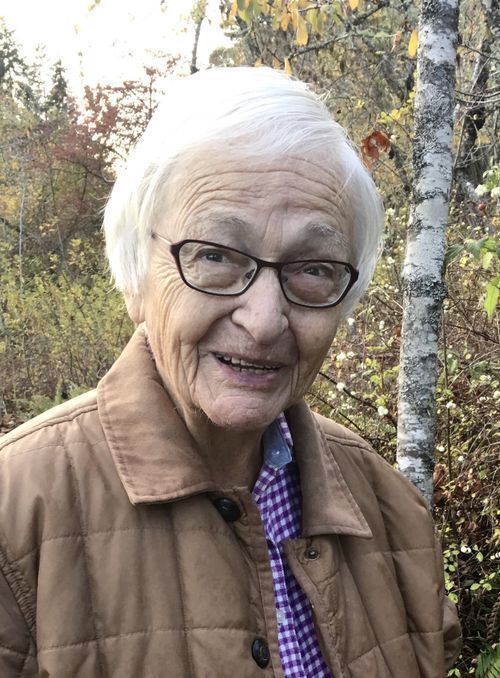 Anne (Mrs. John R.) Gulbranson, 99, Bainbridge Island, Wash., died July 26, 2023. She was the great-granddaughter of Seattle pioneer Dr. Henry Allen Smith. A huge influence was her paternal grandmother, Olive W. Roberts, one of the founders of Children's Orthopedic Hospital in Seattle. The daughter of Eleanor and John Dudley Roberts, Anne was born September 18, 1923, in Seattle. Her early years were spent in Seattle's Queen Anne and Magnolia neighborhoods and on Vashon Island. She attended Helen Bush School, graduated from West Seattle High School, and attended Washington State College. She married John R. "Jack" Gulbranson in 1947. They had four children, Robert Dudley "Bud," Mary Lou, Gail, and Mark. The family moved from Seattle to Bainbridge Island in 1962, where Anne enjoyed her beloved home on Pleasant Beach for 57 years.

Anne was predeceased by her husband Jack, son Bud, and brother Dave Roberts. She is survived by her children, Mary Lou (Glenn) Austin, Gail (Howard) Jensen, and Mark (Mary Carol) Gulbranson; grandchildren, Jocelyn Ungar, J.J. Jensen, Amy Ahlers, Laura Cameron, and Erin Robinson; nine great-grandchildren; and niece Jill McDonnell.

Anne will always be remembered for her kindness, open heart, and generosity. She had a deep habit of acknowledgment and appreciation that endured until the end. She would do anything for her family, and her gentle, nurturing spirit touched the hearts of all who knew her. She was an avid reader, well informed, and smart, and she and her husband Jack shared a wonderful sense of humor that saw them through the years.

A private celebration of life was held August 27, 2023.

Memorials may be made to Seattle Children's.
---
The following tribute was written by Anne's grandson, J.J. Jensen (former reporter for The Seattle Times and Kitsap Sun).

In Loving Memory: Celebrating the Life of Anne R. Gulbranson
By J.J. Jensen

Anne Gulbranson was a nurturer. Whether it was her kids, friends, grandchildren, plants, dogs, cats, or birds, she was always nurturing something.

"She was an inherently thoughtful and gracious person," said Mary Lou Austin, her oldest daughter. "She naturally had empathy for others. She was a kind and gentle soul, with a generous sprinkling of fun."

With her family at her bedside, Anne peacefully passed away, July 26, 2023. She was 99.

Anne was born September 18, 1923, in Seattle, Wash., to Eleanor and John Dudley Roberts. Her father, a sales manager and later vice-president of the Imperial Candy Company, moved the family to Vashon Island in the mid-1930s. Here, in her youth, Anne spent a significant amount of time at Pulverbatch Orchard, home of her paternal grandmother, Olive W. Roberts ("Mother John"). Though both of Anne's parents died in 1940, her years on Vashon with her distinguished grandmother proved to be a transformative experience.

In a 1957 letter to Mother John, Anne wrote: "To me, Vashon Island will always mean "Pulverbatch," where I spent many happy hours, where I learned to enjoy and appreciate good books, the beauty of a lovely garden and growing things, where I learned the importance of being a good citizen and a good neighbor and a good person—and so many things—intangible things—that will be with me the rest of my life."

At Mother John's behest, Anne attended Helen Bush School for Girls. She later graduated from West Seattle High School in 1942, and then attended Washington State College.

It was at Washington State where Anne, a talented writer and proud member of Pi Beta Phi sorority, met her future husband, John "Jack" Gulbranson, a kind and funny Kansan who was at the school undergoing training to become an Army combat engineer.

During the next few years, Anne and Jack maintained a written correspondence, as Jack was sent to Europe to serve in World War II and Anne headed south on a California adventure. For the duration of the war years Anne lived in Los Angeles, working a succession of jobs, enjoying her independence, and even meeting a movie star or two.

Returning home from the war victorious, Jack also won Anne's hand in marriage. The couple wed in 1947, in Kansas City, Missouri, and made their first home in Lawrence, Kansas, near Jack's family. Their first child, Robert Dudley "Bud," was born soon after, in 1949. The natural beauty of the Pacific Northwest never ceased its call to Anne, however, and the family returned to her hometown of Seattle in 1950.

Back in Seattle, in the 1950s, the family grew, with the births of Mary Lou, Gail, and Mark. With Anne busy on the home front, Jack, a promising young professional, was hired at Washington Mutual Savings Bank, working in statistics and accounting.

In 1962, a desire to move out of the city, combined with Anne's affinity for islands, led Anne and Jack house hunting on Bainbridge Island. It was on the sunny shores of Pleasant Beach that a two-story brick Colonial caught their eye. It was purchased and the Gulbransons were forever home.

As Jack rose through the ranks at the bank, and the children grew, Anne continued as a homemaker, in the best sense of the word. She filled her house with joy and love and instilled in her children the values from her own childhood—reading, appreciating nature, and caring for all people and things.

"She made a happy and fun home for her children," Mary Lou said. "The holidays were always a lot of fun—Christmas, Thanksgiving, Easter egg hunts, and birthdays. Mom and dad made those special. Ours was always the house where the neighborhood kids wanted to be. Mom was so imaginative and good at improvising fun things to do. She had a playful side to her."

By the late 1970s, all the Gulbranson children had graduated from high school and moved on to careers, college, and starting their own families. Quiet never befell the house, though, as grandchildren next experienced the immeasurable love and generosity of Anne and Jack and discovered the enchanting qualities of life on Pleasant Beach.

As with their parents before them, the time Anne's grandchildren spent with her was time brimming with literary treasures, outdoor discoveries, learning diverse perspectives, and immersion into worlds of imagination. On any given day, Anne could be in a rowboat on the lookout for Jaws, a menacing Major League Baseball pitcher, or the Blair Witch, looking to capture little girls in the back yard. For her grandchildren, the saddest part of a trip to Grandma's was when it was time to go home.

"I got to be a carefree kid on my visits," said Jocelyn Ungar, her oldest granddaughter. "She was hands down the most amazing person I've ever known."

As a wife, mother, and grandmother, Anne poured fathomless love and devotion into her family, but she also left an everlasting mark on the lives of all who knew her. Whether it was a neighbor or friend, Anne was always there to provide a listening ear, solace, guidance, and support.

To have best known Anne, though, was to have known her in her garden, a realm of enchantment vibrant with phlox, wisteria, and lavender, rich with color and fragrance, that flourished in her care and mirrored the love she bestowed upon her family and friends.

"She was the closest person I've ever known to being a saint," Mary Lou said. "She had such a pure heart."

Anne was preceded in death by her husband, Jack; oldest son, Bud; and brother, Dave Roberts. She is survived by her children: Mary Lou (Glenn) Austin, Gail (Howard) Jensen, and Mark (Mary Carol) Gulbranson; five grandchildren: Jocelyn Ungar (Traca), J.J. (Jill) Jensen, Amy (Carl) Ahlers, Laura (Sam) Cameron, and Erin (Nick) Robinson; nine great-grandchildren: Jasmin Lopez, Jaden Lopez, Angelina Lopez, Lexi Jensen, Nora Robinson, Millie Ahlers, Claire Robinson, Finn Cameron, and Jack Ahlers; and niece Jill McDonnell and great-niece Ella McDonnell.

A celebration of life was held August 27, 2023, at her beloved Pleasant Beach home. Her memory will forever endure at the seaside abode.
---
The following tribute was given by Anne's daughter Mary Lou at the family celebration of life on August 27, 2023.


A Tribute to Mom by Mary Lou Austin


First: I'd like to start with two words for Mom—big, bold, and underlined: THANK YOU. I feel so lucky to have had her for my mother all these years. We shared a close bond, I knew her well, and I loved her more than anything.

Second: I don't know how she managed to survive four kids! I noticed a newspaper clipping she saved of a book review. The title of the book was When Your Child Drives You Crazy. And I'm sure we did.

When we were assembling photos for a slide show, Glenn titled the first slide, "Anne R. Gulbranson: A Life Well Lived," which got me thinking about what, specifically, made her life so good, full, and successful.

A stanza in a poem by John Greenleaf Whittier came to mind:

Give fools their gold and knaves their power;
Let fortune's bubbles rise and fall;
Who sows a field, or trains a flower;
Or plants a tree, is more than all.

To me, this is an ode to the nurturers of the world. And that's what mom was: a nurturer. She never cared about attaining fame or fortune, but her life was truly rich. She had an exceptional degree of generosity and kindness that she expressed every day.

Speaking of the importance of that quality of kindness, I like what Fred Rogers, better known as Mr. Rogers, had to say:

"There are three ways to ultimate success: The first way is to be kind; The second way is to be kind; The third way is to be kind."

On that score, Mom's life was certainly a tremendous success.

She was always there for her family with an encouraging word, a clipping from the newspaper she thought they'd like—something interesting or funny, an idea of something fun to do. She took a genuine interest in each of us and in others, as well. She had a way of making people feel special and cared for. She had a deep habit of appreciation and acknowledgment—and that endured until the very end. No wonder everybody loved her.

When I was describing Mom to a friend she said, "Your mom sounds like a little saint." True, along with that amazing generosity and kindness, she possessed humility. Her life is proof that a person can live a simple life among family and friends and not make a big splash in the world but still have a huge positive effect with far-reaching ripples.

I'd also hear people say, "Your mom is so sweet." True—as far as that goes. She certainly did have a pleasant disposition—and an open heart. But she was also astute. She had seen enough to be aware of tragedy, injustice, and the darker side of human nature and the damage caused by human ignorance. She could spot phoniness and hypocrisy. And I recall her lamenting that "there are just too many stupid people" in the world!

So, yes, she was "sweet," but not naive. She was also smart.

Instead of the word "sweet," I would describe her as gracious. She kept a little book, where she copied down quotations that were meaningful to her, and one was about the importance of grace that read:

"One of the cornerstones of a civilized mind is the ability to think before you speak. Grace requires you to evaluate the impact of your words or actions on others."

Her life was a beautiful example of grace.

Both mom and dad led their lives in keeping with their values. They were ethical and shared some basic core beliefs: they believed in honesty and fairness, they knew the difference between right and wrong, and they would do anything for their children.

They also shared a sense of humor that saw them through the years. In fact Mom said one of the main reasons she chose dad was because he was so funny. And I have so many memories of fun times growing up: the holidays that were always special, birthday parties, playing in the swimming pools in our Seattle backyard, those idyllic summers on Whidbey Island.

Mom loved music—and had wide-ranging tastes—including all the old standards, classical, Big Band, Nat King Cole, Harry Nilsson, Patsy Cline, barbershop, and zydeco! I'll always be grateful that she saw to it that I got piano lessons after I plunked out Moon River back in 1962. In her final years she liked to sing—and she had quite a repertoire! I have precious memories singing her old favorites with her during that time.

She loved nature.  A walk in the woods or on the beach, a beautiful sunset, a lovely garden, the warmth of the sun. I have fond memories of our walks at Port Blakely with her various dogs over the years. Even when she had slowed down, she would still reach down to pick up a pretty maple leaf that she admired to bring home.

She loved animals—especially dogs, starting with her first childhood dog, Sunny. We had quite a menagerie in our house growing up! In her later years she was always conscientious about feeding the birds that she loved to watch out her dining room window.

She loved children.

Mom was creative, and brilliant at improvising fun things to do. No wonder the neighborhood kids gravitated to our house. 

She had a great imagination and was a good story-teller. I remember Josie liked the stories about a character Mom created named Eddy C. Garbut.

She had a gift for verbal expression, a knack for knowing just what to say, whether to make you feel better or make you laugh. I cherish the cards and letters she wrote over the years. And I think it was partly the letters she sent to dad during the war that won him over.

She was always a reader, and I recall listening to her reading to us with such expression—whether it was a scary tale about Blue Beard, or the funny Mrs. Piggle Wiggle books, where mom would mimic the voices of the characters. She retained that expressive reading ability until the end.

The sound of her voice is one thing I will dearly miss. Mostly I will miss just talking to her. I'm grateful for every minute I got to spend to with her. She retained her essence until the very end, despite cognitive decline.

Finally, Mom was always so appreciative. She had the ability to see and treasure the beauty in ordinary daily life. Even when she was out of her beloved home and was sitting in her room in a facility, she would look out the window and gaze at what was beautiful. She especially liked looking at the tall fir trees in the distance. She always commented on the blue sky—which of course led us to sing Irving Berlin's song, "Blue Skies."

A couple of days before she died I brought her a little vase of flowers. I said, "I thought you might like these flowers I picked in my garden." She reached her hands out from under the covers and touched the vase, and said, "Who wouldn't? I love them. Thank you."

Ever thoughtful, she chose to go on a sunny day in July when the phlox and lavender were in bloom to soften the blow.

Thank you, Mom. You KNOW how much I love you.
---
Comments
I knew Anne through her daughter Mary Lou, and have wonderful memories of special celebrations at her house on Bainbridge Island. Such a gracious person…
Renata Funke
---
I spent my 1st eight years living across the street from the Gulbransons in Seattle. My 2 sisters and I were pretty constant neighborhood kids hanging out at their house. Anne was so instrumental in our happy childhood that we were crushed when they moved to Bainbridge Island. I so admired our relationships with them that Bud was unknowingly my inspiration for learning to play saxophone (I still play today after 60 years). Nearly every summer for several years we had kid vacations with Anne and the fam. I think I correctly remember the color of their downstairs bathroom being black which we thought was no "outside" and not something the Davenport family would do. Anne certainly opened our eyes to other perspectives and not being hum drum.

Not much else I can add to all the wonderful and absolutely true things said about Anne and her positive influence. Thank you Anne for helping make my childhood happier.

Bill Davenport
Anne was truly a significant part of my childhood. My family had the good fortune to live next door. I would come home from school and proceed directly through the garden gate to knock on her kitchen door. Anne always welcomed me in to chat. She was kind and gentle with me even though she had a lively household with her family and every imaginable pet! Her kitchen was a safe haven and among many things, I grew to appreciate her love of plants. Knowing this she invited me over on an evening to see the rarity of her beloved Night Bloomin Cereus bloom. I would "help" her clean house, and as a child, I can not imagine accomplishing much, but at the end of a summer she gave me $50. I was completely overjoyed by her generosity. Anne is someone I've held dear in the arc of my lifetime. A soft touch on the fabric of my experiences and an example of how to be. Thank you, Anne. Much love to you and your family.

Jane Freeman
---
First of all, to all the Gulbransons I want to say I'm sorry for your loss. Your Mom/Gramndmother was such a lovely person.
Jack and I lived next door to Anne and Jack in the little blue cabin in the late seventies when we were in our twenties. As i look back on all the comings and goings at our house it must have been somewhat annoying, but as they had children our age they were very understanding. Anne always greeted me with a warm smile and was happy to chat. She was such a kind and gentle soul.
One event sticks out in my memory. We had a springer spaniel who was obsessed with balls. One day our dog came through the bushes with a ball of Anne's yarn unraveling as he ran. I was so embarassed that I wound the yarn back uo and threw it over the hedge. I'm sure Anne realized what happened, but she never said a word
You all were very fortunate to have her in your lives for so long.

Gayle Schweizer and Jack Colegrove
---