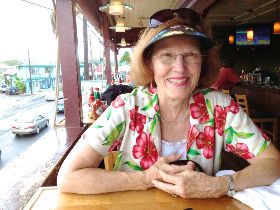 Beautiful "Toni" to all that knew her and were blessed by her love, departed for heaven peacefully in her sleep on June 23rd, 2015 of a massive stroke.
Born January 8, 1947 in Seattle, WA to Erich Last and Martha (Schwenk) Last, Toni had 2 older sisters, and 3 older half-siblings, enjoying life as the baby in a large German family.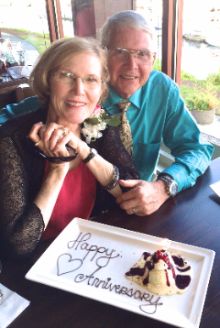 Choosing to stay in beautiful Washington state, Toni attended Central Washington State College, where she performed as a much sought after soprano soloist. She received her Bachelors of Liberal Arts in Education, with a fifth year certificate in 1970. During her college years, she met and fell madly in love with another musician, Thomas "Tom" Reich.
Toni and Tom tied the knot on June 20th, 1969, and recently celebrated their 46th Wedding Anniversary. They have three beautiful children, 4 grandchildren and 2 grand-doggies.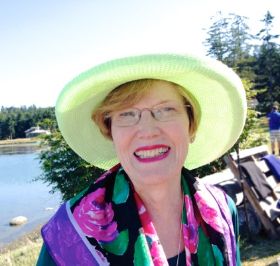 During her years in the employment force, Toni taught young minds to love learning in various Elementary Schools, taught Collegiate Level ESL, and was an Office Administrator. After retiring from the education field, she worked as a regional field manager for NAEP (National Assessment of Educational Progress). Toni was a powerhouse and energetic colleague, who was always willing to go the extra mile with a helping hand, sympathetic ear and quick laugh.
Lovingly dubbed "Mimi Toni" by her grandchildren, and notorious for wearing brightly colored or sequined hats and visors, she enjoyed playing and spending time with her precious children, grandchildren and grand-doggies whenever she could. Reading a good book, praising the Lord, praying for people, walking the beach and crunching seashells, traveling, making bubbles, sitting in the sunshine with a cup of coffee, chatting with family and friends, having new 'adventures', and playing golf with her sweetheart were all what made Toni's heart sing.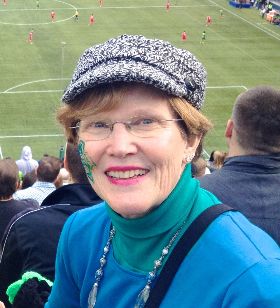 What made Toni so special to everyone around her was her enormous servant's heart and attitude of Jesus. Loving Jesus with all her soul meant that Toni would immediately be available to help someone, make people feel welcome and loved, and wrap them in comfort. Truly a handmaiden for the Lord by pouring out God's love on everyone whenever they needed help, which was always accompanied with the grandest of smiles and welcoming hugs. Toni was constantly giving to others, and supported a variety of different charities and individuals, through either financial, material, or time related means. She was always giving gifts.
Some of Toni's lifetime achievements were performing and recording music with her two older sisters when they were young children, being crowned Miss Ellensburg in 1966 and competing in Miss Washington. But what we consider more important achievements are in the changed lives and hearts of those she touched with her service, love and care.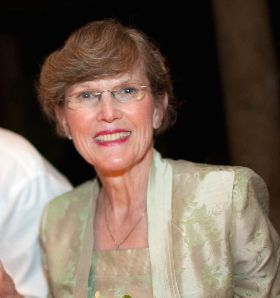 Words can't describe our sweet, little Toni. Small in stature, giant in spirit. Constantly giving, constantly inspiring, and constantly helping those around her whether she knew it or not, just by being who she was.
Mimi Toni had the uncanny knack of finding four leaf clovers wherever she went. Literally everywhere. Sometimes multiple clovers at one time. "Oh look", she would say, while bending down to the ground. And we knew she had found another four leaf clover. Those four leaf clovers were pressed with her loving fingers in-between pages of many books and the Bible, forever reminding us just how lucky and blessed we really were to have known her.
Survived by her cherished husband, Tom Reich, in Redmond, WA; treasured children, daughter Michelle Reich Myre (Oscar) of Renton, WA, son Erich Reich (Pam), of Sammamish, WA, son Paul Reich (Aimee), of Seattle, WA; and beloved grandchildren Chloe Myre, Cora Myre, Oscar Myre V, and Bailey Reich. Also survived by sister Liesa Banchero (Ken), half-sister Martha (Rameau) Collman, half-brother Fred Rameau, and countless other aunts, uncles, nieces, nephews, and cousins from around the world.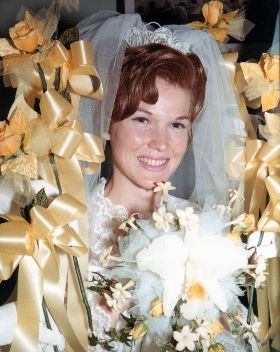 She met up in heaven with her mom and dad, second mom/aunt Frida (Schwenk) Last, sister Erika "Ricky" (Last) Stewart, and half brother Charles Rameau.
A Celebration of Life service, full of music, joy and tears, will be held on Sunday, July 19th@ 2pm, at Bellevue Presbyterian Church, in Bellevue WA. Family and friends are welcome to wear a brightly colored, sequined or "Toni hat" or visor in her memory. Memorial contributions to "Food Lifeline" or any of your favorite shelter or mission charities in Toni's name would tickle her fancy for sure.
To all of us left this side of heaven, she's saying to us now: Come Good Home.
---
Comments
What a beautiful woman of God, beautiful inside and out! You were certainly blessed by her in your life for sure! My very best to you and your family, Michelle. --Marilyn Tilton
---
I was so sad to hear of Toni's passing. As a fellow teacher at Samantha Smith Elementary School, I remember Toni as a warm, friendly, and dedicated teacher. She had a good sense of humor, and a wonderful laugh. My thoughts and prayers are with Toni's family at this difficult time. --Barb Regan
---
Touching, beautiful. An example of: "21 His master said to him, 'Well done, good and faithful servant.[a] You have been faithful over a little; I will set you over much. Enter into the joy of your master.'". Mt 25:21. My mantra as well. We miss and grieve over those leaving us behind....but one day, there will be a grand celebration and reconnection! Love and prayers, Michelle, Oscar, and your families. --Dori Pulse
---
yes bubbles are a favorite memory of mine. My aunt Toni made them for me when I was a child and helped me make bubbles in the backyard at the little house on Beacon Hill.
--Lanita Rameau
---
Saddened to hear of Toni's passing this earth but knowing she is in her eternal home as prepared for her. She let her light shine and I was blessed to know her at Samantha Smith Elementary
--Paula Haakenson
---
I remember Toni at Samantha Smith Elementary school, she was a wonderful teacher and always had a very calm spirit and I enjoyed talking with her on many occasions. She will be missed. Love and prayers to her family and friends.
--Sondra Skipworth
---
I remember Toni and her family so fondly from her years as St. Luke's Lutheran Church's office manager. Lovely lady who will be greatly missed!
--Anna Coy
---
I never thought of myself or my two brothers Freddy and Charlie as half-siblings. Toni was always my full and complete sister--the sister that everyone wanted and would have loved to have had. Always teaching through her gentle and loving manner, always there first with emotional and physical bolstering--always wise and so very much loved by all of us.
I'm sorry to cry but cry I must as we miss her so deeply. But, I believe it is because she was so good in every way that she was taken into heaven and spared the infirmities of old age and other limits of the years. She will be forever young in our hearts.
Oh, Toni, WE MISS YOU ALWAYS!
-TALL SIS: Martha Collman
---
I have just returned to Bellingham from Seattle after attending my 50th high school reunion. I looked for my dear classmate, Toni whom I had lost touch with over the years. How sad to learn of her passing, and sadder still to see how recent her service. We spent many high school hours singing together in choir classes and studying German lessons, and we often discussed our similarities of harmonizing with sisters in community and church events. Her beautiful voice and smile will always be treasured.
--Judith (Roberts) Shepherd
---
Tom and Family, I just discovered on Facebook that Toni had passed away. It has been a year and a half since she went to be with The Lord. I am so sorry I wasn't around to offer prayers and support. I do know how much she is missed by family and friends. We can find comfort in wonderful memories of Toni's love, caring and support she gave to all. Toni was a wonderful friend and helped my children and me through many challenging times as single parent family. My Love To All, Barb Paterson
Barb Paterson
---