Horace Henry Sawyer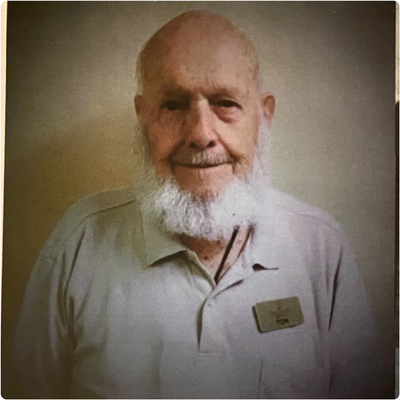 Horace Henry (Tom) Sawyer August 08, 1923-September 27, 2020
Tom age 97, a devoted Christain was preceded in death by his parents Francis Marion and Laura E. (Orton) Sawyer of Sawyer, Iowa and beloved wife Rowena A.(Pierce)Sawyer, sisters Catherine Jackson, Clara Horst, brothers Edward and Frank Sawyer. He is survived by his sister Edith Junk, his loving partner Ann Graville, son Thomas E. Sawyer, daughters Pearl (James) Dunn, Sandra (Johnny) Burnett, and Step-daughter Debra (Harold) Smith, 10 Grandchildren, 21 Great Grandchildren, and 3 Great-Great Grandchildren. He served our Country in the Airforce, where he found the Northwest and settled there with his family after his Honorable Discharge. He worked for an inspector for Boeing and then for Sears and Roebuck in Farm Equipment, where he retired and RVed with his wife. He loved to fish and spend time with his family. He had a full life.
God took our loved one home,
To give his body whole, 
And frolic with his loved ones gone,
With God's promise crowned.
We're sad he's still not here, 
His memories always will.
Smiles appear, imagining him,
Happy, whole, and fulfilled.
---
Comments
Sorry to hear of Uncle Horace's (Uncle Tom) passing. My grandmother was his sister, Kathryn Sawyer Jackson. In the obituary she is listed as Catherine. Much love to the family.
Kay (Whitmore) Walker
Dublin, Ohio
---
Our prayers go out to the family of Bro. Tom Sawyer. He was a Lifetime member of St. John's Lodge No. 9, Free & Accepted Masons of (Seattle) Washington.
 
Jinn Russell, Secretary
---