Wen Wha Hsu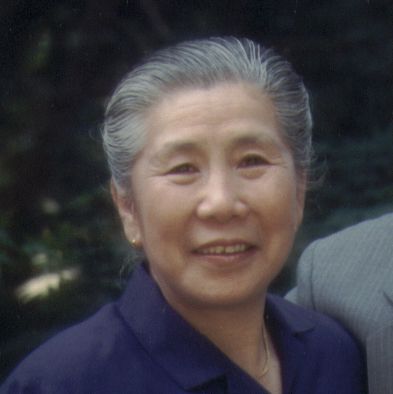 Wen Wha HSU of Seattle went to be with the Lord on Saturday May 28, 2016 after 91 years of a fruitful life in China, South Korea and the USA.  She was born in Jilin China as the youngest of five children. Her family arranged for her to marry Ching Fang Hsu at age 17.  After the Sino-Japanese war & WWII ended, the civil war between the Nationalist and Communist parties broke out in 1946. Capitalism was regarded as threatening to the new regime's ideology and, Ching, who was working for his brother-in-law, a wealthy landowner and entrepreneur, was targeted for arrest. He was away at the time, and Wen was put in jail as his surrogate until her father-in-law replaced her. 
Sorrowfully, Wen and Ching knew they had no choice but to leave their homeland. Ching suggested he escape first, then send for her. Wen insisted that they both get out while they could. (Her decision proved to be wise, as borders were sealed not long afterward, and many families were broken apart for decades.) Wen dressed like a man and rode in a coal cart and was able to make it to the border of Jilin and North Korea. Much of her 409 miles of traveling was perilous and on foot in the snow but she later made it to South Korea, where she was reunited with Ching. 
During their ten years in Korea, Wen gave birth to three sons: Ron, Larry, and Richard. They established themselves in a community with other Chinese refugees but held on to hope of being reunited with their families again some day.  Ching was encouraged by a friend to seek sponsorship to the U.S. through the World Council of Churches. Wen's initial thought was that they might as well apply to Shangri-La and didn't think much of it. But God clearly had plans for the family. Their application was reviewed and accepted by University Presbyterian Church and the Hsu family arrived in Seattle on January 1957.
UPC  modeled Christian love in its purest form to the new immigrants. Church members ensured their needs were met, and some informally "adopted" the Hsus into their own families. Through Dr. Donald Irwin, a former missionary to China, they heard the good news of Christ's salvation by grace through faith. Wen eagerly accepted Jesus, realizing He had been looking out for her even before she knew who He was.  Ching was initially hesitant but then followed Wen and decided he needed the Lord too. Mary, their first daughter, was born that year and named after Mrs. Irwin. Ruth was born a few years later and named after another UPC member, Mrs. Ruth Koopman. Despite not having any blood relatives in the US, they were embraced as family by the Rutherfords, Wilsons, Swansons, Keenes, Koopmans, Adkissons, Hoopers, Miss Harris & Miss Davis. 
Wen and Ching regularly attended UPC with their young family, even though understanding sermons in English was challenging. If a ride was not available from their central area apartment, they would either take 3 buses or even walked. Ching was happy to meet a fellow Chinese Christian, Philip Tang, and they had regular Bible studies with other Mandarin speakers. While attending an English class, Ching became acquainted with Mrs. Victoria Shen. Her husband, Rev. Paul Shen, was interested in conducting evangelistic outreaches. Ching asked Rev. Shen to consider planting a Mandarin speaking church in Seattle, resulting in the establishment of the Evangelical Chinese Church in 1967. ECC became and remained a significant part of their lives, now into the third generation.
Though busy with five growing children, Wen took a job at Frederick & Nelson Department Store. Noting that all the Chinese restaurants in Seattle served southern cuisine, she proposed to Ching that they open their own restaurant. The Harbin Drive-In Restaurant began in 1966 in a small building in Wallingford. Wen went to F&N early in the morning, then would go to the restaurant to work in the evening. For a period of time she became the full-time head chef. The Harbin was the first restaurant in Seattle to serve pot stickers and Mandarin chicken. Realizing how important it was to honor the Lord, Wen insisted that the restaurant stay closed for most of the day on Sunday and on Wednesday nights, so they could attend worship and church-wide prayer meetings. Wen and Ching sold the business in 1981 but continued to work a few more years.
After retiring, Wen enjoyed tending their garden, taking care of grandchildren, sewing, knitting, woodworking, and traveling. Wen was extraordinarily dexterous and loved creating. She made family members quilts and clothes, even outfits for their stuffed toys. Her carpentry projects included a crib, cabinets, and a doghouse. Wen's health began declining in 2010, but she stayed active as long as she could, even continuing to hand make her famous dumplings up until a few months ago. She blessed many through her loyal friendship and culinary skills throughout her entire life. On May 28, 2016 Wen peacefully passed into Paradise. Her legacy of prayer, diligence, perseverance through trials, and holding onto hope in Christ will always be treasured by her family and friends.
Her beloved husband of 63 years preceded her in death in 2005. She is survived by her children: Ron (Teresa), Larry (Esther), Richard (Linda), Mary Li (Dexter), Ruth (Paul), 11 grandchildren and 4 great grandkids.

Celebration of Life will be at 11 AM - 2 PM, Saturday, June 4, 2016 at Evangelical Chinese Church, 651 NW 81 St., Seattle WA 98117, phone 206 789 6380.  Motorcade starts at 2 PM to Lynnwood for the 3 PM internment at Floral Hills cemetery. Memorials can be designated to Evangelical Chinese Church.
---
Comments
to Ron, Larry, Richard, Mary and Ruth,
May each of you be comforted in your loss by the love and support of each other and of your spouses and your children and your many friends. We have all been blessed to have known your mother and to have been a part of your family. I will always cherish my own memories of good times, and good food, together.
David Hal Keene
---
Condolences to your family. Thank you for sharing this beautiful story of her life. She leaves a beautiful legacy behind in her wonderful children and grandchildren.
    
Beth Daranciang
---
What a remarkable life. We were blessed to have known Wen and Ching and the rest of your family.
Calvin and Helen Swindell
---
Dear Ruth, Please accept my belated condolences to your family. Thank you very much for sharing the beautiful story of your mother and father though I heard part of it from them when we were invited to your house. I am so touched by what they went through, and how gentle and loving they were even after having gone through this much. I feel blessed to have known your parents and will cherish the legacy that they left behind. Love, Ming Yue
Yue Ming
---