August 30, 1934 - December 22, 2015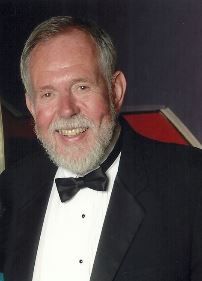 James Arnold Gunstone died in his Normandy Park home at 9:00 a.m. on Tuesday, December 22 (his son David's birthday).  
Known more commonly as "Jim," he is known by other names as well. To his grandchildren, he is "Papa Jim." Friends affectionately call him "Lil' Jimmie" – noting the irony for someone standing over six feet in height. His stepdaughter, Kristi, tried a few variations of Jimbo before finally arriving on "Hymnbo." It became a family nickname ever since. In the world of Boy Scouts he was known as "Mr. G."
On August 30, 1934, Kathryn and George Gunstone realized it was time to go to the hospital for the delivery. Having no car, they had to call a taxi to take them. This little baby Gunstone couldn't wait to see the world, so he was born in the taxicab on the way to the hospital. Giving birth in the less-than-ideal space in the backseat of a taxicab gave little room for maneuvering. Katherine apparently sat on Baby Jim a few times in the process. Five-year-old, big sister Beverly distinctly remembers seeing a very bruised baby brother when she saw him for the first time.
Jim was naturally very curious. Soon after he learned to crawl, he started sticking his fingers and other objects into light sockets. When the quiet of the house was interrupted by the scream of the young boy, his mother would reassure Beverly, "Sounds like Jim got bit by the electric bug again."
Thus began a lifelong fascination with electricity. From a young age, Jim began tinkering with electrical appliances. He soon found he could be useful around the house by repairing broken items. For the first year or so, his dad would check to make sure Jim's work was done correctly. By the time he was about seven years old, Jim had proven himself to be so adept at household repairs he was allowed to do them independently from then on.
Jim liked being helpful and contributing to the family well-being. He reveled in the challenge of identifying and solving problems. Jim was never at a loss for projects to do – at home, at work, or at church. Even as a boy growing up, Jim spent many of his weekends or vacations helping out at the family farm in Maytown (South of Olympia).
In 1952, Jim graduated from Olympia High School, and went to continue his studies at the St. Martin's College in Lacey, WA. The summer after his freshman year, at the advice of one of his professors, he took a summer job at Boeing. He left 46 years later when he retired April 1, 1999.
His Boeing career was interrupted for two years when he served in the Navy.  He was  assigned to the USS Kearsarge an aircraft carrier based in San Diego. While attending church in Southern California, Jim met and fell in love with a young woman named Else Fjarvoll. In 1958, Jim brought Else home to Olympia to meet his parents. The following February they were maried on Valentine's Day.
Jim and Else bought a house in White Center, and Jim returned to his career at Boeing. In 1960, Jim and Else welcomed their firstborn son, Peter into the family. David came along in 1961 and Eric in 1965. These three boys took after their father in many respects. They shared his fascination with tinkering, building, and solving problems. Jim shared his love of the outdoors spending time hiking and camping.
Jim focused his time away from work on his family and giving back to the community. He served as the Assistant Scoutmaster for Boy Scout Troop 360 at Lake Burien Presbyterian Church.  For twenty-five years he planned monthly outings and summer treks. During that time, over eighty young men earned the rank of Eagle Scout – including all three Gunstone boys. In addition to his time leading the Scouts, Jim continued to enjoy and learn about the great outdoors. He spent time with, and learned from, the Mountaineers. With them, he summited Mt. Rainier on three occasions.
Eventually, the boys grew up to be taller than their parents. The family presented quite a sight – all five members surpassing six feet in height, walking down the aisles at Lake Burien Presbyterian Church. Jim was a member of this church for fifty years. Over that time, he served many terms as an Elder, and even more frequently as a volunteer. His time teaching 8th grade Sunday School was a place where he felt most worthwhile.  After retirement, Jim was the volunteer custodian 24/7 at LBPC.
Unfortunately for Jim and the boys, Else lost her fight with breast cancer in 1986. This was a very hard time for everyone. Jim had been happily married for 27 years and preferred the married life. After a few attempts at dating, he went for dinner to talk about the challenges of life with a friend from church, Cathy Lonheim.
They married in 1987, and Jim moved from a widower, empty-nester to a married father of a blended family. Although Jim was an experienced parent, a teenage girl was entirely new territory! Jim and Cathy bought a new home in Normandy Park and Jim worked to make each of Cathy's children a room that was truly theirs.  He installed a wall of mirrors and a ballet barre for Kristi and built an upstairs loft to give Scott a very unique bedroom.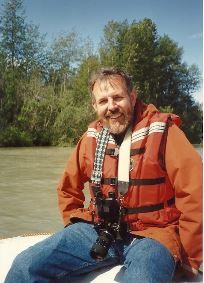 The backyard of this house opened onto a green belt, so Jim spent much of his home time caring for "the woods" and his burgeoning garden. He sought the counsel of master gardeners and arborists as he slowly transformed the yard into the natural beauty it is today. And his love of gardening became an important part of his work with their church community.
Cathy shared Jim's love of the outdoors, and they enjoyed many camping and hiking trips. Cathy introduced Jim to her family's love of international travel, and together they traveled to Africa, Asia, the Middle East and Europe.
In the last few years, they found a new church home at University Congregational United Church of Christ. Cathy has enjoyed being part of a vibrant choral program once again, and Jim found a new venue for his volunteer hours.  As a member of the Facilities and Equipment Board, his leadership in maintaining the grounds of the church was appreciated by all.
Jim was diagnosed with Melanoma in 2010 but lived 5 years with little challenge from the disease.  It was in September of 2015 that he learned it had metastasized.  His death came sooner than expected, but was peaceful and fulfilled his wish to die at home.
A Memorial Service will be held on Sunday, January 10 at 2 p.m. at University Congregational UCC, 4515 - 16th Avenue NE, Seattle 98105.  In lieu of flowers, contributions may be made to UCUCC at the above address.
He was pre-deceased by: his mother, Kathryn Gunstone; his father, George Gunstone; his first wife, Else Gunstone; his second son, David Gunstone.
He is survived by: his sister, Beverly Gunstone; his wife, Cathy Gunstone; his first son, Peter Gunstone; Peter's wife Brenda Gunstone; Grandchildren Jackie and Robin Gunstone; his third son, Eric Gunstone; Eric's wife, Linda Gunstone; Grandchildren Dan and Shane Gunstone; his stepdaughter, Kristi Lonheim; Kristi's husband, Jonathan Acker; Grandchild, Grace Acker; his stepson, Scott Lonheim; Scott's wife, Lisa Short; and many friends and extended family.
---
Comments
A good man!
Ted Collins
---
A beautiful capsule of Jim's life. Well written.
Jim was a magician with electric devices. In 15 minutes he fixed a motor that I had had in a small motor repair shop for 4 weeks, and was told it was unrepairable.
I shall miss this big man, this philosopher, in many ways.
Carl Erling
---
Dear Cathy, Thanks for the reprise of Jims life. That summer I was fininshing the pews at Lake Burien we got a chance to talk. He was a fine man and a good cook! Wont ever forget that salmon we tasted on the trip in Canada. The best ever!
Bob and Carolyn Baldwin
---
Eric we are so very sorry to hear of your dad passing away. Please know our thoughts and prayers are with you and your family. Losing a parent is never easy but I'm sure you have some great good times and memories of him and no one can ever take those away. Take care and hope to see you soon in the New Year.
Carol & Mike Qunell
---
Paul,
This appeared in the Seattle Times today.
Bill
---
My love and thoughts are with you, Kristi, at this difficult time. I can't help but see what a wonderful, caring and generous man your stepdad was. He left you in good hands, and for that, I can feel your joy and pain. Sending my deepest sympathy and highest hopes to you and your dear family, Carolyn
Carolyn Bippart
---
Jim was a giant among men. Not just in size but in heart! I can never think of Jim without remembering his Scout Sunday Sermons and his total love of the outdoors. I too remember watching those Gunstone boys with Jim, striding down the aisle. Depending on their dress at the time my thoughts ran something like.."yikes, here come the Vikings". But then, common sense would prevail and I would remember what a gentle lady Else was and she didn't really take any guff from these big guys. Thank you for sharing him with us!
Marlene M. Anderson
---
Dear Cathy,
Such a wonderful tribute to a wonderful man. He is going to be missed, leaving a large hole in the fabric of FnE and in your family. I am so very glad you made it to Blaine and we had an afternoon together. Warm hugs and so much love. Kathleen
Kathleen M Morgan
---
I had the fortune to get to know Jim as we participated through the years on church work parties. The joy was seeing how innovative Jim was in his approach to accomplish a task.
The real highlight the past decade or so was being a part of a study group which met on Friday mornings. Jim's diverse interests and discussions always kept the group alert. Jim will be greatly missed.
-Jim Jennings
---