Louis Henry Ebbers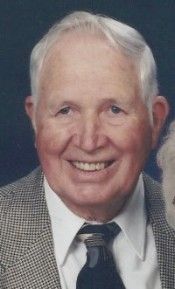 Louis Henry Ebbers, 100, of Normandy Park joined the church triumphant on September 14, 2016.  Louis was born on February 19, 1916 in Panama, Nebraska and moved to Yakima, Washington at the age of 9.  He was the fifth of seven children born to William and Audriana (Jenny) Ebbers.

While in Yakima, Louis ran a gas station and did taxidermy work.  After moving to Seattle, he worked at Kenworth Truck Company for 38 years as an electrical lead supervisor. He married Joanne Maginn on September 21, 1946.  They were married 70 years.  Lou was known for his wit, warmth and twinkly eyes.  Woodcarving, jewelry making, fishing at the lake and gardening were his favorite past times along with supporting his kids.  Lou and Joanne lived in Normandy Park for 55 years as well as at Summit Lake, near Olympia, for ten.  He is survived by his wife Joanne, son Ron and wife Susan, daughter Shelley and husband Joe, brother Arnold, three grandchildren Mackenzie, Jeremy and Erin, and many nieces and nephews.  He is preceded in death by his father and mother, his sisters Gertrude, Mary Ann and Grace, and brothers Willis and Raymond.  Graveside services will be at 11:00 a.m. September 24, 2016 at Washington Memorial in SeaTac.  A reception will follow.
---
Comments
Mr. Ebbers was especially strong at 100 years of age. What might he had. My condolences to you on the loss of your dear loved one. May God provide you with comfort.
Camille
---