Phyllis Ann Robison Baumgartner McDonald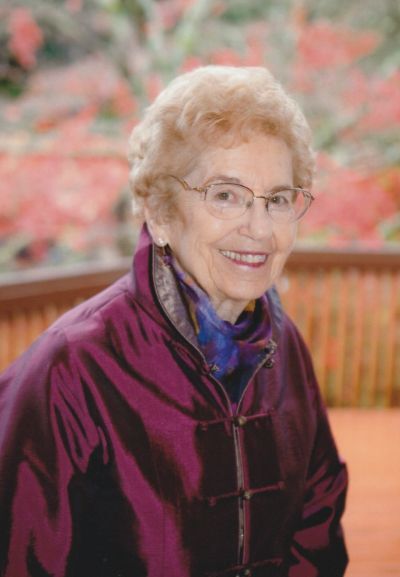 Phyllis Ann Robison Baumgartner McDonald passed away on January 31, 2023 in Seattle, of natural causes. She was born August 29, 1923, in Seattle to William S and Mabel L Robison. She was 99 years and 5 months old. 

Phyllis is survived by her children Donelyn Elaine Baumgartner Gamble (Michael), and Lawrence Elmer "Larry" Baumgartner (Lynette Hensley), also her brother James Lewis "Sam" Robison (Wendy) of Seattle. Loving grandchildren Jesse Gamble (Kendall) of Edmonds, Anna Gamble (Tom) of Portland, Oregon, Peter Baumgartner (Maritza) of Mission Viejo, California and Samuel "Sam" Baumgartner of Seattle and several nieces and nephews. She delighted in her great-grandson Benjamin Baumgartner, Peter and Maritza's son.  

Phyllis grew up on a farm in the Pinehurst area of North Seattle with 7 brothers and a goat named Napoleon. She attended Roosevelt High school in Seattle, Whitworth College in Spokane, WA, and finished at the University of Washington with a BA in Art. 

She married Elmer Regnier Baumgartner on April 9, 1947. They set up household near Jackson Park Golf Course on a street named Par Place and started a family.

Phyllis and Elmer were active at University Presbyterian Church, a church her Grandfather Reverend William A. Bass helped start, and where she was a 3rd generation member. They joined Skymasters, a post-war young couples group and made friendships that lasted a lifetime.

Together with three other families Elmer met in college, they owned and operated a 4 unit summer beach resort on Hood Canal called Pebbleshore.  Clamming, shucking oysters, water skiing and fairy hunting up the creek kept everyone busy and entertained.

Like her mother, Mabel, she was a strong, resourceful woman, generous and caring. When Elmer passed away suddenly in 1974, she took on the task of learning how to balance a checkbook, build an investment portfolio, and began a career as a general contractor and real estate investor, following in her mother's and Elmer's footsteps. 

In 1977 she built her dream house on Haller Lake. Here she loved to spend time with family and friends, pick raspberries, and pull lily pads.  Some years, when the ice was just right, she would take the grandchildren ice skating. She continued to create and share a variety of art and for many years hosted the best Fourth of July party on the lake.

Phyllis loved to travel. Europe, Mexico, China, New Zealand provided adventures and new experiences. Many trips involved snow skiing which she especially loved. It was a sad day when her doctor told her after hip replacement surgery that she was going to have to give it up. 

At age 86 she married longtime UPC Ski friend and fellow UPC church member, 90 year old Lamont McDonald. Theirs was a sweet love story, a marriage that both families were grateful for and which brought smiles to the residents and staff at Parkshore where they lived. In May 2019 at 100 years old Lamont passed. Phyllis was slowing down actively but still found joy being wheeled around Madison Park neighborhoods watching the gardens change seasons.

Her faith in Christ and the Resurrection were the rocks she built her life on and she is now safely home.

Phyllis had a special place in her heart for charities and nonprofits that provided services and opportunities to the underprivileged and homeless.  If you would like to make a donation in her memory these are three to consider.
Smiles Forever
Sandy, Phyllis' niece, has used her education and life to serve a vulnerable population and provide a vocational dental hygiene training program which allows young indigenous Bolivian women the opportunity to study and work in dental hygiene in order to support themselves and their children. Each student is fully supported by scholarship.
Uplift Northwest, formerly the Millionair Club, is a mission which provides life changing and dignified jobs and job-readiness services to men and women experiencing poverty and homelessness in the Puget Sound Region. Mom frequently used them for all sorts of projects.
Solid Ground believes that housing and family stability are foundational to ending poverty. They help families keep or obtain housing, get support to overcome poverty and thrive. Seattle, as are many cities, is facing a homeless and housing crisis. This is a way to come alongside and be part of the solution.
---
Comments
There will be a Memorial Service for Phyllis.
Sunday, March 26 at 2:00
University Presbyterian Church
4540 15th Ave NE Seattle, WA 98105
Mike Gamble
---
Phyllis was an amazing, unique, unrepeatable miracle. I was blessed to know her, Elmer, and the incredible families she connected through love and marriage and friendship. Celebrating her wedding with Lamont was so inspiring. Phyllis made me laugh, wonder, and love. Her legacy is eternal as is her life.

Ray Moore
---