Barbara Jans
1930- 2023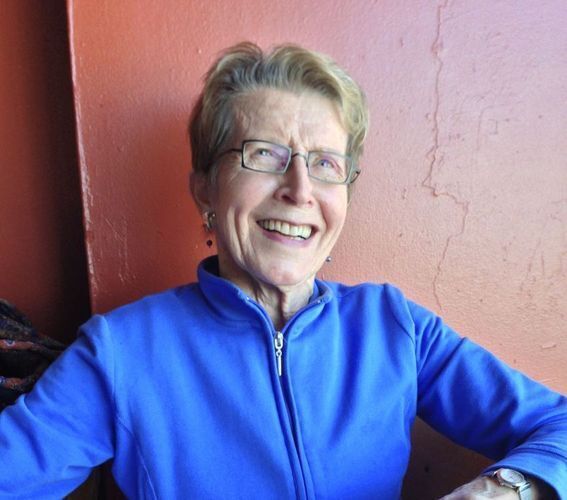 Barbara Jans, beloved wife, mother, and friend, died peacefully at home on July 11, 2023.
Barbara and her sister, Helen, were raised in Reading, Pennsylvania by parents C. Raymond Smith and Elsie Ogden Smith. A stellar student, she received a bachelor's degree summa cum laude in English from the University of Michigan. Her literature classes and work on the student newspaper kindled a life-long interest in the written word. She was a voracious reader who enjoyed both contemporary works and the classics.
While at Michigan, she met her husband, Jim. As she told it, "It was a French class and there weren't many men. He was a mathematician. Very methodical. He dated every woman in the class but stopped when he met me. It's a good thing he turned out to be a nice guy because I married him for his looks."
After marrying in 1950, the two lived briefly in Columbus, Ohio and Princeton, New Jersey before settling in Seattle, where Jim was offered a position as math professor at the University of Washington. There they raised their two children, Lita and Phil.
In 1965, Barbara received her master's degree in social work from the University of Washington. She worked with children in residential treatment at Ryther Child Center. She later worked as a grief counselor at Virginia Mason hospital.
Barbara, affectionately known as BJ, was physically active her entire life. A devoted yogini, skier, hiker, walker, gardener and secret Tina Turner wannabe, she is fondly remembered by family and friends skiing at Steven's Pass and rollerblading the long hallway of her Shoreline home. She was beloved for her humor, perceptiveness, kindness, and sensitivity. She was an esteemed elder in her Seattle walking group.
Barbara is survived by her son Phil Jans (Gina) of Wenatchee, WA, son-in-law Steve Neuberger (Kate) of Ashland, OR, five grandchildren, Jesse (Kimberley) of Portland, OR, Greg (Stacey) of Roanoke, VA, Ingrid (Jon) of Minneapolis, MN, Madeline (Austin) of London, England, and Karen of Bellingham, WA. She is also survived by three great grandchildren, Atticus, Ignotus, and Alistair and by two nieces, Barbara Pook and Polly Pook.
She was preceded in death by her sister, Helen, husband, Jim, and daughter, Lita.
Contributions in Barbara's memory may be made to Breast Cancer Research Foundation. https://www.bcrf.org/
A celebration of her life will be held at Aljoya Thornton Place, 450 NE 100th St., Seattle on Thursday, September 14th from 2:00 – 4:00pm.
---
Comments
Barbara was my skiing partner, I used to go to Innis Arden and pick her up and then we would go up to the ski bus. we had lots of fun day skiing, weekly ski trips, having a drink at her house and just plain visiting, I am so sorry I didn't get to see her just before she died but I had a stroke and have been under care for the last year and a half. Barbara was a very special friend of mine, I loved her.

Jean Hall.
---
Barb was my neighbor upstairs at Parkpoint. We had lots of casual encounters coming and going, but also lots of more extended visits in our units. Her unit was beautiful. She had impeccable taste in decorating. She loved to laugh and was fun to be around. We visited after she moved to Aljoya and planned an outing to have lunch at Dukes when Covid shut down the Hearthstone where I live now and we could no longer easily see one another. Hope to see friends and family on Sept. 14.
Sheila Trumbull
---
'BJ - 'A life well lived.'
Our TGIF dinner group enjoyed BJ's delightful company each Friday at a restaurant. 
After she became a Great Grandma, it so happened that her beloved daughter Lita was joining us for a TGIF. I sensed that stars were perfectly aligned for me to spring a surprise on BJ.
All the makings of 'Owalani' a very special E. Indian Cultural celebration reserved for freshly minted 'Greats' -who lived well and long enough to see their first grandchild-was brought to bear at dinner table for BJ with Lita joyfully taking it in!! 'A life well lived indeed' and missed by many!! Shaila Gadre
PS. Unable to join on Sept 14 at Aljoya but would like this read at the event. 

Shaila Gadre
---