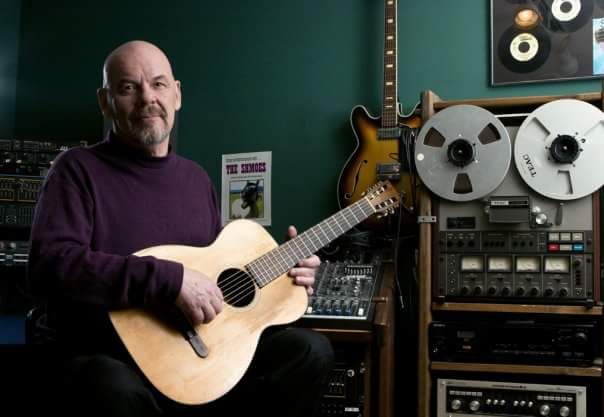 Born 1/20/1943 in Milwaukee, Wisconsin to Paul and Nona Fosso. He is survived by his wife Sara, daughter Samantha, mother Nona, sister Kristi, along with many extended family members and friends.
During his childhood, he lived in Arlington, Spokane, and finally in West Seattle for the majority of his young life. He graduated from West Seattle High School in 1961 with top honors and received a full academic scholarship to Dartmouth College. During his first summer home from College, he sang with the Gaslight Singers on a TV show called "Sing America." From that appearance, they were selected to perform at the 1962 World's Fair at Seattle Center.
After college, Jim moved to New York City, where he took his first job as a delivery truck driver in Manhattan, helping him to cultivate that fiery temper. During his time in New York City, he found a spiritual group that studied the teachings of Gurdjieff, and helped the group to establish their center in upstate New York. In upstate New York, he opened a cabinet shop that catered to the high end market. He was very proud of his carpentry, and always had an eye for fine detail.
Following his calling to return to music, he moved to Nashville in 1975. He quickly became friends with everyone in the music business, and wrote several songs that made it to the radio. His biggest hit was "Seattle On My Mind," which made the Billboard top charts, and was played on radio stations throughout the country. During this time, he met Sara, while singing at a club in Nashville's music row. They moved back to Seattle and were married in 1979.
 After settling back in to his hometown of Seattle, he and Sara sang as a duo in clubs throughout the area. Realizing that they needed to bring in more money to start a family, they started a side business selling air purifiers, which was inspired by the smoky bars they would sing in at night. That business is still going strong today as AAA Aircare Systems.
In 1982, their daughter Samantha was born. Taking a break from performing, Jim would write and sing lullabies to her as a child and helped develop her love of music and education.
His continued love for art and design helped in the development of the iconic "Hammered Man," a spoof of Seattle Art Museum's "Hammering Man," which is now a permanent fixture at Jim's favorite Seattle bar, the Blue Moon Tavern. With owner, Gus Hellthaler, and a few other friends, Jim & Sara started the band "The Shmoes" which played in several venues throughout the area and had a large following, with the Blue Moon being their home base. And, no, there is no "c" in Shmoes.
Jim had many other talents, including photography, painting, woodworking, and writing a good rant. He was passionate about many things, but nothing would get him as worked up as a good political discussion.
Many of his friends were unaware he was battling stage four colon cancer since September 2011. He was determined to beat it, and explored many therapies to do so. He lost his battle on December 31, 2014 at Evergreen Hospice Center.
Jim was very clear that he did not want a traditional memorial service, instead he wanted a tribute party to be held at The Blue Moon Tavern. His party will be open house style, and will take place January 25th from 1-6pm. Kids will be allowed in the establishment from 1-4pm, as we have obtained a special permit. It will be a potluck and open mike for music, stories, and rants. Please bring a dish to share and a story to tell. The Blue Moon is located at 712 NE 45th Street, Seattle, WA 98105. 
---
Comments
I'm sad to hear of Jim's passing. We became friends in Nashville in 1977 when I was a song plugger at Cedarwood Publishing. At my request, Cedarwood's CEO, Bill Denny, arranged a meeting with RCA's Chet Atkins so I could pitch Jim's song "Perfect Lover" to him. He was producing an album for Anne Murray. Spent 30 minutes with Mr. Adkins. Jim was a one-of-kind guy. I have other stories, no room here, but will always smile when thinking about Jim. RIP --John J, Bochan Louisville, KY
 
---
Samantha, what a man your father was! I'm so sorry for your loss. I can only imagine the wonderful memories you will carry with you forever. My thoughts, prayers and love are with you. --Kelly Brega
 
---
I feel honored to have this witty, wonderful man as a friend --David Zauner
 
---
Jim was my neighbor in Warwick NY. I knew him as a talented and interesting person. I send my prayers for his soul travel, and prayers to his family, who I know will miss him --Betty Greenwald
 
---
Such an intelligent, funny man...we will miss you Jim. --Claudia Lockwood
 
---
I was a close friend of Jim's for nearly 60 years through our association at school, church and Boy Scouts. Jim, John Hinderlie, Gordy Gunderson and I sang together in a quartet at West Seattle High School before we all went off to college. We last sang together at our 50th HS reunion in 2011--what a blast! Jim, Sig Haglund and I once climbed The Brothers in the Olympic range west of Seattle and I think of Jim every time I look to the west at those mountains. He was an extremely intelligent, talented and kind man. Rest in peace, my friend. --Mark Johnson
 
---
During a Shmoes rehearsal of 'Brown Eyed Girl' Jim, Ole Shmoe, lost patience with the band's inability to realize his vision of the chorus. "No more fucking 'la ti dahs'," he announced vehemently. And so it shall be. We'll miss him, oh, we'll miss him... --Gus & Trish Hellthaler
 
---
To The Fosso Family, It saddens me to read about Jim's passing. Something that helps me cope is found in the bible. It assures us God is near to those that are broken at heart and those who are crushed in spirit he saves. (Psalm 34:18) More than anything else, a relationship with God can help you to cope with the death of someone you love. May he be with your family today and the months to come. I hope everyone Jim touched can find comfort in these words. --Mrs. Roslund
---
My first contact with Jim was buying an air filter. A few years later, I met him again through our mutual friend Gus Hellthaler, leading to years of conversation, beer and the Shmoes. I don't know how to sum up so many years of friendship, music, and cranky letters to the newspapers in a few words. I will miss him. A good man. --Shawn Crowley
---
I only got reacquainted with Jim a year ago...but we shared a special time in history and it was a pleasure writing to him and receiving his wonderfully crafted letters and thoughts. I will miss him..his spirit and his genuine talent and for the way he let you know how much he loved those people close to him..his wife and daughter and his friends..He was a generous soul. --Yvette Nachmia-Baeu
---
Coda on a life well-lived and generously shared with so many. --Petra
---
Nona...I'm so sorry to hear of Jim's passing. (I am Don and Shirley's daughter and Alalie was my friend.) I know he was a great source of pride for you and Paul. --Janet, Seattle
---
I'm so very sorry to hear that Jim has died. What a life he had! I graduated with him from West Seattle in 1961. It wasn't mentioned, but Jim also was able to draw cartoon character representations of people. He drew one of the boys Health Ed teacher, Mr. Lloyd Doty and it circulated throughout the school. He signed it anonymously since you couldn't get away with that kind of thing back then. It was widely circulated, is truly hilarious, and captured Mr. Doty perfectly. I still have my copy and if anyone would like me to PDF them a copy, just send your request to jbilan@cablespeed.com --Jack Bilan
---
I've known Jim and Sara from MLT Azteca karaoke for many years. I enjoyed listening to them sing. While I didn't take the chance to really get to know them personally, I can say that I am 100% grateful for the one gift that they gave me and anyone else that's heard her sing or have gotten to know her...Samantha. Oh The circle won't be broken... --JuneBug Schille.
---
Hi Jim, I miss you sooooo much! Thank you for teaching me so much about music, and being so patient with Jack during his time playing with you. It is a pleasure to have you continue in my mind and I am hearing your voice right now. Beautiful, resonant and as always, in purrrrrrfect pitch! Love, Renee
---
What an amazing cat. Seemed like anytime a performer, songwriter or producer's name came up in conversation, Jimmy had a story about them. From Greenwich Village to Music Row, he was truly the Zelig of the industry, popping up everywhere. We had so much fun jamming, kibitzing and ranting over the years, I still can't believe he's not going to be on the other end of the phone. So keep pickin', old pal: wherever you are, there's going to be a little more fun in the room. Adios, amigo! --Joe Vinikow
---
I knew Jim Way back in Amity days. We had coffee at the bakery, we hung out at my dad's house, we played music. We both left town and didn't reconnect until Facebook(!), many years later. Rest in peace, Jim. --nicholas wolfson
---
Jim and I worked on the humor magazine in college, met up again in NYC, hung with the Gurdjieff group in Warwick, and played together in his band in Nashville. He showed up in Albuquerque about 15 years ago and we spent the night drinking beer, shooting the bull and jamming on 2 guitars, after which Jim retired to sleep in his monster vehicle, although i offered him a bed in my house. he was a skilled businessman and yet an adventurer, fond of the open road and ever so proud of his talented wife and daughter. One of my favorite antics of his was to hang a dummy in a watch cap and plaid lumberjack shirt by it's fingertips from the rain gutter on his roof with a tipped over ladder below on the grass. the police came to his house and requested he remove the sculpture from his house as it was causing a big traffic jam. In addition to being an excellent song writer , musician and band leader, I believe he also invented a bicycle-boat that was powered by the guy on the bicycle. Wherever he has landed now I'm sure he is up to his old brilliantly inventive, slyly humorous, eccentric, Aquarian tricks and probably continues his lifelong interest in all things mystical. Nicely done , Jim! --Tom Wasmuth
 
---
I miss my friend and former next-door neighbor, Jim. He was an extremely talented, funny and intelligent man. My best to family and friends. --Neal Steiger
---
Oh sweet JimmyB-My heart breaks as you take your Long Journey. Remember when we met as wanna be- beatnik-folksingers performing in the very cool coffee houses on The Ave.? We were still in High School-you were from West Seattle I had never been there. This was before Hippies, Viet Nam-and the Menace of the Draft. Pete Seeger was our Prophet-we practiced our banjo and guitar playing together and most importantly, our singing. You had that booming baritone, and I sang tenor to you. We were young, but strong and sincere. When the World's Fair started, the Organizers-surprised by the huge crowds that came to hear simple acoustic music, sought us out and just like that- we had a weekly TV show "Sing America" It was a magical time-JFK was elected- things were going our way-jazz and folk music were in clubs everywhere- most of the time there were no amplified instruments and no microphones-we were so lucky to play those little places-you could hear a pin drop- Before the Fair ended you had to return to the East Coast-I found a replacement-but it wasn't the same. I missed that great voice Then for many years, we were out of touch , but recently we saw each other often - played music together and shared our many common interests- motorcycles, WWII airplanes,photography, and humanitarian causes- You were the best of us Jimmy -I miss your frequent and always entertaining e mails and your sense of humor-I know I will never see the likes of you again.Finally, while neither of us believe in Heaven or Hell, I remember our mentor, Pete Seeger singing "there are 12 Gates to the City" so if we're wrong-let me know which Gate you used. --Paul Gillingham
---
Jim was one of my best friends at Dartmouth. He was generous, funny, totally independent, and maybe the most talented person on a guitar that I've ever met. Just his posture and the way he held the instrument as he played almost spoke louder than the music. I had the honor of playing a two-man concert with him one evening in one of the halls - or maybe that big church on the green? Jim playing guitar, and I on the mouth harp. Something I'll never forget. I saw Jim the last time in 1979, in the U District when we sat in the Continental over a glass of wine, celebrating the publication of my first book. Intense, full of humor and intelligence, and with that amused smile we all knew. Ah, Jimmy, ye've gone too soon. Sail on, lad, sail on. --William Scott Wilson
 
---
Sarah and I have just spoken (for the first time) and now reading these soulful tributes to Jim, I am flooded with warm memories and great sadness that we couldn't overcome the geographical distances that separated us after college and New York. In spirit we remained connected through bits of email, shared positions on current political and cultural issues, and we even swapped stories of being middle-aged guys, each with a strong wife and a bright daughter. At Dartmouth Jim was hands-down the best guitarist (in the improvising 12-string blues mode), the best cartoonist (in the surreal-a-delic, rapidographic, M.C. Escher, linear mode), and when he drew he used to hum a bemused tune that might have been a kind of lyrical caption to his visual shenanigans. Hearing about the musical shows he put on with Sarah and the Shmoes in the Bluemoon, and the satirical hammering-man sculpture outside, lets me see him through all these years as the multi-talented, witty, spirited guy I knew so long ago. There's that house he built in Warwick, the work in the fabled music capital of Nashville, the mad-scientist inventions like the bike-boat, and the air-purification business, and is one allowed to mention his photographic hobby? — this is Jim, the guy who didn't consider keeping boundaries fortified by convention. Jim had a huge influence on me and many others. He kept the flame of creativity alive. -George Griffin
---
Miss you terribly, Jim. I'm so glad you are not suffering now but miss your wit, your musical talent, your carpentry skills, our political talks and your kisses. Ah, those kisses. I'm sure your flight in the afterlife is amazing and will see you on the other side. Your daughter and I talk of you everyday and are reminded of you when either a song comes on the radio, a joke comes up that you would have loved or a memory arises. Your classical guitar playing was always so soothing and I loved every one of your original songs. I miss that. You taught me a lot and made me a better person. I'll miss you every day in some way. I'm better for knowing and loving you. Thank you for all you did in this world. I miss all of you. --Sara
---
After I graduated from high school in 1963 and headed up to the Udub, I stumbled onto the Pamir House on University Way.
The acoustics were GREAT in that little place, and on the first night I wandered in, the first person I heard was Jim Fosso.
I cannot express how taken I was by Jim's music. It was incomparable.
His resonant bass tones combined with the creamiest of head tones placed him far above the rest. Not only that, but he could play guitar like no one I'd ever heard on the folk circuit, with an amazing rhythm style that was powerful but articulate.
Songs I recall were "If It Fits Your Fancy," "The Foggy Dew," and "Skillet Good and Greasy," among many others. Jim was simply the best around, and likely one of the best in the whole dang country, in my opinion.
He influenced me tremendously in my own musical ventures.
I never had the honor of knowing him personally, but have been a huge fan from afar all these decades.
Apparently, I wasn't in the loop to hear of Jim's passing. It's almost two years since he passed from this ol' mortal coil, but I will always remember Jim Fosso as the most talented person I've ever heard in person.
If there's an afterlife, I'm hoping to get to know this man. Rest in peace, Jim.
Michael Waters
---
So very sorry to hear of Jim' passing, but I know all the souls in Heaven are either tapping their toes, or swaying to his amazing voice and strings.
I knew Jim in Nashville many years ago, our mutual friends in one form or another in music, we still have reels of all of our joint efforts, and his music still touches every heart.
Sara, my thoughts are with you and your daughter. The day you and Jim left Nashville with Chico was sad for us, but not as sad as today. God Bless you and all the family.
    
Cindy Renfrow Durham
---