Beatrice JoAnne Conard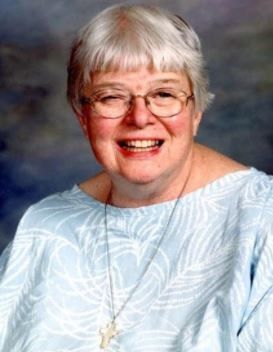 A friend of JoAnne's writes, "I found her to be a remarkable person, with an equanimity and spirit of acceptance and simplicity and patience that I never before encountered. JoAnne was something of a revelation. I am very grateful to have known her. I shall miss her, and I believe that I will carry the memory of her with me for a long, long time."
Beatrice JoAnne Conard, aged 88, passed away peacefully at home in Seattle's Horizon House on Oct. 11, 2020. Her father was a Congregational Minister who relocated to Seattle, with his wife and young daughters, from Fargo, North Dakota. JoAnne spent her childhood in the Capitol Hill neighborhood.  
JoAnne was the youngest of four sisters. She was born with serious eye problems and her childhood was marred by several painful surgeries. Additionally, JoAnne was left-handed and grew up during a time when being so was socially unacceptable. In elementary school JoAnne was forced to write with her right hand; as a result her adult penmanship was nearly illegible. Her younger relatives used to tease that, "Aunt Joey writes like a doctor."
When the family was transferred to a church in Alameda, California, JoAnne attended Alameda High School. She then studied at and graduated from the Pacific School of Religion in Berkeley, California. Had she been living in a different time, JoAnne undoubtedly would have followed in her father's footsteps and become a Congregational minister. As it was, she became a Director of Christian Education and served United Church of Christ congregations in Hawai'i, California, Colorado, Ohio, and Washington, developing close friendships wherever she lived and worked. Locally, she was active with the Broadview Community United Church of Christ and was Conference librarian. 
JoAnne's faith was core to her life. She believed in manifesting her faith in ways that were inclusionary and progressive. As an activist she was involved with the Seattle Church Council, Simon's House, Faith Action Network, Fellowship of Reconciliation, Interfaith Network of Concern (for the Iraqi people), and Justice for Palestinians. JoAnne loved to travel and attended many social justice and work-related conferences with her colleagues and friends. She sent post cards to her nieces and nephews, and shared photographs with her family on her visits home to California and Washington. 
JoAnne was active in the lives of her nieces and nephews. She was always interested in their education, beliefs, and activities. She came to stay and care for her sister's children when her sister was in the hospital having another child. She would go sleep on a sofa bed, but during the night one child would wake up with a nightmare, another might have a tummy-ache, and they would crawl in with a grown-up. One time, after waking up in a child's bed because there were 3 children in the sofa-bed where she had begun her night, JoAnne joked that, "Instead of playing musical chairs, we play musical beds. No telling where you might wake up!"
Each child received a check for $2.00 from Aunt JoAnne on their birthday. Despite the economy or inflation each child received that paper $2.00 check of their very own. At Christmas-time, each sister, cousin, niece and nephew received a mini-calendar for the coming year and a hand-crafted Christmas tree ornament. In the 1970's JoAnne gathered her teenage nieces and nephews and took them to see the plays Hair and Jesus Christ Superstar in San Francisco.
JoAnne listened attentively when we shared our lives and was never judgmental. We discussed politics, war, protests, religion, drugs, school, sexual orientation, theater and music, our travels, and our environmental concerns, and she was always receptive and supportive. When she visited California, the first thing JoAnne always wanted to do was to go out for Mexican food. We'd share a meal and then we'd talk. 
We, JoAnne's family, are very thankful to have had her love and her presence in our lives.
The family would like to acknowledge and thank the Horizon House Supported Living staff, family members Peter Allen, Mary Steinmetz and Jan Kaylin, and Health Care Case Managers Beth Eagen and Lisa Bergstrom for the solicitous care they provided to JoAnne.
At JoAnne's request there will no service. Family will gather in Seattle at a later time to spread her ashes.
---
Comments
Our Aunt JoAnne was well-loved, and she loved well. We are thankful her death was a good one. She will be dearly missed.
- Christine R. Allen
---
Hello to JoAnne's loved ones. I did not have the pleasure to meet JoAnne - I'm the new ED for an organization she supported. Looked her up to share thanks and was led to this site. She sounds like an amazing person and I can see why she may have chosen to engage with CEL.

Wishing you all peace.

All the best,
Alice :)
---