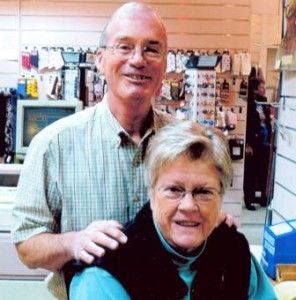 Ron's arrival in 1936 interrupted Christmas Dinner in Pasadena, CA. Ron was senior class president at Eagle Rock High School; he attended Occidental College and transferred to USC, where "Brownie" became a life-long Fiji and a life-long partner to Ann Gibson.
After several retail positions, including Montgomery Ward, Ron brought his family to Seattle in 1971. Ron, Ann, and son Charlie opened their Lake Forest Park home to two foster children. At the Bon Marché, Ron retired as Vice-President for the Northwest Region of Federated Department Stores. In 1988 Ron and Ann realized a dream by opening Metropolis III, a clothing store on Market Street in Ballard, where they worked side-by-side for twenty years.
Ron and Ann owned a home in Magnolia, before moving to Pioneer Square in 1993. They retired in 2008, travelling often to Mexico and Europe, especially to Italy. Ron valued college friends and travel acquaintances. Long a dedicated movie buff, Ron later developed a passion for cooking.
Ron died June 18, 2014. At his request, there will be no memorial service.
He is survived by Ann Gibson Brown, wife of 51 years, and by son Charles Curtiss Brown and wife Amy of Everett, WA.
---
Comments
Karl and Katie Doemland
Dear Ann, Charlie and Amy, We cannot express the depth of our sorrow at Ron,s passing. We have so many wonderful memories of all our joint adventures. From our Ballard businesses to amazing parties, san Francisco and Mexico. Please accept our sympathies and let us know if we can do anything for you. We have loved you and our times together. You made our lives richer. God bless.
Ann Brown
Thanks for your loving messag and thoughts! Our memories are the best, Have an I pad that I can almost manage ! There is a pretty long obit on --funerals.coop -- part of the Peoples Memorial, we used for all the arrangements Ron did not wan ya service so maybe we could have lunch. At Liz and Darren I am just coping at this point but twill,hopefully. land on my feet in a few weeks ! Love to see you and again thanks for your words of all our fun times , Love. Ann PS best all your family and dear friends we met through you and Karl!
---