Frank E. Zaballos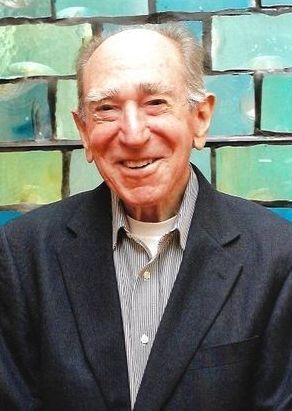 Francisco "Frank" Eril Zaballos passed away in Seattle, Washington on Oct. 20, 2022. Frank was formerly a resident of Oakland, Berkeley and San Leandro, California. 
Frank was born on November 25, 1927, in San Leandro, California, to Pedro Zaballos Sanchez (1898-1955) and Juana Bautista Bueno (1905-1986). He graduated from San Leandro High School in 1946.
While attending college at University of California, Berkeley, he came back to the Shuffle Inn, the high school dance at San Leandro High School, with his close friends Hank Fadda and Mert Greenbaum. It was at that dance that he first met Nelda Jean Smart, whom he would marry on Feb. 4, 1951, after graduating from pharmacy school at UC San Francisco in 1950. 
Frank began his pharmacy career working as an intern at Guy's Drug while still in college. He later worked as a pharmacist at Guy's Drug before being called up for service. A second lieutenant, he served as an administrative officer for a Medical Service Corps, or medical clearing company, with the 25th Infantry Division of the Army in Korea in 1952-53.
Upon returning from service, Frank worked as a pharmacist for Carl Burkhardt at Washington Manor Pharmacy in San Leandro. After purchasing the drugstore, he expanded the chain, together with his co-owner Bill Moffitt, to eventually include eight stores in San Leandro, San Lorenzo and Hayward. He is proud of having treated his patients with respect and care and having looked out for them. After he retired in 1987, he and Nelda moved to Seattle to be closer to family.
Among his volunteer positions in retirement, he washed dishes at the Queen Anne Helpline Wednesday night dinner for many years. He also served as the president of the Bayview Foundation Board of Directors, which served Bayview Manor, now Bayview Retirement Community, where Nelda and he lived since 2008. He enjoyed performing in plays at Bayview. He also spent many months over the years visiting family with his wife and raking leaves or pulling dandelions in Whitewater, Wisconsin.
Frank is remembered as warm and playful — he seemed to have had a different way to tease every fellow resident or staff member of Bayview. And he could laugh at himself, joking with his grandchildren about the healthy food he liked to eat by referring to it as "leaves and twigs."
He was especially fond of his six grandchildren, animals, football — including going to the "Big Game" and cheering on UC Berkeley against Stanford — traveling, following progressive politics, classical music, apple pie, and al dente vegetables. 
Frank is survived by his wife of more than 70 years, Nelda, and his children Linda Wright (Steven), Nancy Zaballos, (Frank) Peter Zaballos (Kristine) and Ken Zaballos (Julie). He is further survived by his grandchildren Emma Zaballos, Jameson Zaballos, Benjamin Zaballos, Christian Zaballos, Daniel Zaballos and Wendy Zaballos. He also leaves behind many extended relatives he was very fond of.
He is preceded in death by his infant brother, Antonio Zaballos, his mother and father and other relatives — many of whom hailed from Macotera, Spain.
He had many beloved pets over the years, including Babe, Mother Cat, Fang (also Babe), and King. 
A memorial will be held at the Chapel at Bayview Retirement Community at 2 p.m. on Friday, Nov. 4. In lieu of flowers, the family requests donations to the Bayview Foundation.
The family expresses appreciation to Frank's physician, Dr. Chris Knight, and the wonderful staff in the Skilled Nursing department of Bayview and Providence Hospice for their excellent care during Frank's illness.
In his own words, Frank was most proud of having been honest and of having treated others as he wished to be treated. He lifts a glass of red wine to all who knew him and wishes them "Salud, amor y pesetas."
---
Comments
❤️

jam
---