Aino Aroksaar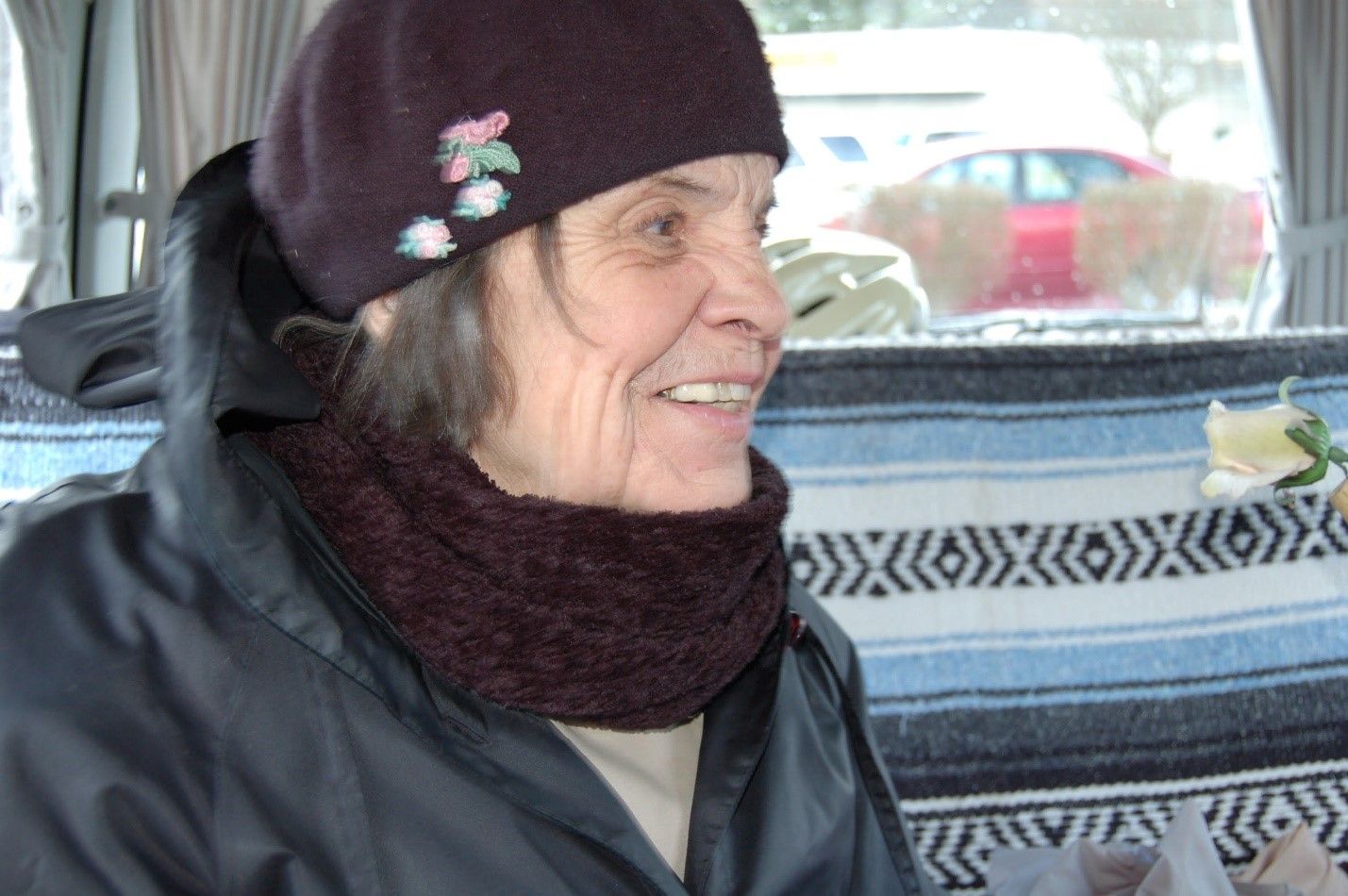 Aino was born in Türi, Estonia, August 14, 1921. Her father, Karl Käsper, a traditional trader, died when she was just five and her mother never remarried, raising her three children on her own and with the help of her older daughter and son.
As a teen her mother Olga sent Aino to school in Tallinn at a school for crafts, where Aino learned to weave traditional garments. Aino hoped to become a teacher of those skills but the Soviet invasion of 1939 ended those ambitions. Germans replaced the Soviets after their invasion of the Soviet Union in 1942 and when the German army retreated in the winter of 1944-45 Aino decided to travel west with those retreating forces. 
During her personal exodus, without other family members, but with two other young women as companions, she worked in military hospitals and helped care for wounded and dying young men. At the time she was herself pregnant with her son. She and her traveling companions often benefited from the chaos of allied bombing raids by traveling further west and south. She had experiences of being on trains that were being strafed in which all passengers had to evacuate and sometimes had to continue their journey on foot. She was also in German cities that were being firebombed, turned into literal holocausts.
She ended up in southern Germany, within sight of the Alps, in what became the American sector. Her son was born in June, 1945 in a small town on the Danube River.
In the post war period she lived initially in refugee camps, which were basically former German military bases and was able to move into a newly built apartment building funded by the Marshal Plan in 1952, in Memmingen. That year she also gave birth to a daughter, having married an Estonian veteran of the German army.
She busied herself by bartering with German farmers and others, often with goods supplied by American aid, like second hand clothing, powdered eggs and milk from Care packages. The latter were especially useful for bakers, so this American aid filtered into the general population, with my mother as an agent.
In 1956 she immigrated to the U.S., settling in Lakewood NJ, after a brief stint in Lansdale, PA. Lakewood had a vibrant Estonian community and the location on the margins of the Pine Barrens is similar to parts of Estonia. Estonian gatherings there during holidays were very festive. Aino believed that these were like refugee reunions and everyone was really happy and grateful for having made it to America. Aino often helped prepare food for the festivities and Estonians came from far and wide, from many major American cities as well as from Canada. 
After initially doing housework, cleaning ironing etc. she found employment with the Torwico Electronics firm, where she had responsibility for shepherding jobs through to their completion.
After her daughter died in 1969, Lakewood became a very sad place for her so she went to Ketchikan Alaska in 1973 where she worked as an assistant apartment house manager. With the help of some of the Alaska State Ferry employees who were residents of the apartments, she moved to West Seattle in the autumn of 1973.
She found employment with the Seattle School District as a school bus supervisor working with troubled and disabled children.
Her son also settled in Seattle, in 1984, after working abroad and California. Aino eventually moved into Chancery Place, senior housing managed by the Catholic Church, next to St James Cathedral. She died there March 12, 2019, of old age, in her sleep. Her son was with her during her final week and during her final moments.
Her son, Richard, is very grateful to Chancery Place for permitting him to participate with her passing and the National Park Service, for whom her son works, for permitting remote working arrangements.
Her son took Aino's ashes to Paide, Estonia where her mother, brother and sister are buried. Her nephew Priit, and his wife and daughter, and her niece Kaida, helped with the Estonian arrangements. 
 
---
Comments
---