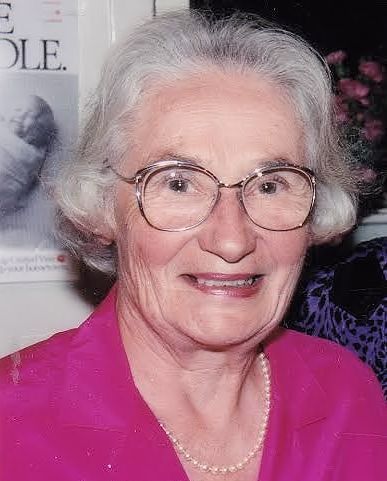 Katherine Markovich Lead died on June 8, 2015, just a few weeks after her 99th birthday. She was born in Richmond, CA to Joseph and Frances Markovich and grew up on "the farm" in Aloha, OR. She graduated from Beaverton High School in 1934, attended the University of Oregon, and worked a few years in Cathlamet and Skamokawa. In 1938 she married Oscar Lead and they moved to Portland in 1942.
Katherine was an expert flower gardener known especially for her roses, well-known for baking cakes and Christmas cookies, a skilled seamstress and knitter (her sets of Christmas stockings are still used by the family), a stamp collector, and an avid reader. Over the years she was active in volunteer work in her parish, the Girl Scouts, Red Cross, Portland Rose Society, Eastmoreland Garden Club, Beaverton HS alumni, and "the Club" (a group of women who began rolling bandages during WWII and continued as a sewing circle and friends into their late years). After her retirement from US National Bank in 1981 she enjoyed traveling, the highlight being a visit to her roots in Croatia.
In 2003 as her Alzheimer's progressed she went into a care facility in Portland, then in 2006 moved to the Seattle area for her final years at Rimas Adult Family Home. She was preceded in death by her husband Oscar (1967), her sisters Dorothy Hale and Marie Didricksen, and brother Raymond Markovich. She is survived by her daughters Margaret Lead of Seattle and Nancy Lead (Ted) Olsen of Camas, grandchildren David Olsen of Camas and Meg (Chon) Rodriguez of Vancouver, and great-grandchildren Daniel and Isaac Rodriguez.
The family wishes to express deepest gratitude to Elena Rimas and her staff for their devoted care of Katherine during her final years.
A private family memorial will be held and her ashes spread as she directed.
---
Comments
Dear Margaret and Nancy and family and friends, You are in my thoughts and prayers.I miss you and send my sincere sympathy. I loved being a part of your family especially during high school. You remain a part of my life. Sister Nadine Grogan also sends her love.
-Sister Barbara Land
---