Mary Louise Moon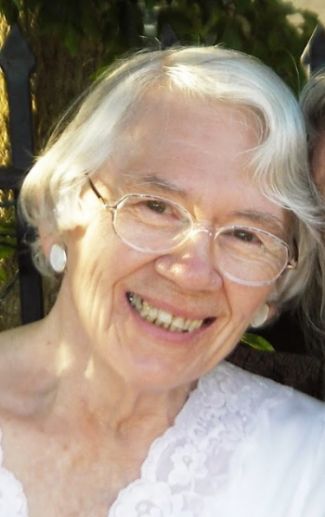 4/20/1935 - 6/2/2019
Mary was born to Catherine Accurso Holmes and Mahlon Wilbur Holmes in the Town of Broome, New York. She grew up in New York City, spending the summers on a farm in the Catskill mountains.  Mary graduated from Cornell University in 1956 with a degree in agriculture. There she met Don and soon after her graduation they married and moved to Illinois where they raised four children.
Later in life she returned to college, earning her Early Childhood Education degree from the University of Iowa. She began her career in Clinton, Iowa, working with infants and young children with disabilities, moving to Federal Way in 1982, working at Tacoma Learning Center and Bates Technical College where she trained caregivers until she retired in 2005. She participated fully in life, enjoying so many things--the outdoors, gardening, jigsaw puzzles, singing, drawing, sculpture, hiking and camping, traveling, reading, looking at stars and trees and flowers, cooking, music, playing games like Scrabble, spending many hours with her family and friends. 
One of the ways Mary expressed her deep love for God and neighbor was through her involvement in the Episcopal Church. As a member of the Good Shepherd Church in Federal Way, she accepted the encouragement to study to become a deacon. She was ordained in the Episcopal Diocese of Olympia in 2002, and served at several parishes, culminating at St. Columba's in Kent. She poured herself into this work, spending time with those who suffered. She continued to learn and grow throughout her life, meeting challenges with determination and openness.
When Mary could no longer care for herself, she moved to the Caroline Kline-Galland nursing home in Seattle. There, she still cared for others in all the ways she could for as long as she could. Her kind words, laughter and smiles were shared frequently with caregivers, fellow residents and visitors. She modeled patience and grace even in pain and illness.  
Mary connected easily with people everywhere she went, listening to them deeply and lovingly, and helping them connect with others. Her kind and warm spirit stood out and made her special even to those who only knew her briefly.  Mary is survived by three generations, but her love extends far beyond her own family, and we are thankful for all those she held close. To celebrate her memory, step outside and enjoy the beauty of the world, spend time with loved ones, and reach out in service to those in need. 
Mary is preceded in death by her dear son, John Moon. She is survived by her children Barbara Showalter, Sharon Moon, Joanna Baas, and Stephen Moon; her former husband and beloved friend Don Moon; her grandchildren Rose Champagnie, David Changa-Moon, Anelise Schruder, Alex Ortiz, Trevor Showalter and Laura Showalter; and her great-grandchildren Nidru Champagnie, Ciwe Champagnie, and Malik Moon.
Mary was a giver to many charitable causes, focused on children, social justice, the environment, and the church. Donations in lieu of flowers can be made to the Multiservice Center, Amnesty International, The Nature Conservancy, Heifer International, or the Fund for the Diaconate of the Episcopal Church.
A memorial service will be held at St. Columba's Episcopal Church, 26715 Military Road S, Kent, WA at 9:30 am Saturday June 22nd, followed by a gathering of family and friends to share our memories and celebrate her life.
---
Comments
I miss you, Mom.

Joanna
---
What a loving obituary of a woman who lived a good life doing great things to help others. I remember Mary from when the Moon's were with Shimer College in Mount Carroll and send my sympathies to her family.
    
Diane Bausman
---
Sharon & Barb & Joanna so sorry for the loss of your mom.
    
Sharon Smith Spahr
---
I love the picture. I am grateful for the long friendship I enjoyed with Mary even while I grieve her passing away. She was a unique and lovely woman, the dearest of friends and. I will miss her the rest of my life.
Maggie Ellis
---
I remember Mrs. Moon. You all lived on our block. Sad news. So sorry for your loss. She was always very pleasant to the neighborhood kids.
Dolly Zink Handel
---
Dearest Joanna,
My condolences to you and your family. May you find strength in eachothers company and by sharing the happy memories you have
Love,
Linnea
---
Thank you, God, for the gift of Mary Moon in my young life. Thank you for the lessons of love in action, wisdom, and dignity in turmoil. Thank you for the example of seeking You faithfully and serving you by serving those who need you the most. May I exhibit some of her courage in my own aging. Be with her family in their sorrow and joy at their remembrance of her presence. In Christ, Amen
M. Leah Timberlake
---
I love you grandma. Thank you for all you did for us as children and for the pure love that you gave us, for keeping our culture and heritage alive, for teaching us games and puzzles, patience and consideration. You will always be missed and thought of with love and admiration. Glad your soul is resting now ♡

Anelise
---
I remember that she was always a wonderful woman and very kind. I was friends with Sharon.
I am so sorry for your loss!

Catherine Rowland Garcia
---
Thank you for these special memories and also the wonderful photos of your mom and your family. I knew Mary only thorough her daughter Sharon, who inspires me with her compassion and wisdom. I enjoyed reading these memories and tonight as I kayak on China Lake in Maine I'll be thinking of her as the stars come out, with gratefulness for her rich and loving life. We shared a love of games (Scrabble) and jig saw puzzles, too.
Meg
Meg Lippert
---