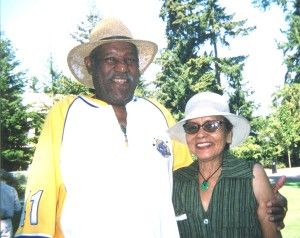 William (Billy) E. Clark was born in Madison, Iowa on November 21, 1937 and passed away May 5, 2014 at Kindred Hospital Seattle, recovering from diabetic complications. Survived by sisters Karen and Laura, brother Karl. Proceeded in death recently by brother Eddie (Doc). Billy proudly served his country in the Air Force from 1957 to 1961 earning a good conduct medal. Billy was a kind soul who loved to tease and joke. You could count on him for knowledge along with laughter anytime, even through-out the last years of his life and the many health problems that troubled him.
 
Alita Mary Alit, (Hafey, Buxton) Clark was born in Seattle on November 20, 1935 and passed away May 11th at Swedish Hospital from complications after a surgery, just 6 days after her husband Billy of 34 years . Survived by brothers Daniel (Aileen) Nebraska, Jimmy (Shelly), Yucca Valley, CA, Vincent (Judy) Marysville, WA and sisters Juanita Barron, Seattle, and Betty Lou Matthews, Seattle. Son Chuck Hafey (Linda), Brian (Lita), daughter Denise (Noel) Strothers, nine grandchildren and numerous nieces and nephews.
 
Proceeded in death by brother Phillip, CA, and sisters Sonja DiMondi, NY and Virginia Tamura, Seattle. Also beloved son Korey Buxton proceeded in death last October waiting with open arms to welcome mom and dad to our heaven of angel's family.
 
Billy and Alita have spent over 20 years managing apartments in Rainier Beach and are well known throughout the community. Billy passed in his sleep on May 5th which was their wedding anniversary "of all things" and Alita was right there by his side then too.
 
Alita was an amazing and strong little lady that always had her heart and door open for friends and family, sharing her spirit of life and knowledge too large to describe. Many call her mom as she touched them that deeply and will carry on her legacy of strength, integrity and humor. She always spoke with a smile and joyful spirit which there is no comparison.
 
Internment June 6, 2014 at 1:30, Tahoma National Cemetery; 18600 SE 240th Street, Kent, WA 98042, with a memorial gathering 3:00-5:30 at Rainier Yacht Club; 9094 Seward Park Ave S., Seattle, WA 98118. A tribute to a couple and all they have given us.
---
Comments
Lisa Clark
Posted June 4, 2014 at 6:59 pm
My Uncle Billie was a sweet soul. As my sister Lori and I agree a Big Teddy bear. He will be missed. Ft. Madison was his place of birth right on the Mississippi. He leaves behind 6 siblings Dixie, Rochelle, SuebElla, Cynthia, Karl and Karen. One of 8 Preceeded in death by his mother Oneda and older brother Edward L. Clark (Doc). Alita was one of the sweetest souls I encountered in my life. She told me she and Billie were often the same person if she forgot something at the store for dinner he would come home the same night with the exact item without even a phone call! they were so sweet together loving till the end. God Bless them both.
---
I am fran kitt's daughter-in-law Summer. Fran and Alita were best friends for many years. If any of their kids see this, please e-mail me. Thank You.
summer floyd
---