Palmyra "Tinky" Paladini Woods Honan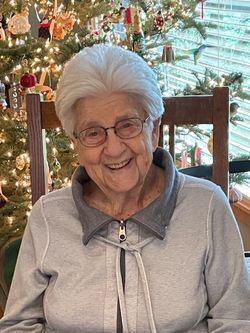 Palmyra "Tinky" Paladini Woods Honan, passed from this earth peacefully in the loving care of her daughters on August 7,2023. She walked through this world with a welcoming heart, a delightful laugh, a discerning eye to all things beautiful, and an accomplished skill in cooking and entertaining.
 
She is carried forward in the hearts of her three daughters; Jeanne Spurlock, Patricia Schattauer, and Dianne Woods Dyer, her son in laws; Jack Spurlock, Frank Schattauer, and Jeff Dyer, her grandchildren; Seth Welch, Kali Spurlock, Jordan Dyer, and Kyra Dyer; their spouses, seven beautiful great grandchildren, as well as extended family members, friends and neighbors.
Tinky was born in San Francisco, California on October 5,1924 to Palmyra and Hugo Paladini. She was proud to be the granddaughter of Achille Paladini, the "Fish King of San Francisco". Her early years were spent in San Francisco where she attended Commodore Stoat Elementary and enjoyed horseback riding across the rolling hills to the ocean. The family later moved down the peninsula to Woodside Hills where she attended Sequoia High School. Surrounded by an extended, gregarious Italian family, she learned to appreciate good food, wine and celebrations.
She attended University of Oregon in Eugene. It was there that she met the first love of her life, Seth Patrick "Pat" Woods on a blind date set up by her sister, Dolly. They immediately fell for each other and were married at Our Lady of the Wayside Church in Portola Valley, California in 1946. After living in San Francisco a few years, they settled down in Redwood City. They had three daughters, and showered them with love. They enjoyed wining and dining and listening to big band jazz. It was during these years that Tinky honed her skills as a restaurant critic and refined her own cooking skills. She was known to talk her way into restaurant kitchens to "give compliments to the chef" emerging with recipes and cooking tips!
The family moved to Bellevue, Washington in 1969. With her outgoing personality they made many new friends and fell in love with the beauty of the northwest. Her loving relationship with Pat continued until his untimely death in 1975. They had been married for 29 years. To get through the grieving process she decided to accept any invitation offered to her.  She went on annual bike trips with her friends for 20 consecutive years, played tennis, took sailing lessons and more. Throughout her life, she held the growing family close through the ups and downs of life and knew how to skillfully say just the right thing.
In 1982, she met the second love of her life, Thomas Raymond Honan at their mutual friend's Fourth of July Party. They too, fell for each other immediately. It was the "Second Time Around" for both, and this became "their song". Together, they were fondly known as TNT. They were the most welcoming hosts to family, friends and neighbors both at their Clyde Hill home and at the Shanty on Olele Point- Tinky with her culinary excellence, and attention to every detail of a well laid table including beautifully arranged flowers, and Tom with his drink mixing prowess, wine selections and gifted story telling. Together they enjoyed traveling, playing pickleball and Shanghai. They were the best grandparents imaginable. Tom passed away in 2013 after 26 years of marriage together. Tinky would often comment on how fortunate she was to have had two good men in her life.
Tinky continued to be a strong matriarch of the family until her final days. She leaves behind a legacy of generosity, unconditional love, and empathetic joy. All who knew her well adored her. She will be missed.
There will be a celebration of life for the family at Olele Point near her birthday, when she would have turned 99 years old. She got her wish and did not live to be 100!
Tinky loved
she was love
embodied on this earth
for 98 years
now carried in the hearts
of all those she loved.
---
Comments
What an interesting and beautiful remembrance of Tinky! What a loving legacy she has left in her three daughters, her grandchildren and great grand babies!

Alice Britt
---
Beautiful woman and extraordinarily blessed family.

Joan Nielsen
---
What a wonderful and heartfelt remembrance of a wonderful lady. We were so blessed to know her.
Tom Honan (little Tom)
---