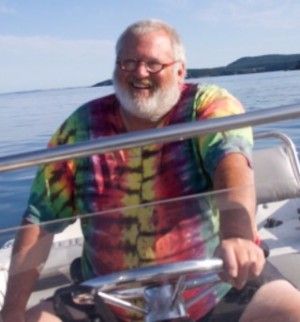 Richard "Rick" Gerring passed suddenly on Jan. 18 at age 60. He is survived by his parents, Ray & June Gerring, Brother Dale (Linda), niece & nephew Laurie Turner (Garrett) & Steven Gerring, his cherished friend Liz Martini, Shirley Pierce and many other loving friends and relatives. A long-time resident of Lopez Island,Rick owned and operated Lopez Island Electric Company for more that 20 years.
AKA, "Rico" was renowned for his guitar riffs, playing in bands and jamming with musicians from Lopez Island to Seattle. In recent years he had become a skilled ukulele builder under the name "Rockin' R." Uniquely popular in his home community, he thrived on his relationship with his many close friends, creating music, riding his motorcycle, catching fish and as the life of any party.
Imbued with a deep personal spirituality along with an extra-ordinary happy spirit and impeccable integrity, he is profoundly missed by all who knew him.
Guests are encouraged to wear colorful attire,Hawaiian shirts, tie-dyed in Ricks memory.
No flowers please. Rick would be very pleased with a donation to Bernie Sanders for President at berniesanders.com or a charity of your choice.
Memorial service will be on Saturday, February 6th, 1-3PM at Shoreline Elks Lodge, 14625 15th Ave. NE Shoreline Wa. 
---
Comments
Rico was a friendly and welcomed visitor to our open mic jams at Engel's Pub in Edmonds and Old Village Pub in Lynnwood. His Facebook profile photo was taken while he was jamming with Lou Echeverri, Billy Reed, Alan Smith and me at Engel's. His style of play was different and refreshing, warm and heartfelt. His presence was as genuine as his smile. I will miss Rico.
Rick Gerring was an extremely kind and friendly person. A gracious gentle giant who was always appreciative of the time he had on stage and to the musicians that he had a chance to play with. In January 2016, he visited Old Village Pub and we introduced Rico as, "One of the best Blues guitarists in the area", and that is no exaggeration.
To Rico's family and close friends I am sorry for your loss. -Dano
---
OUR CONDOLENCES TO FAMILY AND FRIENDS.
--Ross & Lynn Davidson
---
Please accept my deepest condolences for the loss. I know you will miss Richard very much, but as you cherish fond memories. May you find comfort knowing that Our Almighty God is close to the brokenhearted and He saves those who are crushed in spirit. And very soon He will end all sickness, death, pain and sorrow. What a wonderful day that will be!
--PA
---
I was lucky to know Rick as the owner of Lopez Island Electric. So many phone conversations I felt I knew him long before he visited CED in Bellingham and I actually met him in person. A beautiful soul. Visited him on Lopez and danced to his band and went out on the boat and saw the whales in all their splendor.
A life cut short. RIP Rick. Everyone treasure your times with him as I do. I am so sorry for your loss.
Teresa - CED- Bellingham
Teresa Gessell
---
Thank you Rick for what you have given us.
Our spirits will share this paradise eternally.
Love and peace to all Rick's kin and kindred hearts.
Big hugs to all like the last one he gave to me, until next time.
Todd Twigg ( & Kristin & Matilda & Cleo & all Rockin' R spirits)
---
Sending heartfelt condolences to Rick's family and friends. May he rest in peace and grace.
Carolyn Graye
---
Dear Mrs. Gerring, 
I am Vicki Takemoto, the library assistant that wouldn't leave. I was in the same graduating High School class as Rick.
I remember talking to him at one of our reunions. He brought me up to date and told me that you were well.
I am so sorry to learn of Rick's passing. I saw Rick's name listed in the Seattle PI "obits" the King County Vital Statistics. When I looked closer and noticed that the age was the same as mine, I knew that you suffered a loss.
It was fun to see the pictures of Rick and to read how he touched so many hearts. I will always remember his smile.
Love, Vicki
Vicki Takemoto
---