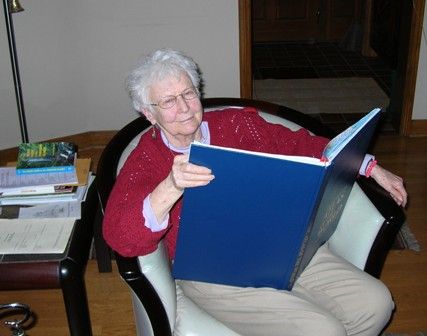 Faith Elizabeth Reynolds Adams was born January 11, 1923, in Toledo, OH, to Harlan Cady and Ruth Bryant Reynolds. When Faith was a toddler, the family moved to Seattle, WA, where Faith attended Green Lake Grade School, John Marshall Junior High, and Roosevelt High School. A serious and somewhat solitary child and girl, she remembered her family relationships as often reminiscent of an uneasy truce, although her father's exuberant bear hugs fell outside that description. By late high school she had become part of a close group of six girls nicknamed for Winny the Pooh characters (Faith was Eeyore!) with whom she remained in contact her whole life and of whom several are still alive. Faith's younger sister, Judith Reynolds Brown survives her, but her younger brother Harlan Kendall Reynolds died some thirty years ago. 
Faith graduated magna cum laude from Whitman College in 1944 with a degree in English. College was mixed time for her due, perhaps, to youthful confusion and a lack of strong goals. Later she wished she had embraced greater academic challenges. Several friendships from her Whitman days remained an important part of her life all the way until her death.
After graduation, as World War II raged on, Faith worked at Boeing as a secretary. During this time she began dating U.S. Navy Lieutenant Edgar M. Adams, Jr., a Whitman acquaintance, whose ship was undergoing repairs in Bremerton following a kamikaze attack in the Philippines. They became engaged, and he embarked on his final tour of duty of the war.
Faith and Edgar married in December of 1945, they travelled to Mexico and New York City. NYC remained for them a sort of magic dream of fun and culture, but they never returned there together.
In early 1946 Eddy and Faithie disembarked from the westbound Northern Pacific train in Big Timber, MT, and proceeded in a borrowed pickup into the hill country between the Yellowstone and Musselshell Rivers to begin a life of ranching on land his father had bought during the Great Depression. The small frame house they were to inhabit had been empty for a number of years and had no wiring or plumbing.
A spring and summer of hard work with a small crew rendered the house livable and reasonably comfortable. The first cattle herd consisted of four steers, the origins of which are forgotten. It was a beautiful valley defined by rimrock hills and looking out to the east for miles and miles. In due time Lynn (Grinnell College 1970), Dan (Carleton College 1971) and Kit (Macalester College 1973) were born. The kids attended a one-room country school called Cherry Creek School, for which Faith was clerk of the school board. As clerk she was responsible for finding a teacher for the approximately one dozen pupils in various of the eight grades.
The neighbors were friendly and helpful to the couple transplanted from the city. There was a group in nearby Harlowton that offered a fun social life. One close friend, who was a neighbor, taught at Cherry Creek School a couple of years. Yet the geographic isolation was difficult for Faith. On top of the numerous responsibilities of a ranch wife and mother, she wrote bad novels which went in bottom drawers never to see the light of day. During the ranch years Faith had something of an emotional breakdown and for a number of years engaged in an eclectic form of talk therapy with a psychiatrist in Billings. She credited this process with substantial progress in gaining self awareness and becoming a happier person.
When Lynn graduated from eighth grade a second household was set up in Billings, ninety miles from the ranch, where the kids could attend excellent schools. Faith returned to school at Eastern Montana College and having acquired her teaching credentials, began teaching senior English at Billings West High School. She viewed her six-year career at Billings West as mixed, both in terms of the pleasure and satisfaction it provided and in terms of her success as a teacher.
Faith and Edgar were divorced in 1968. The following year Faith left Billings to attend the University of Washington School of Drama to become a stage designer. Upon completion of her Masters Degree she worked as a professor of theater at Texas Tech University and the University of Notre Dame.
Lacking a PhD Faith did not gain tenure at Notre Dame and left academia to embark on the next big adventure of her life. She accepted a job teaching English and coaching the drama program at a private English-language girls' high school in Izmir, Turkey. Highlights of that time included productions of "Antigone," "Arsenic and Old Lace," "Charlie Brown," and "The Skin of our Teeth" (the dinosaur costumes were sensational!)
After Turkey Faith returned to Seattle, the home of both Lynn and Kit and his wife Asja, and embarked on career no. 3 as an accountant at a community mental health agency, where she worked until retirement in 1998 at age 75. Ensconced in a charming "mother-in-law" apartment in Lynn's house, she greatly enjoyed the childhood and school years of her three grandchildren, Luke Adams (now a dentist), Thomas Adams (a teacher), and Amelia Saul (an artist.) Summer visits from Dan, a resident of Germany, were a highlight of these years. Faith also travelled to Germany numerous times to visit Dan and became quite a favorite with Dan's students and friends there.
Retirement allowed Faith to become owner to beloved dogs Rufus and then Dixie. At this time Faith took up fabric art and produced dozens and dozens of wonderful quilted hangings embellished with beads, buttons, twigs, small stones, figurines, found objects, etc. She was a member of the Pacific Northwest Needle Arts Guild and showed her work in numerous juried shows put on by that organization. In addition she had solo exhibits at University Friends Meeting in Seattle. Faith's pieces hang in lucky purchasers' homes throughout the Northwest. Readers of this obituary are invited to visit Faith's website http://faithadamsart.com
Four days before Faith's death on August 6 great granddaughter Eleanor Florence Adams was born to Luke Adams and Kate Michaelsen in New Haven, CT.  A memorial will be held on Saturday, August 16, 2014, at 2:00 p.m. at University Friends Meeting, 4001 - 9th Avenue NE Seattle, WA.
---
Comments
linda Storvik
I knew Faith from PNNAG meetings over the years. It's fun to read about her earlier life and many careers before her days in Seattle. She was an inspiration to me, imparting a creative spirit in her work and personality. I admired her stamina! She entered a piece or two or three in every show we had, I think. I could always count on her for a smile. We should all be so lucky to live a life as long and full as Faith's!
---
Mrs. Adams was my English teacher and Drama Club sponsor at American Collegiate Institute in Izmir, Turkey. I was her Antigone and Maggie Antrobus in The Skin of Our Teeth. She deepened my love of theatre and English literature. We stayed in touch many years and I lost contact with her a few years ago. May she rest in light. She left a great legacy.
--Kübra Erkal-Bryant
---