Ana Kathleen Cooper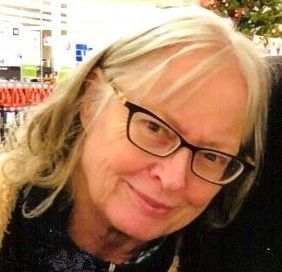 Ana Kathleen Cooper of Vashon Island, WA passed away at age 69, with her adoring husband at her side, on December 4, 2020. She was born on March 16, 1951, in Reno, Nevada, to Arthur and Kathleen Cooper. She graduated from Hayward High School in California in 1968, and studied at the University of Hawaii and California State University Hayward.
Ana's early interests were art and cartooning, especially in the style of Mad Magazine. She had a long career as a cosmetologist and massage therapist. Ana married her husband Bill in 1983 and spent 37 joyous and adventurous years with him. She trained in and taught martial arts for more than 50 years, spending her last decades specializing in Chinese Wing Chun. Ana raised several families of cats whom she doted over, and who always brought her joy and comfort. She lived in Santa Cruz, California for 22 years before moving to Washington in 2000.
Ana's favorite holiday was Halloween, and she loved building realistic haunted houses, scary costumes, and going into deep character as the scariest but sweetest witch in the neighborhood. She was a sparkling light to be around, and liked to make friends and family laugh with her funny wise-cracks and silly songs.
Ana leaves behind her husband Bill Van Houten, her sister Mary and her husband Robert Hughes, and her sister-in-law Janice Cooper.
---
---
Comments
I was so sorry to hear about Ana's passing. These smiling photographs of her are perfect; Ana was always quick to smile and to laugh--her joy was contagious, and her kindness was a warm blanket to everyone who came within her sphere. Bill, if you are ever able to visit Santa Cruz again, we'd love to see you. We're keeping you and Ana in our thoughts.
Mama Fugazi
---
I think that anyone who knew Ana, even just a little will remember her as a sweet and gentle warrior.
May she rest in Elysium in bliss and expansion until we meet again.
Michael Curtim
---
We only knew Ana during her last months, but she was such a bright light. We're so glad to have brought our dog Charlie into her life during that time. Ana lit up every time she saw Charlie, loved her up from head to toe, and spoiled her with treats. Bill -- we're right across the street if you need anything. Including just to shoot the breeze with neighbors.
- Kevin and Julea Gardener
---
It was a pleasure to have Ana in my tai chi class. She was a good student and always brought an uplifting levity to the class. I miss her lovely spirit, her joy. And her desire to do the Hokey Pokey.
- Deena Eber
---
Bill: You and Ana had a special partnership, filled with mutual respect and conviviality. It was always delightful to see how much you enjoyed and enhanced one another's company. Ana was a great storyteller with so many great adventures to share. Thank you for sharing this synopsis of her amazing life.
...Lola Peters
---
Bill, I am so sorry for your loss, and so honored and appreciative that you and Ana have come into my life. It was always a pleasure to see you both at Thriftway, and it is always a joy to see you now. This is such a beautiful tribute to someone who will never be forgotten.
Looking forward to many chats in years to come--
Kelly Meyer
---
Bill,
Condolences to you on the loss of your special lady. The pictures capture her well as does your fine tribute.
- Julia
---
Bill,
I'm so blessed to have known Ana even briefly through my relationship with you. She was clearly a wonderful, intelligent woman and I feel so deeply for your loss. My prayers for your comfort and healing are offered up daily. Please know how much you are loved and appreciated by both Bekah and I.
- Brian Lueb
---
Thanks so much for this. I'll miss her great spirit and humor
Brian Chester
---
I have known Ana for the past 5 years, what a wonderful lady, always so positive and always had a smile on her face. loved having coffee with her and Bill. She will be missed.
Gloria Dawson
---
Ana--bold, lovely, funny. I met her and Bill almost 40 years ago in a martial arts class in Santa Cruz. Their love was palpable. You wanted to be around them just to share in it a bit. My wife and I reconnected with Ana and Bill during a visit to Tacoma a couple of years ago. I hadn't seen them since I left Santa Cruz in 1987 but their bond was stronger than ever. And Ana was her fun, quirky self, even while coping with an illness that would prove fatal. Over lunch at a great seafood place she flexed her biceps for us--Bill had been supervising her weight-training.

Thanks for sharing the wonderful photos, Bill, of a unique spirit gone far too soon.
Tim Folger
---
Bill
I was honored and grateful to know Ana during her years in Santa Cruz. I treasure the time we spent
together and enjoyed her humor and stories. She will always be remembered. Her connection of love to you was strong and unconditional.
-Sena
Sena Dolowich
---
Bill,

So sorry about Ana's passing. She was such a fine woman. Looking at her pictures I can recognize the ones from when I first met Ana in 1982 in Santa Cruz . She was beautiful. It is wonderful that you two enjoyed a great love for all these years.
May you find peace and comfort . She will always be with you in your most dear memories.

Regina Thompson
---
Dear Bill,
What a beautiful tribute. Ana was such a warm and inspiring person, and it was a pleasure to know both of you over the last several years. Her strength was an inspiration, both physically and emotionally. She will be greatly missed. Please know that we are thinking of you.
 
Catherine Smith
---
Ana was a unique person and a great friend. So warm, funny and smart. It was a gift to have known her.
 
Rob Horgan
---
Dear Bill,
We am sorry for your loss. You and Ana were a testament to how profound love can be, how deep it can run and how all of the sincerest and committed relationships end. It was a lifetime joy to have your and Anna's blessing at out wedding. little did we know you would have the opportunity to show the rest of us what true commitment means.
Joe & Dawn Mueller
---
Dear Bill,
I was so happy to meet you and Ana at that lunch in Tacoma, to hear stories from Tim's and your days in Santa Cruz and Ana's stories of past adventures (her trusty toothbrush). And I'm so glad she had you, her devoted partner, with her at the end. Deepest sympathy to you, and I hope we'll see each other again sometime soon.
 
Anne Nolan
---
Thank you Bill for this. It's beautiful. I'm sure Ana would love this. We're so thankful to have known the two of you for so many years. You two are such a beautiful couple. She's such an amazing, fun, kind, caring, and inspirational person. She always put smiles on people's faces everywhere she would go. She will be missed and always remembered. Bill, we send you our love.
 
Cheryl Gilbert and Der family
---
Dear Bill,
Thank you for sharing your very beautiful tribute to Ana. I enjoyed the photos very much...bringing back memories of the times Ana and I knew together.
Though she was younger than I was, she was wise, brave and adventurous beyond her years. She was an inspiration to me.
She gave generously of her time and skills, giving wonderful haircuts and massages to my young daughter and me.
She was truly a special person who will never be forgotten by my family.
Thank you Bill, for making the effort to find me 3 years ago and allowing Ana and I to share memories and love by phone.
Love to you.
 
Paula Rhude
---
Bill, what a wonderful tribute to Ana. Although I came to know you both over the last years I did not fully know the scope of her life and creativity. What I do know is how sweet and gentle Ana was. My heart is with you, Bill.
Looking forward to that time we can sit down together over coffee!
 
Dan Schenck
---
I'm so sorry to hear Anna passed away at such a young age. I knew Anna in the 80's. She used to cut my hair. It always took 1 or 2 hours until she was satisfied she had it just right. I always enjoyed the time together and admired her commitment to quality. She was quite a character. Always positive. Rest In Peace dear Anna.
 
Jamie
---
I was so very sorry to read today that Ana had passed away. I was lucky to know Ana as a massage therapist. I have precious memories of visits to her house in Aptos and of her kind and glowing spirit and her healing touch. I still listen to music that Ana would play during massages and remember her fondly. I offer my deepest condolences to Bill and to her sister, brother-in-law and sister-in-law.
 
Nancy Stucker
---
Dear Bill,
It was always so wonderful to see both you and Ana whenever you came to Thriftway. I will never forget her smile, and all of your fun stories! Thank you for sharing such beautiful pictures. She really did live a beautiful life and will be missed. Please accept my deepest condolences. You are in my thoughts.
Sincerely,
Joricia
---
Through my friendship with Bill I felt I had come to know Ana even though we had never formally met. Clearly, Ana remains the love of Bill's life and rightly so. God bless you Ana, keep your head on Bill's shoulder and comfort him through eternity.
 
Michael Wood
---
Dear Bill, I was so sorry to hear the devastating news of Ana and that I did not get to know her during our friendship at AMAT. Clearly, these must seem the bleakest of times to you...
After reading all of the comments here, it is clear that you have an abundance of caring people that want to help you through this - including me - and I hope that we and time will bring you a measure of peace and eventually the ability to be full and happy, again.
John Haussermann
---
Dear Bill,
We are very sorry to hear of Ana's passing. Ana was an amazing person with a great sense of humor, and her personality would always brighten the room. We will miss her very much. We offer our deepest condolences for your loss, and please take care of yourself as well.
Wei Li & Ben Lee
---
Bill,

How terribly sad to hear of Ana's passing. I always looked forward with great joy to seeing you two come through the door at the VAC. Ana's smile and sunny giggle always brightened my day. I will always remember her that way. Our little community has lost a beautiful member; and you, dear friend, have lost more than all. But what a lovely life of memories you have with dear Ana; and the kindness and joy she brought us all will remain with you and us, always. God bless. You are in my prayers, Bill.
E Dane Rogers
---
Oh Bill. Love shines from her photos and from your tribute. There is nothing harder than this loss, and I am so sorry. Holding you in compassion.

Laura
---
Bill, these are beautiful pictures of Ana and her wonderful smile. I wish I met her with you. Stay strong. my brother. You'll see her again.
- Rucel Mangrobang
---
I was inspired by Ana. Greatest teacher in my life. Her teachings saved me. Love, Collette McCaslin
---