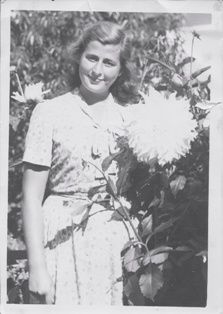 October 30, 1926 – February 28, 2015
 
Born of a Spanish fisherman and a Danish beauty, Gloria was the youngest daughter of eleven children. She grew up in Seattle's Rainier Valley, attended Franklin High School where she was elected class president in 1944, and went on to earn a masters in teaching at the University of Washington. Gloria was dedicated and passionate about her work as a Seattle public school teacher, and demonstrated a deep compassion for her fellow human beings through her extensive volunteer work. 

Gloria is survived by her four children: Ane Black Crow, Charla Soriano Jaffee (Marty), Jack Soriano Whiteford, and Maria Soriano Reilly (Gregg). Gloria, lovingly referred to as Granny, is survived by her grandchildren: Joe, Justin, Morgan and Jered Black Crow; Lilah and Aviva Jaffee; Joshua and Kaela Reilly; and great grandchildren Majestic and Jaymeson Ketah and Sapphire and Jasiah Black Crow. Gloria was predeceased by her parents Ane and Angel Soriano; siblings Rosario, Angel, Juliette, Amigo, Charlotte, Rupert, Dewey, Milton, and Max; and by her grandson, Jesse Ketah. Additionally, she is survived by her brother Chuck and by the many cousins, nieces and nephews of the extensive Soriano family, for whom she liked calling herself Rich Auntie Glor.

Gloria's 88 years of life have been a blessing for all who have known her. She was both spiritual and humanitarian, as demonstrated by one of her favorite quotes: "Let it be our actions, rather than our words, that testify to the truth of our religion."  This October baby will always be remembered each year while gazing upon the beauty and color of the autumn foliage, those precious and timeless moments when we are grateful for the gift of life, moments she could not resist and made sure you didn't miss! Thank you, Mama!
 
As a life long democrat she wrote letters to congressional leaders and business people when she agreed/disagreed with their policies and worked on changing the Pledge of Allegiance by adding "....striving for liberty and justice for all." She recognized the injustices in our country and dreamed of a better place for all humankind.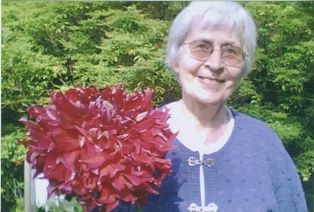 She danced! One of our family memories is when ever the song "Mac The Knife" came on we would hear her voice in a battle cry: "Let's dance kids!!" Mother we hope you are dancing now with your many loved ones who have gone before you.  We love and miss you.

In lieu of flowers or gifts, donations accepted in her name can be made to the following charities: Kline Galland Home Staff Fund, Mary's Place, Alzheimer's Research and the Kubota Gardens, or charity of your choice. The family thanks the amazing staff of the Kline Galland Home for their kindness, love and heartfelt care. The family has chosen not to hold a memorial service.
---
Comments
We will always remember Aunt Glor with her ever smiling face and encouraging words. We loved it when we all got together for picnics and big Soriano get-to-gethers. Aunt Glor keep dancing and keep smiling, you are beautiful. Love & Hugs, nephew snd niece, Matt & Carol Lettich --Carol Lettich
 
---
Gloria was an amazing woman. Her love for others permeated a room when she entered. She raised 4 amazing and gifted children who share her love of others with us. She never minced words but was kind in her delivery. She is missed but she left her mark here, especially with me. Besos y abrazos fuertes guapa. --Christopher
 
---
Ane, Charla, Jack, Maria, Marty & Gregg - I am sorry for your loss. Gloria hated injustice & inequality and had a generous heart. She will be truly missed. --Liz Soriano
 
---

Auntie Glor was a blessing to us all. She was an important connection to the Soriano family for me and my siblings, and opened her heart to everyone. Con mucho carino, tia. --Vanessa
 
---
Ms Soriano was my teacher in Yakima in the 50's. I remember her the way she looks in the top picture. She was young,smart and a wonderful teacher and role model. Just the right age to teach teen-age girls. We could talk with her about anything. It was a joy to go to class every day. We loved her stories about her family and her trips across the pass in her little car in winter. Beautiful memories. Condolences to your family. --Mildred Fowler Laird
 
---
Gloria loved her family fiercely, and that included her children-in-law. I will always remember fondly how she would say things like, "Don't you think he is the greatest? I wouldn't change a thing!" Since she was referring to my younger brother, I had to agree! What a gift to have received such unconditional love. --Jan and Jamie, Michael and Stephen
---
I'm just learning of your mom's passing, my sincere thoughts and prayers go out to you, Jack, Maria, Charla & Ane. Jack was one of the first people I met as a kid moving to Mercer Island, and your mom was always nice & welcoming when I would stop over to visit. Glad to have been a part of her life, as well as yours :-)
-Kenya Edward Léger (aka Ken)
---