Edna Preuss Hassell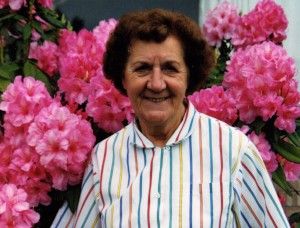 Edna Preuss was born in Seattle, WA (Ballard) to Edward and Christine Preuss--the second of their four daughters.  Edna spoke very fondly about her strong family and was thankful that her Daddy always had a job as a harness maker, even through the Great Depression. This time of life is likely when Edna learned to be very frugal, working hard and making do with what she had.
Edna's first job was at Sears and Roebuck, working as an order checker.  She married Brock Hassell, and they had four daughters,from 1943 to 1950.  Not long after, Edna and Brock separated, and she was left on her own to support her girls. She miraculously got a job at the Post Office, where she worked until retirement.  Edna always worked hard, relying on strength from her Lord. She was also thankful for the support of her loving family (parents and sisters, and their spouses) and her caring Whitman Chapel church family.
Edna and her girls moved in with her older sister Martha and husband Chuck and their son. When Chuck passed away suddenly, Edna and Martha and their children lived together, working alternate shifts so someone would be home for the kids. They worked hard and created a fun and loving home. When Martha remarried in 1956, Edna and the girls were on their own again. But everyone worked together, and they always had enough.  Edna was a devoted Mother with strong faith and solid character.
Edna supported her family with her job at the Post Office.  After retirement in 1982, Edna got a job at Ballard Convalescent Center. Edna meticulously maintained her own home and yard, where she lived until age 89, when a fall required rehab and assisted living.  Edna eventually moved to Crista and lived there for almost seven years, until her death at age 96. Her burial was at Crown Hill Cemetery—in Ballard, of course.  Though we celebrate Edna's transition to Heaven, she will be deeply missed by everyone who knew her, Her surviving family includes her four daughters and their husbands, 12 grandchildren, and 22 (soon to be 23)  great grandchildren.
Reflecting on how Edna lived her life, a few themes seem to define her.  First—her unwavering faith in the Lord. Edna loved to pray and read her Bible! One of her oft-quoted verses was "Trust in the Lord with all thine heart; and lean not unto thine own understanding. In all they ways acknowledge him, and he shall direct thy paths." (Prov 3:5-6)
Another hallmark of Edna's life was her strength: spiritual, emotional, and physical. Edna worked hard for her family and in serving others. Another favorite verse was, "as thy days, so shall they strength be." (Deut 33:25).                  
One more theme in Edna's life was her love.  Not the gushy kind, but practical.  She tirelessly shared her time and resources with family, friends, neighbors, and missionaries.  She had a kind and generous heart, and the Lord always provided her with enough to share.  Edna truly was a "good and faithful servant." (Matt 25:21)
---
Comments
---