My Obituary
       by Patricia Doheny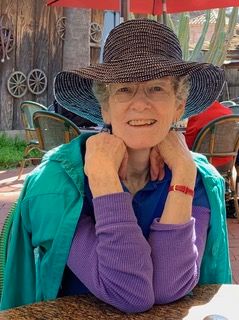 I grew up on a fifty-acre farm outside of Laurel, Montana where my sister Rose, and brother Frank, and I named most of our chickens and all the calves.  None of us wanted the extremely long hours farm work required and all left after high school.  
I found my two greatest vocations as a creative and memoir writing teacher for seniors at the Des Moines Activity Center and as a clown with my wonderful clown-partner Steven Graham at Wesley Homes Nursing facility.  Of course, I had to endure twenty-eight years as an RN before I learned I was in the wrong job.  Guess you could say I was a late bloomer!  
I met and married my late spouse, Joseph Tyllia, when I was thirty-four and he was thirty.  In marriage we learned to dance.  At first it was more of a stomping on each others toes, but after twenty years we were proficient at taking turns following and leading so that worked out quite well.  I am looking forward to dancing again with dear Joe up in the clouds.
I leave behind my dear sister Rose, my special friends, Sherry Willis, Cynthia Lorch, Peggy O'Conner, Gean Dindia, Louise Bollman, Kathy Linnell, Ellie Graham, Susan Austin, Gillian Gaar, my InterPlay community, and my Seattle First Baptist morning service people and so many more. I was predeceased by my brother, Frank.  My three dearest daily companions were my three cats, Gracey, Indiana Jones, and the late Tidbit. I will enjoy watching from heaven.  I know they will be cared for with help from my sister, Rose.  
So goodbye dear ones, goodbye.  And don't let the bedbugs bite and if they do hit them with a shoe!!!
---
A Celebration of Life service will be held on October 6, 2019 at 2:00 PM
at Seattle First Baptist Church
  1111 Harvard Avenue, Seattle, WA 98122
Patricia requested donations in lieu of flowers to:
The CaringBridge site that allowed her to stay in touch with her friends and family since April 2017: 
www.caringbridge.org/public/patriciadoheny
or donate by phone:  (651) 789-2300
Another interest of Patricia's was the Transforming Age Foundation:
Check donations can be sent to Page Peterson, Philanthropy Manager, Transforming Age Foundation, 1980 112th Avenue NE, Ste. 210, Bellevue, Wa  98004   —  Credit Card donations can be made by contacting Page Peterson directly at (425) 559-6320, indicating Patricia Doheny as the person for whom your gift is made.
---
A Remembering:
 Having received her Bachelor of Arts degree in writing from the University of Washington, Patricia Doheny taught Memoir and Creative Writing at Des Moines Activity Center, did interviews for Prime Time, has been searching for the Divine Feminine since 1995 and traveled to Spain, France, and Ireland to the Black Madonnas.  She believed the Feminine Divine, forgotten for centuries, needs to be remembered so women can remember that they too have a place in the world, one worth sanding up for.
Patricia participated in a Jungian dream group for nearly 25 years.  A member of the group described Patricia's participation in the group as deeply inspiring, noting that she lived her inner life with so much earnestness, so much intention, drawing from dreams to seek what is truly important, profoundly real.  She was also a pilgrim attending vision quests and traveling the world in search of sacred sites and in devotion to the Devine Feminine.  She was a poet with a gift for words and gave vivid expression to the beauty she beheld in every day life.  Patricia lived her daily life with unabashed fidelity to her inner work.  In the big and in the quotidian aspects of life, she found joy and delight.  And the laughter that bubbled up from her was as twinkling bells….utterly, irresistibly infectious.
---
Comments
Back in 1969 I met Patty and became one of her 5 roommates who were all from Montana. 4 of us were RN's and the other 2 were not. All of us got along well, some working shift work and weekends which made the household always not predictable to say the least. Patty was always ready for fun and had that sparkle in her eyes. The last time I had contact with her was in 1971. Always wondered what happened to her and then recently another one of the roommates had contact information so I had planned to reach her.. Well that was never done and I regret not following through now. I just read her obituary which she authored...good for her!!!! I know I will see her later in my life and look forward to catching up with Patty. Bless her family and prayers to those who are her close friends and family. With loving thoughts of dear Patty. Karen CrossHalgren
    
Karen Cross Halgren
---
Patty and Joe were close friends we came to know through the Chancellor Club, a Catholic singles group in Seattle where many of us met and married. We continued our friendship through monthly pot luck dinners sponsored by the couples who married through the club. After Joe passed, Patty moved on to a new phase of her life and we lost touch. But we all remember her vivacious embrace of life and its opportunities. She will be missed. Requiescat in pace
    
Brian & Marcia Williams
---
Poems to remember Patricia
Oh, Patricia!
Did you fall into the arms of Love?
I know you did. You spent so many years learning
Who you were
Who your Joe was
Who your God was
You worked with dreams, with meditation
with clowning, with writing
with our Lady of Guadalupe, with remembering
I know you know God's great, free, embracing love
I give thanks I knew you at all
Slender lady clipping grass so carefully every moring for your companion
Living life as it spun out ......
by Lyta
===========================================
Patricia,
You came into our lives, a slender, graceful being
A flash of brightness in layers of gypsy colors
We learned that illness wracked your body, but
You were a warrior; your weapon your inner strength
Every day a struggle, you shared your talents
Gathering us to write our memoirs, encouraging our efforts
You turned us on to Mozart's Starling,
a book we spend days discussing
Pondering if we could hear the bird in his music
To soon your life journey is over,
Your blue eyes, smile and kind ways will live on in our memories
Stephanie Lewin
======================================
Dear Patricia,
We once went to floor 2 in the elevator
You started singing 'tea for two', then
I joined you - we got off on the 3rd floor singing
and smiling, forgetting the lyrics, but not all of them,
we made ourselves laugh, we made others laugh,
we said we would sing whenever we got on the elevator to 2.....
Thanks for the memories..............
Ellen
---