Roy Herbert Charles Coon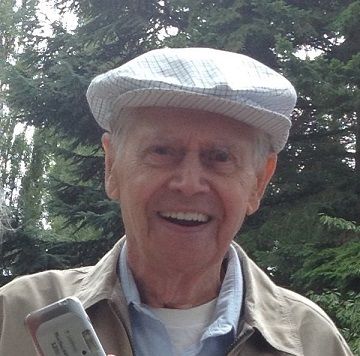 Roy passed away peacefully on Friday morning March 29th 2019 at Mount St. Vincent's in West Seattle. Roy was born in Pe Ell WA on December 1st 1925 and lived in Washington State most of his life, except for his time spent in the Army Air Corp during WWII in France as a B17 and B29 rear gunner. Roy worked at The Boeing Company for 37 years as a Quality Inspector. He was an active member of the Boeing Gun club and enjoyed the shooting competitions. He had a small shooting range in his basement that he used to teach his kids the basics of gun safety. He had many hobbies that included woodworking, ham radio, gunsmith, chess, golfing, bowling, square dancing, and especially the outdoor sports of hunting, fishing, and camping. He was active with the Boy Scouts and went on many 50 mile hikes with his sons and troop 286. The family has many memories of camping in Eastern Washington, spending time together at the ocean, and his very particular way of packing the trunk of the car for any trip. Roy always put family 1st. He was a willing chauffeur for his daughters Girl Scouts and Job Daughter functions. Some of his favorite activities were feeding the birds, sitting on the front porch visiting with the neighbor kids, and especially spending time with his grandchildren when they were little at Alki and Lincoln park. Roy was strong in his faith, attending Mass at Holy Rosary in West Seattle regularly, and taught his children many valuable spiritual lessons. 
Roy is survived by his wife Bette of 66 years, 2 sons Doug (Karen), Jeff (Denise), 2 daughters Pamela (Marcel) Rivard, Susan (Don) Burnett, 7 grandchildren, 2 step-grandchildren, 3 great-grandchildren, His sisters, Betty, Doris, & Kathy, brother Dennis, plus a very large extended family. 
Military Honors for Roy will be held on May 10th 10:00 at Tahoma National Cemetery. There will be a Celebration of his life on Saturday May 11th between Noon and 4:00 at Camp Long in West Seattle. Intentions of Mass will be at the 5:00 Mass on May 11th at Holy Rosary. In lieu of flowers, the family requests donations to your favorite charity in the memory of Roy Coon. He always had a smile for all and will be missed by many. 
---
Comments
I always respected Mr. Coon. That's who he was to me in my early years not, Roy. I can still see him in his Boy Scout leader uniform. My brother Jeff was in Boy Scout troop 286. I remember a lot of den meetings.
I think of all the camping trips where he and my dad would put up tarps together and lead & set up our campground at the ocean . Great family vacations. I would just remember as a kid he always knew a lot of things about a lot of things. He always seem like a really great family dad. Rest in peace Mr. Coon, but now I'll Think of him as Roy.
I'm so sorry for the family's loss,
Joanne ( Otto) Eytzen
---
To my Aunt Bette and all of our family -
Uncle Roy will always be smiling in my memories. He was a gentle, happy man and I will miss him greatly. Please know he was loved by all.
Julie (Glazar) O'Malley (Niece)
---
I'm so sorry for Roy's passing.
He was the neatest Uncle.
He was smart, funny, and just a pleasure to know.
I'll sure miss him.
Andy Glazar
---
Dear Bette I'm so sorry to hear of Roy's passing. 66 years of marriage is fantastic. Are you still at home? Thinking of you and hope you are doing okay.
Love Norma Nelson.
---
My deepest sympathy to the entire Coon family. May God grant each of you peace and comfort as each of you journey through this difficult time.
    
God bless, Jeff Silvernale
---