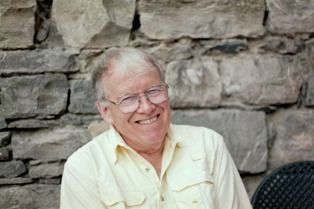 May 11, 1932 – August 14, 2014
Donald Fries Jr. was born in Tacoma to Donald Brown Fries and Lillian Gertrude Fries (nee Vernhardsson). Although Donald Jr. adored his parents, he did not adore having a diminutive in his name. When he was 11, his mother Lillian took him to the courthouse to remove the Jr. and Donald Fries Jr. became Donald John Fries.  Don eventually ceded control of his name to his children: they nicknamed him "Don Juan" which morphed to "Juanny". After a few more years, Don began answering to his favorite name: Grandpa Juan.
Donald and Lillian fostered a deep love of wild places in Don and his two older sisters, Joan and Donna. During World War II, Donald Sr. and Lillian would save their gas rations cards to make sure their family could spend some of their summer at Mt. Rainier National Park.  In 1950, wearing leather boots and wool, Don Juan climbed Mt. Rainer. His brother-in-law Keith still remembers, 64 years later, how sore Don's feet were. When Don Sr. died, Juanny made sure his dad's ashes were taken up Mt. Rainier.
Don Juan had a deep respect for his parents' and sisters' integrity and intelligence. Juanny's feeling that he was the least able student in the family didn't prevent him from kicking ass academically. He graduated from the UW with a BSME and then headed to Boston to go to MIT. He came back from MIT with a Masters degree and a strongly held belief that the only way to serve pastrami was with sweet pickles.
Don Juan joined the army as an officer and taught Nike-Ajax in El Paso. He drove a convertible, honed his OCD tendencies and acquired a lifelong hatred of khaki-colored clothes. Don left the army to start a PhD program at Stanford.  Don left Stanford before he'd completed his degree--he was tired of academia and ready to work as an aerospace engineer. Don met Janey Hogan on a blind date and married her shortly thereafter. In their 23 years of marriage, Don continued to cherish time with the Fries side of the family and embraced the Hogan-Hill clan with gusto. He and Janey gave their kids a childhood full of grandparents, grand aunts and uncles, aunts and uncles and cousins. Don Juan's career at Boeing spanned decades and the breadth and volume of projects he worked on speak to his determination, brilliance and skill. Throughout his life, Don filed multiple patents. He spent more time perfecting his nachos recipe than following up on his patents, so his family has had many plates of nachos but did not learn of his patents until after his death.
He was in one of three engineering teams stationed around the globe (Juan was in Madrid) to triangulate the Lunar Orbiter. In 1973, the Fries family moved to Cocoa Beach, FL. His kids remember sitting on the beach near NASA to watch the Mariner 10 launch. He spent most of '77 and '78 in the bayous of Louisiana testing the largest-till-then oil rig ever – the Cognac. Don loved his work and he loved his family and he kept the two separate. He would come home from work, take off his green polyester suit, slip on some levis and somehow, never talk about work. His four children grew up knowing he could setup a tent in a hurry, fix anything, make a mean Swedish pancake and be counted on for a hug but without any idea of what amazing technical feats their father accomplished every day.
And there is the heart of Don Juan.  An accomplished and modest man who loved being a dad and needed his socks to be the same color as his pants. Don's greatest source of pride at Boeing was the work he did on windmills to further the cause of alternative energy. Don spent months in Goldendale, WA and Pocatello, ID testing windmills.
Don Juan spent a great deal of time planning epic adventures for his children. Don started his kids backpacking early. His eldest daughters remember sliding down snow fields at Annette Lake in the early 70s and his two youngest children have particularly fond memories of the Ohanapecosh campground at Mt. Rainier. All four remember Don Juan getting up early to get the campstove going so his kids had something warm to wake up to—hot cocoa or even huckleberry pancakes. Don led his tribe on numerous backpacking trips through the Olympics; they'd start on the east or south side and backpack through to the west side, giving Juanny and Janey multiple opportunities to negotiate shuttle vehicle logistics. Juanny's trips were methodically planned. He would give of his children a multiple page itinerary listing elevation, menus and camping sites. A Juanny backpack always ended at a station wagon holding an icy cooler stocked with everyone's favorite beverage. Later, his grandkids found that Grandpa Juan always had orange crush and chocolate milk in the fridge for them.
Janey and Don divorced in 1985. Although the divorce was difficult, the two remained lifelong friends and comrades in the adventure of raising 4 children and 9 grandchildren.
After his divorce, Don headed to Kahuku, HI to build and test windmills. Each of his kids spent time in Hawaii with him, accumulating more Juanny stories and adventures.
Don embraced Hawaii; he hiked, bought mountain bikes and tried windsurfing. He came back from Hawaii and planned a canoe trip around the Bowron Lakes in British Columbia. After he and his kids came off the Bowron Lakes, he took them all to the Worlds Fair in Vancouver, BC.
When Juan retired at 62, his adventures started in earnest.  He loved hiking with his sister Donna and her husband Don in the high Sierras with the American Alpine Club. He took his kids on trips to Europe. He organized trips to Europe for his Boeing compadres and other trips for the American Alpine Club crowd. He organized trips with his kids to Ashland, OR to see the Shakespeare festival. Romeo and Juliet was his favorite play—he liked it old school and was disgruntled when it was interpreted with a modern slant.
When Juanny wasn't traveling or planning a trip, he was busy. He planted native plants all around his property in Issaquah and spent hours building a trail-- complete with bridge--for his grandkids to explore. He helped all of his children with their houses. His daughter Beth treasures all the hours the two spent working on cars. Don had a philosophy that when you started to get too frustrated it was time to take a break—so he'd say "f*ck it, let's get a beer" which made fixing brakes a longer, but infinitely more enjoyable, project. Juan was always up for an adventure, always ready to bring the beverages to a party, always ready to help whoever was in need.
In 2007 Don was treated for prostate cancer. In 2008, a dissected aortic aneurysm sent him to 10 hours of open heart surgery. He joked about the pig valve he came out of surgery with and more than one healthcare professional wondered at the fact he'd survived the operation. Juan reacted to the heparin he was given during surgery and suffered multiple strokes. The physical insults he suffered from the cancer treatments and cardiac event triggered the dementia that dominated the last 6 years of his life.
For the last two years of his life, Don called Blueberry Gardens his home. He was most at peace sitting in the backyard, under the veranda, watching birds flit through the shrubs and drink from the fountain. The caregivers at Blueberry Gardens treated Don with respect and dignity. They made Juan nachos on his birthday, they calmed him down when he dropped F bombs and comforted him when the television news was scary. All of the staff is amazing and has our undying gratitude. Ellyn and Jenna surpassed any expectation one could have for a caregiver. Thank you, all of you, for treating Don Juan like family.
Don will be delighted to be seeing his beloved parents, Don and Lillian, and beloved sister, Donna Rice, again. He is survived by Donna's husband Don Rice and Donna's sons Johnny and Syd, his other beloved sister, Joan Tracy, her husband Keith and their children Jeanne, Meg and Annie. His ex-wife Janey Hogan and her partner Rob Balfour will be keeping an eye on Don Juan's children and grandchildren (this time listed from youngest to oldest, in honor of Juanny, the youngest of 3): daughter Amie Fries Fahey, husband Chris and children Eli and Abby; son Tim, wife Tricia Quinn and children Sammie, Liam and Kincaid; daughter Beth Fries Van Pelt, husband Darren and son Max; daughter Leslie Wade, children Lily, Gus and Rae.
Don was a lifelong, fervent, agnostic liberal.  He valued integrity, which he had an abundance.
In lieu of a service, please have a plate of nachos and beer and give a cheer "to Don Juan!"
Juanny will be remembered for many things:
His unflagging commitment to his family
His long, skinny legs
His love for Mt. Rainer, the Olympics and every plant, animal, mountain and body of water in the Pacific Northwest.
His endless quest to grow kinnikinnik
His colorful vocabulary which became even more colorful with age
---
Comments
Peggy and I are proud to have become friends with Don during our year together at Kahuku on the windmill project. Don was a delight as our crew there came close to calling ourselves Hawaiians. Back on the mainland we remained in touch, with Don often asking us when we were going to open an adult bookstore in Texas where we were living at the time. ( We never did.) Our annual get lunches were a great time to catch up. We are saddened to learn of Don's passing but happy to have known him. - Richard and Peggy Hart
---
My heartfelt sympathy for your family's huge loss. The obituary is a wonderful tribute! My thoughts are with all of you as you grieve. Special love and hugs to Amie! - Marlene Liranzo
---