Sophie
Sophie Mabofe
Sophie Mophie Ding Dong
Sophie Elaine Theriault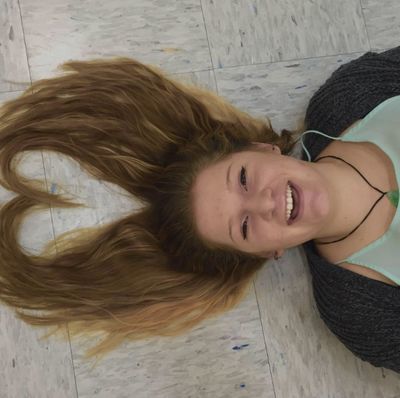 Sophie Theriault Soundfalls Memorial
Sophie was born into this world at the stroke of midnight on June 22, 2000, 12:00am, much to the delight of her beautiful labor nurses, who said they had always wondered what would happen if the moment landed to perfectly split the days.  She weighed in at a miraculous 4000 grams, with nurses ogling and gasping and checking the scales - how could it possibly be such an even number?  Because Sophie Theriault arrived like she lived - mysteriously and wondrously, and a welcomed addition to the party.
Sophie twinkled like no other.  Being part of an exceptionally dynamic family of four in the precious small town of Duvall, WA, her family knows everyone in town.  And it has been long and widely acknowledged that somehow Sophie knew more people than her mother, father, and brother combined.  She didn't just know absolutely everyone, she seriously and completely loved each and every person.  She was human effervescence, as anyone that knew her would attest.
As a baby, in one of her first demonstrations of her super powers, Sophie's mom watched in awe and near horror as she inched herself across the living room floor on her back, inching and stretching, one teeny tiny scootch at a time, until she reached the pencil she was aiming for.  At the time, she was not yet rolling over on her own, and by most thinking, had barely reached  the developmental concept of object permanence.
Sophie's first birthday party was held at the Duvall Family Grocer.  She had spent so much time being passed around to all the beautiful ladies working there, they simply had to be a part of her party - and the only way to make sure nobody was left out was to hold the party there.  It made the Valley View newspaper, and became an instant legend.
Sophie and her brother grew up in that store, and if her parents told her no, she couldn't have a quarter for the gumball machine, she would just make her way around to oh so cutely asking strangers, who never, ever, ever refused her cuteness.  Not once.  (It should also be noted that her parents ALWAYS had quarters for the horsey ride out front...and it was a pretty amazing thing the way those horses always seemed to win the races they had with her mom...)
As a young girl, her parents regularly took her and her brother all over Seattle - to the zoo, the aquarium, to children's museums - steeped in spontaneity and adventure.  Sophie was a magic little being, who got scolded for things like, Sophie, you can't just burst in at full speed and hug people from a dead run.  You need to stop one step away and ask permission, can you try that?
As time went on, she spent hours upon hours with her community at music festivals in McCormick Park, always dancing out in front of the stage.  Nine times out of ten she ended up ON stage, with band members irresistibly taken by her charms, and oblivious to her well calculated methodology.
She took up busking at Seattle center at about the age of 10, for a fundraiser for Club Rust.  She started with her little ukelele and a bucket, and drew $150 in her first two hour gig.  She just walked up, threw down her bucket, didn't so much as shrug, and began to play.  This continued on as she began writing her own songs, and she absolutely enchanted her audiences, who would often stop to watch, to catch their breath, to sway or tap, and to feel.  Especially the children.  She was absolutely captivating and a delight to the senses.
Sophie and her brother were extremely active in sports - their main focus being soccer and football.  Sophie was a fearsome goalie on the Wildcats for many years.  There was one season when she decided to charge at her on-coming opponents with a disarming guttural war-cry, creating a disturbing and unfair advantage.
Sophie's dad sparked a deep love of snow-boarding into both kids.  A darling of the mountain, Sophie was a force of nature on the slopes, showering the day with her infectious enthusiasm and charm.
Sophie and her brother were "trained" naturalists.  They were both taken out of public school one day a week throughout their childhood to attend Wilderness Awareness School.  Sophie developed an innate knowlege of native plants, and would randomly stun people with hand-picked wild edibles and medicinals.  She maintained a keen curiosity and an appreciation for wildness without structure, which she would often round out with a trip to the nail salon.
https://www.wildernessawareness.org/youth/youth-school/
At fourteen, she would effortlessly take command of any room, with any company - judges, hooligans, community leaders, riff-raff - it didn't matter.  She would just lift and hold center, and direct whatever was going on, leaving everyone else in the room wondering, wait, how is she...doing that??
We couldn't imagine what she was going to end up like as an adult, but we knew she would knock our socks off.
And she did.
Sophie epitomized the balance between scholarly and "real world" success.  She marginally squeaked through high school.  The night before graduation, she breathlessly waited for her barely passing grade to that last horrendous math class from her teacher by email.  But what did it matter, really?  At the time, she was already on the board of the Snoqualmie Valley Community Network, and she was the youngest member of the King County Youth Advisory Board. 
At 20 years old, she still held these positions.  She had become a solid fixture, and commanded a level of peer recognition amongst the other members twice her age.
https://beststartsblog.com/2020/12/08/celebrating-remembering-sophie-theriault/
https://snoqualmievalleycommunitynetwork.org/
She was also working part-time as a volunteer coordinator at West Side Baby, providing essential items to King County families to keep children safe, warm and dry by collecting and distributing clothing, equipment, and diapers (which are very sadly not considered essential by health organizations distributing economic assistance!).
One of Sophie's favorite projects had been her work as a foundational member of Nā Wahine o Ka Mana - the Power of Women Summit - commited to developing youth leadership, addressing violence against women, systemic racism, promoting gender equality, and more.
https://westsidebaby.org/our-model/
https://www.facebook.com/PowerOfWomen.Rocks/
Sophie was planning to graduate in May of 2021 from the UW Bothell in Community Psychology, with emphasis on non-profit management.  She was a decent student, which was pretty remarkable considering how difficult it was for her to sit still.  School was a painful experience for her, and she was absolutely setting out to bring change to that system in the form of greater recognition of a wide spectrum of human learning patterns and pathways to excellence.
Her youth leadership roles started during her time with Young Women Empowered, an organization that began in 2010, was invited to visit the Obama White House, and received the Patty Murray Golden Sneaker Award.  Her positivity and commitment was identified, recognized, and nourished at Y-WE, setting her and all the other young women on a path of vocal support and confidence in their individual endeavors.
https://youngwomenempowered.org/our-story/
Her incredible capacity to empathize and connect was fanned and nurtured by her several years running Camp Rust, an affiliate of Club Rust - an annual house-building mission to a small community in Tecate, Mexico.  Sophie and her dad established an onsite camp for the children, cementing her ability to connect and empathize with anyone she met, regardless of silly little obstacles like skin color, economic security, or language barriers.
https://clubrust.com/about.htm
These accomplishments were impressive, but were truly only part of her remarkable story.  She was an accomplished singer/songwriter, and her originals often captivated and held her audience in a spell.
She was a full-time nanny, and the hands-down favorite amongst the many children she cared for.  She juggled their needs effortlessly with comfort, boundaries, and endless laughter.  She was patient, kind, compassionate, and had a thrill for walking on the border of naughty.
Several times when she performed at the farmer's market in Duvall, she was babysitting.  She would let the kids climb on her as she sang, without skipping a beat, and helped them develop their own patience by promising she would sing THEIR favorite song next, if they could just hang on a bit - sometimes right in the middle of the current song.  She could pull that off, because she was kind, patient, a tornado of fun, and knew how to draw firm, gentle boundaries.
But on top of all that, the ways Sophie Theriault really stood out was the way she so deeply connected with so many people.  She had a capacity to listen, inspire, and hold.  She truly, truly loved everyone, and in this difficult world, that takes courage.  She loved fearlessly and with reckless abandon.  We all felt it, and we will all miss that boundless generosity.
There were more facets to Sophie Theriault than any single group of people could possibly have been able to view.  While we all carry this truth, to some level, Sophie was freakishly diverse in her perspectives, her connections, and her way of being in the world.  She was functioning with a super-human capacity beyond optimism and altruistic thinking - she absolutely embodied and even personified those things.  She made things happen BECAUSE she believed she could.
To say Sophie had many passions is an almost comical statement.  To say, this child was gonna change the world, well, she did, and is.  She IS changing the world, and will continue to do so.  She's doing it in a less tangible way than she was originally planning - but now she has more tools than she ever dreamed were possible.  Now, she creates and sends us dreams.  And she won't stop there.  She is just getting started.
Here is a partial list of the issues that inspired her.  This is just a starting point.  A place where visioning and inspiration can run wild and jump into the air, exploding with enthusiasm, and perfecting the selfie photo burst.
Prison Reform.  Sophie felt that the prison system is woefully mis-directed and missing any potential for positive societal impact.  She wanted to start a prison and turn it into a nurturing place of compassionate healing, while serving the safety needs of the community.
Racial equity.  Sophie had come to know more about this topic than many community organizers.  She was incredibly proud of her work with Na Wahine O Ka Mana, and aspired to bring awareness into the American identity.  She was fierce and gentle about it, and made peace with making mistakes - which she did (many of us have, and continue to do so).  She was committed to centering this work in everything she touched.
Orphanages.  Sophie's vision of orphanages was strikingly similar to views held by the Dalai Lama - although she came to them entirely independently.
Public Schools - especially at the middle school and high school levels.  Sophie observed many, many failings of the school system's ability to create a safety net for the many social outliers in any population.  She was understanding of the needs of those squarely within the bell curve, but was absolutely dedicated to finding a way to patch up the many cracks through which students may fall.
Gender equality.  Sophie could carry many truths at once and had an intimate understanding of internal questioning.  Sophie adamantly protected the ideals of self-exploration and expression.  She was passionate about embracing acceptance of all individuals' right to honor their own needs.  However, she also wrestled with the confusion and hardship this can cause for family and friends that may be entirely unaware and/or societally incapable of understanding the internal difficulities that often accompany this painful process.
Economic Disparity.  Sophie was incredibly adept at manifesting her desired physical reality, and was absolutely confident about her own ability to create abundance.  However, she recognized privilege for what it is, and was deeply troubled by the current trajectory of divergence.
Politics.  Yup.  Sophie talked a lot about being President.  And I promise, she was not kidding.  Sophie was absolutely convinced that social media was transforming the playing field to a more transparent, less-self-conscious reality, making room for all of us to accept our mis-givings, our potential transgressions, and our messy imperfections.  She was absolutely unapologetic about her life choices and her decision-making processes - and desperately wanted the whole world to follow suit.
Sophie left the planet on December 2, 2020, in a high speed car accident in the back roads of southern Monroe, WA.  The details are unimportant, but it can be comfortably noted that she wasn't being too terrifically irresponsible.  She was just sowing her wild oats, she did not suffer, and at the time of her passing, she was absolutely poised to take over the world, just as we always knew she would.
Sophie missed a window of opportunity to have her body composted by just a couple of weeks - which turned out to be a blessing.  The Recompose website linked the family to an alternative offered by the Co-op Funeral Home of People's Memorial:  Aquamation - a process using a liquid solution that requires little to no energy.
https://funerals.coop/pricing/aquamation.html?fbclid=IwAR0knRY6t_beApnR4v1eklfhO-2Y7djA9dGLdOhhc7_m4FzUg2q5CCe9oyQ
It was rather fantastic, and suited her water baby nature.  The family didn't receive a box of ashes afterwards, but a box of white alabaster powder: her pure white bones.  It was inexpensive, and took no fossil fuels to process her body.
Sophie leaves behind her family - her mom, Lisa, dad, Jason, and brother, Nick.  She brought more love and light into their lives than they could ever even know.  They will miss her forever, but they are committed to being fully and completely alive, without holding back, as she requests of us all.
Sophie also leaves behind her extended family.  Her best friend in Austria, Maya, her second mom, Beth, Maya's mom and Lisa's best friend, and the braided beard of Maya's dad, Wolfgang.  Her "aunties and uncles" Mark, Darren and Alyson, and her "little brother and sisters", Cy, Amirra, Hazel, and Zetta.  Her other moms - her step-mom, Raina, and her adopted mom, Deanna, the mom of Sophie's own dear and precious Mini-Me, Lauren.
She leaves behind her many close friends - among them Katie, Kenzie, Maddy and Beth.  Her heart friend forever Anthony.  And so many more.  She had a way of touching people, making them not just to feel special, but to become even more special - to help them see how special they are.
The loss is great.  And she has left us with a message:
She's okay.  She's sorry.  And she will miss us.
Sophie has done an excellent job at leaving us with the resources to continue her earthly missions.  The groundwork has been laid, and now it is up to her concentric circles to pick up where she left off and to craft a path forward. 
She asks that we all try each and every day to be our very best selves, to carefully weigh all of our decisions against that, and to be gentle with ourselves when we don't do it perfectly.  Let's all try to embody the limitless possibility of Sophie Theriault's creativity.
Sophie Elaine Theriault
Sophie Ma Boph
Was and is changing the world.
---
Comments
Sophie Mabofe, this wasn't something I was supposed to have to do. Never one to abide by the rules, were ya? Yeah, I guess you could say, I'm pretty proud of you, even in that. I'm gonna miss you every minute of every day of the rest of my earthly time, Punkin Pie. I don't know exactly what you turned into at the stroke of midnight when you were born, but it sure was special. And I sure liked being around it. Oh yeah, you bet I'm proud. You just keep doing whatever you're doing up there, Mofe. You are and always will be the most "gojus" sparkly twinkle in the whole night sky.
- Lisa Joy Tario, your Mama
---
Sophie was such a special soul to us, and we are holding you all in our hearts as we mourn this loss. We were so blessed to know Sophie her entire life and watching her grow was such a blessing. Our tribute to her will span years. Wishing you all deep peace and love
- Meredith Mitchell
---
Beautiful beautiful beautiful. You and Jason raised a wonderful bright spirit who certainly lived her life to the fullest in her brief time here. A slow steady burn of delight and love.
- Meg
---
Sophie lives on within all who has had the blessing of knowing her! Such beautiful words for a beautiful soul....
- Donna Santeford
---
I remember seeing Sophie as a youngster but didn't officially meet her until she was in HS. Yes she stood out, was someone I noticed, was drawn to and liked. When she visited and subsequently moved in next door, I heard her music and was astonished at how easily it seemed to come to her: she opened her mouth and out came "this voice: this enthusiasm." I watched her tackle yard work with that same enthusiasm and determination. She talked about her work in social services with that same fierceness. She cared for the new puppy with tenderness and love. I thought about her parents and what a wonderful job they must have done- guiding- protecting-encouraging and modeling with the freedom to express and decide that parents reluctantly must allow.

Betsy
---
Sophie was my granddaughter. She died, leaving broken hearts and tears. The idea that her bright love and spirit is no longer with us has been very hard to handle. Thinking of all she did, was supposed to do....it's horrible. She is gone way too soon....and we miss her every single day. I love opera, and had season tickets to Seattle Opera. Covid, of course, shut that down. About a year ago, she said "Gramma, I'd love to go to the opera with you"....omg! Her first was Cosi Fan Tutti....Mozart. She said she loved it. We went to several operas over the last year, and she DID love Porgy and Bess. Her mother told me, shortly after Sophie died, that Sophie wasn't all that thrilled with the opera. It was good in some spots, but WAY too long....but she never mentioned it...not once. She made her mother promise not to tell me. After she died, Lisa did tell me. I was totally shocked....but then, started to cry. She loved me. She wanted to be with me, and she suffered through opera to do it. We always went to Bahn Thai after the performance, and we laughed and talked and had a wonderful time. When the opera goes back to live performances, I will be there...but the seat next to mine will always be Sophie's...and I will miss her loving presence with every note. I loved her dearly, and her death will always be hard. But, we will go on. We must. In her honor, if nothing else. Her dear brother, Nick....always warm and loving...and my own daughter, Lisa Joy....my strength, my rock, my dearest love. I love you, Soph....and always will. Gramma
---
Beautiful, Sophie! What a bright light filled path of love and understanding you blazed across this Valley and beyond in your generous, courageous, creative and wondrous life! You have inspired hope and compassion in countless others and will continue to do so. I first knew you as a gregarious and expressive little child who could dance and spin the night away at then, Miller's Community + Arts Center in Carnation, at any music or arts event we would have, but especially at Swil Kanim's community gathering nights. People have been drawn to your light before and ever since. Our hearts break for your family and friends and all who could easily take for granted that you'd always be right here next to them. It sounds like you took flight the way you entered this world, like an electric and captivating comet. You will live on in all who knew and loved you. Thank you for making this world a better place.
- jules
---
my burst of light thru the dark mist that was growing up, by your side, such a significant lighthouse of a woman you were - are. Soph, i die every day hoping and praying and pleading that this is just some fever dream; some hallucination sent by some ultra-magnificent, malevolent force.. but then i remember. i remember i cant say im sorry. i cant tell you how guilty and shameful i feel every waking day that i put drugs before you. before our relationship. our lives. i lived every single day with you in my head, in my mouthpiece, whether i was speaking to you or about what we had just did that afternoon to my momma. i lived every day carefree and content in my ways knowing you were just a hop, skip, and a jump just two minutes down the Kuntz shortcut. boy, was i wrong. now i truly know the meaning of taking something for granted. i now live my every waking days wishing that my soul was yours; active and still buzzing with electric energy. But Soph, my Loaf.. my soul, my energy, aura.. whatever it may be, will NEVER compare to yours. no one will. you will leave an imprint on my memories, my morals, my heart, my body, my mental illness, my music, and my ability to spread love, joy, laughter, learning, and most importantly peace and unity as one. you taught me how to excel in all those things just living your vibrant life as, well, YOU. i wont ever live a day without saying your Name. Sophie. I Love You, Kid.

- clair w.
---