Margaret "Peggy" Howard
1919 to 2020
"102 Thanksgivings"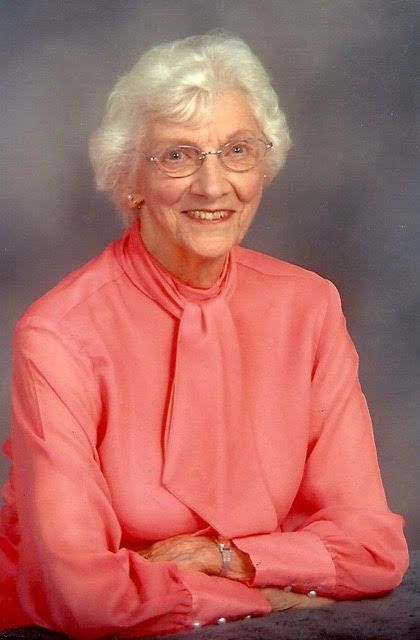 Margaret Ritchie marveled at the changes she'd seen in her lifetime, which began July 1919 in a little farmhouse in Northern Michigan. She joined an older sister Mildred. Woodrow Wilson was president and doughboys were coming home from the trenches. The family had no electricity nor indoor plumbing. The outdoor pump froze in winter. The kitchen wood cookstove also heated the house. Their first automobile was a topless Model T.
As a young child, she watched parades in which Civil War veterans marched. 
When Margaret was seven, her father died, as did her grandpa who'd entertained the family with Irish songs and stories. The little Ritchie family moved to town, where Margaret's mother took the job as Indian River's switchboard operator. The house had electricity, and a radio where the family enjoyed Lowell Thomas broadcasts. A year later, Margaret and Mildred gained a stepfamily, the Reids of Indian River.
Margaret had a very adventurous spirit, and after graduating from Business College, she took up flying and soloe'd in an Aeronca Champ in 1940.
During World War II, Margaret married Sherman Howard in East Lansing. The new couple accepted an offer from Boeing in Seattle. Washington became their permanent home and a few years later they were blessed with three children, Jeffrey, Philip, (deceased) and Carmine. They lived on Mercer island, and in 1959 moved to a five-acre place "in the country," near Redmond. 
In 1949, Sherman became a factory representative for Crown Coaches built in Los Angeles, and the couple managed their bus sales and leasing company for many years. His territory was all of Washington and Oregon, often taking Margaret and the kids along on sales and delivery trips. The family motorhome was the latest trade-in schoolbus. Sherm would remove some seats and add an ice chest, sofa and Coleman stove, and the family recalls many happy journeys throughout the West. The couple financed a fleet of motorcoaches and leased it to Rainier and Yellowstone National Parks, creating more marvelous travel experiences for the family. 
When time and resources finally allowed, Sherm selected a 1978 Piper Turbo Arrow to re-introduce Peggy to flying. She got her private pilot's license at age 60 in busy Seattle airspace in a retractable-gear, high performance aircraft, and the couple enjoyed flying over many of the places they had driven and beyond. 
Howards semi-retired in 1990 and moved into the home they built on Camano Island. After 51 years of marriage, Sherman passed away in 1993 and Margaret moved to Silver Glen in Bellevue, serving on the board for many years. 
The last four years she received excellent care in an Adult Family Home.
She passed peacefully on November 28, 2020, after enjoying 102 Thanksgivings.
Margaret is survived by her son Jeffrey and his wife Thuan in Redmond; and daughter Carmine Mowbray in Polson, Montana and St. George Utah; and Carmine's four children, Nolan, Hilary Lozar (Mike), Kari, and Merilee Burger, (Chris).
A summer memorial is planned when the hydrangeas are in bloom. Margaret always found ways to serve, and devoted much of her rich business experience to her church. Memorials are suggested to Overlake Park Presbyterian Church, or your local Salvation Army.
---
Comments
---