Helen Jean (Hodgin) Tillotson
June 21, 1926 - July 24, 2023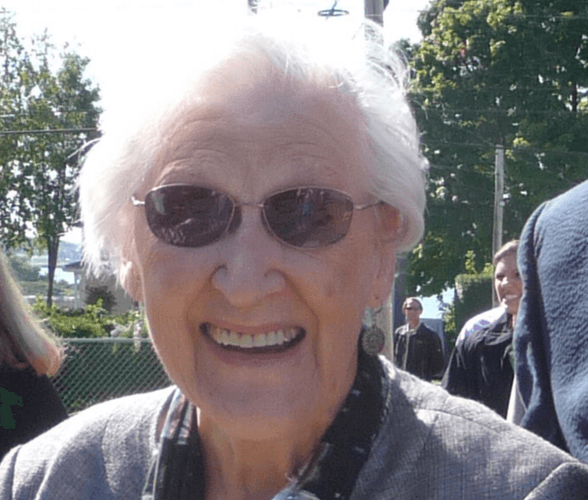 It's with great sadness that we announce the passing of our Mom, Helen Tillotson. It's also a time to celebrate her long and well lived life. She was always a very loving, tolerant, and non- judgmental person.
Helen was born on June 21, 1926 in Colorado Springs, Colorado to Willa and Clifford Hodgin. She grew up on a farm near Monument Colorado about ten miles from Colorado Springs. She had two younger siblings, Audrey (Hodgin) Brock, and Marvin Hodgin who preceded her in death. In spite of the fact that there were few modern amenities on the farm, she had a happy childhood in a loving home. She attended her early years of grade school at a one room schoolhouse, and often rode her horse Scallop to school. She later attended the Monument School for the latter part of grade school, junior high, and high school. She moved with her family to Eugene, Oregon in 1943, where she attended the University of Oregon and received her Education degree.
While studying at the University of Oregon she met her future husband Lee R. Tillotson, who was an Interior Design student and they were married on December 28, 1947 in Eugene. She taught high school in Crow, Oregon, while Lee finished his education. In 1950 they moved to Seattle, Washington where Lee obtained employment at Frederick and Nelson in the Design Studio. Her son Scott was born in 1951, and Doug In 1954. She was a stay at home Mom until the early 1960s, at which time she refreshed her education credentials and obtained employment as a grade school teacher with the Seattle Public Schools. She worked at Harrison, Interlake and Latona elementary schools before retiring in 1989. Helen and Lee had a long and eventful retirement, until Lee's passing in 2003. They traveled to many places and a highlight was a trip to Kenya with her sister Audrey and brother in law Don. They visited her nephew Garry and his wife Linda who were missionaries there and enjoyed spending time with the Masai people and experiencing their culture. They also went on an African safari. Another memorable trip was a cruise through the Panama Canal, where Lee had been stationed as a radioman in the Navy during World War 2. Helen was preceded in death by her husband Lee and siblings Audrey and Marvin. Her nephew Steve passed away in 2022. She is survived by her sons Scott (Nica), and Doug (Janine). Her grandchildren, Andrew (Lily), Ben (Sara), Kathleen, Jill, Nichole (Derek), and Michael (Kara). She had three great grandchildren as well; Hollie, Nora, and Cole. Her nieces and nephews were Garry (Linda), Mark (Mary), Roger (Robin), Deb (Dwaine), Joanne (Lee) and Karen (Bob). Her nephew Steve, as mentioned , passed away in 2022.
Helen was a great Mom, Grandma, Aunt and a friend to many.
Rest in peace Mom. We love you, and miss you.
---
Comments
We miss you Mom, even though it's only been a few weeks since your passing, and we feel your presence always. Rest In Peace. In the short time since your passing I have thought a lot about how you have been a constant shining " beacon" in my life, providing great guiding wisdom right up until the end of your life. I can still feel that guidance now.
Again, Rest In Peace.

Scott Tillotson
---