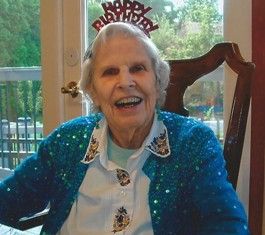 September 26, 1921 – February 27, 2015
Bette Robinson was born Elizabeth Jane Olsen in Charbonneau, North Dakota, and lived in Western North Dakota and Eastern Montana with her parents Oswald and Nettie Olsen and her siblings Glenn, Shirley and Van. 
Bette married Lynne Robinson and followed him as employment and the United State Army took them to many of the western states. Son Kelly and daughter Cindi were born in North Dakota and son Tim was born in Montana. At various times they lived in North Dakota, Oklahoma, Texas, Wisconsin and Montana before they finally settled in Western Washington, residing in Kirkland, Bellevue and Everett before retiring to Camano Island. In their later years they moved to Des Moines and finally (whew!) to Seattle. 
Bette was married to Robbie for 67 years until he died in 2009. She was also preceded in death by her brothers Glenn and Van Olsen and her grandson Tyler Robinson.
Survivors include her sister Shirley Skavlem, son Kelly Robinson (Anita Halstead), daughter Cindi VanGilder (Jeff), and son Tim Robinson, as well as six nieces and nephews and three grandsons. 
Bette was a gregarious, social person, always considerate and curious about other people. She had a grand sense of humor and was an enthusiastic and popular hostess. Even as dementia took its toll on her mental capacity she maintained her social graces and was loved by visitors, employees and residents of the Cambridge Family Home. She is missed but is remembered with affection for her infectious laugh and intellectual curiosity. 
A memorial service will be held at Fauntleroy Church UCC, 9140 California Ave. SW in West Seattle, on Saturday, March 14 at 11 a.m. 
In lieu of flowers please donate to the charity of your choice.
---
Comments
I heard many wonderful things about Aunt Betty from Roger. I'm glad she was able to have a wonderful fulfilled life. Warmest thoughts and prayers for all. --Sandra Moore
 
---