Ruthanna (Fam) Bayless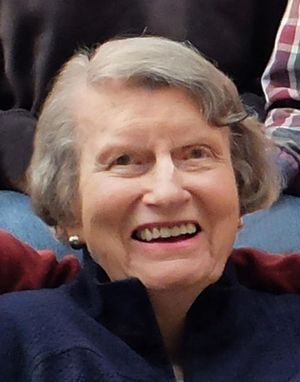 Ruthanna (Fam) Bayless died peacefully in her sleep Oct. 7, 2020, in Seattle. She was 97. 
Fam was born Aug. 31, 1923, in the Quaker farming village of Lincoln, in Loudon County, Va., the youngest of five children of William Thomas Smith and Bertha Pancoast Smith. They were members of the Goose Creek Friends Meetinghouse in Lincoln. 
She attended George School in Newton, PA, Oberlin College, University of North Carolina, Chapel Hill, and the University of Wisconsin, Madison, where she met Alec Cleveland Bayless. They married in 1949 and lived for many years on Mercer Island, Wash.
Once their children were off on their own, she and Alec became frequent travelers, with trips to England, France, Spain, Italy, Turkey, Egypt, South Africa, Botswana, Peru, the Amazon, Mexico, Costa Rica, Guatemala, Jamaica, the Galapagos, China, and Papua New Guinea. Fam's penchant for foreign places continued after Alec's death in 1991, including a trip to Morocco with her good friends Ann Ditmar, Julie Martin, and Ruth von Goertz. 
Long interested in cooking and entertaining, she and Alec spent time at culinary institutes in Paris and Rome in the '70s and '80s. 
Fam was a member of the League of Women Voters and a board member of the Seattle branch of Planned Parenthood, who honored her in 1998 for "decades of dedication to reproductive choice." 
She was a member of the Seattle Public Library Foundation, and was a co-owner of Island Books on Mercer Island, where she managed the children's book department. Even though as a child she experienced reading difficulties due to dyslexia, Fam became an avid reader and a member of several book groups.  
Fam is survived by four children: Hayne Bayless of Ivoryton, Conn.; Marcia Wanderer of Portland, Ore.; Julie Bayless of Hayward, Calif.; and Edward Bayless of Seattle; two grandchildren: Matthew Wanderer of Old Greenwich, Conn., and Emily Wanderer of San Jose, Calif.; and three great grandchildren: Jack, Paige, and Taylor Wanderer. 
Fam is predeceased by her husband, Alec Bayless, and her siblings: Becky Smith, Ed Smith, Eleanor Smith, and Esther Bennett. 
Memorial contributions may be made to Planned Parenthood of Seattle, the Seattle Public Library, and the American Civil Liberties Union of Washington. 
A memorial will be held at a later date. Funeral arrangements are by the Co-op Funeral Home of People's Memorial. 
---
Comments
---