Karen Irene Millward
1945 - September 18th, 2023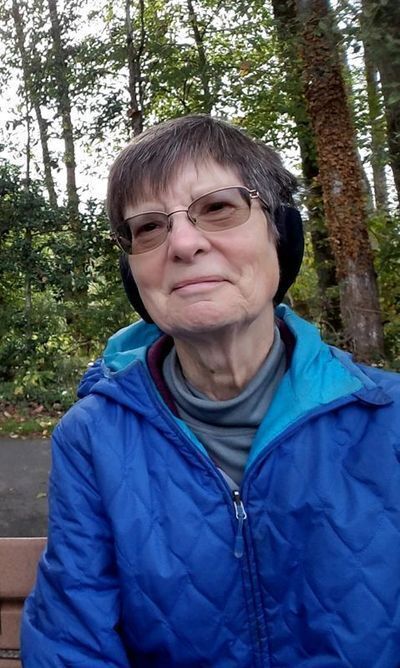 Karen Irene Millward passed away peacefully in her home on September 18, 2023. She is survived by her brother Paul Stenoien and her sister Deborah Stenoien.
Karen was born in Spokane, Washington in 1945.  In 1948 the family moved to Seattle. Except for a brief stint in Washington DC, Seattle was Karen's home for the rest of her life. She graduated Magna Cum Laude from The University of Washington with a Batchelor's Degree in Communications. Karen retired in 2012 after forty-six years with The Boeing Company.
From a very early age, reading was one of Karen's favorite activities. When they were kids, Karen and her brother would take the bus downtown to The Seattle Public Library every Saturday to check out books. On the way home they would stop at The Pike Place Market for a treat; usually donut holes. Books and reading continued to be great sources of pleasure for Karen during the remainder of her life.
Karen loved music. She took voice lessons for many years and was a stalwart member of the choir at Faith Lutheran Church. Karen supported the Seattle Symphony and the Seattle Opera House for many years. She wasn't just interested in classical music however and she introduced both her siblings to folk music. In the late 1960's, small folk concerts were held at coffeehouses on "The Ave" and Karen went to many of these concerts and sang at some of them as well.
Hiking and birding were also some of her favorite activities. Karen started hiking with her sister in 1970 and that year they went hiking every weekend for an entire summer. Karen continued hiking into her seventies. A 'lifer' bird for Karen was a Swallow-tailed Gull. A bird native to the Galapagos Islands that somehow hitched its way to Edmonds.
After her parents' divorce, Karen was an important source of guidance and support for her younger siblings.  It's hard to believe she's gone.
---
Comments
It is so hard to believe you are gone. It was not too many days ago that we last traded emails and text messages. I so wish we would have had more time. I am certain Jesus was waiting for you when you arrived in Heaven and that the birds were singing and the mountains were calling to you. Thank you for being you. We love you and we will miss you.
Melanie, Trevor, and Rachel
---
So sorry for your loss Debbie and Paul I feel like I just talked to her. But I guess it was in July. Karen will be missed by many. I will miss her phone calls and emails.
Marion Perrin
---
Thank you, Paul, for letting us know of Karen's death. My sympathies to you and all your family. Karen was so good to keep in touch with her Minneapolis cousins. Blessed be her memory.❤️
Martha Gisselquist
---
This is a great loss for me. Karen and I were musicians at University Lutheran where she attended before Faith Lutheran. We meet once a year to catch up. I knew of her health issues but they seemed to escalate as time went on. I just want to shake her and say," Wake up Karen, don't leave me before we can say goodbye!" We shared birthday month and would meet for lunch. Last time was at my house. I just cannot believe it. Now there is an empty space in me. She did love Jesus and her spirit is safe with God until she is united with her new body, as she proclaimed often in the Apostle's Creed. Thank you Paul for your note to tell me.
Sue Gregory
---
Karen was not only my boss (and signed her missives "your ex-Boss or YEB" she was a good friend. Rest in Peace, YEB. You are sorely missed. YEE I already miss hearing about your walks and hikes and what birds you saw. Hugs.
Lenora R. Good, your ex-Employee
---
I worked side-by-side with Karen for several years back in the 90s and she traveled with me and my husband to Spain and Portugal. She was, of course, the Don Quixote expert on the trip. We have continued to be in touch over the years and while I knew of Karen's health issues, it was still surprising to hear that she passed. Sending condolences to both of you, Paul and Debbie, and appreciate you sending the card.
Nadine Rosendin
---
I was quite taken aback to hear the news of Karen's death. Shortly before we last we spoke she had received good news from a medical procedure. We have a history that goes back to the 1970's when we were in choir together at University Lutheran. She was a music mentor to me and we sang several duets together. We've stayed in contact through visits, letters and emails over the years, as well as exchanging Christmas and birthday presents. I will miss her. I know she is now worshiping the Lord in heaven and singing with the finest choir ever. Thank you, Paul, for sending your card. My heart goes out to both you and Debbie in the loss of your sister.

Barbara Brown
---
Karen and I met while attending a group voice lesson in Washington, DC. During introductions we found we lived in the same Apartment Complex in VA. We became good friends and I was sorry to see her move back to Seattle. I flew out to see her a few years later and she took me on a grand tour of Washington, State. She flew to Virginia to visit with me when my son was born. Karen's was the first Christmas card I received every year for all these many years. I miss you Karen!
Thank you Paul for letting me know.
My Condolences to you and Debbie.

Shirley Trivette
---
Karen and I worked together for many years at Boeing. We kept in touch after we retired. She was talented at many things. My two dogs, Poncho and Silver loved to tease her. God bless her and her family. She will be missed. Darlene and Jim Pellegrino.
---
Karen and I sang in choir at University Lutheran Church so many years ago. We enjoyed getting together for a meal, either in a restaurant or each other's homes. We'd usually get together about once a year, but always kept in touch. I was thinking of her a lot the past few months, and that it's time we plan another get-together when I received Paul's note of her passing. I will miss those times, but I know she's safely at Home in the arms of our Loving Savior. Rest in His Care, my friend.

I grieve with you, Paul and Debbie.

Marilyn Iverson
---