Ursula H. Southerton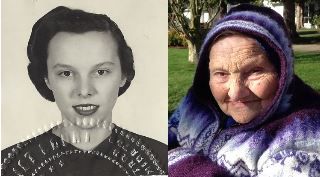 Beloved Wife, Mother and Grandmother
Mom was born on March 3, 1926 in Erfurt, Germany and died peacefully on July 28, 2016 at age 90 in Seattle, WA. She was welcomed into eternal life by LeRoy, her loving and beloved husband of 54 years, her parents Hugo and Elizabeth, sister Alvera and son Bernie. Her surviving children are Tom (Sue), Gary (David) and Patsy. Her daughters in law Margo (Allen) Spiering and Susan (Chris) Southerton will also miss her. She has ten grandchildren, Matthew, Paul, Tim, Byron, Katie, Megan, Theresa, Keegan, Tamra and Connor and three great grandchildren Oscar, Mauricio and Kimberly. Her nephew Joe (Betsy) and their children Brian and Brandon will also miss her.
Mom was a very generous person and gifted all those around her with the profound knowledge that they were loved. She had a deep and abiding faith and was a powerful person of prayer. She was a devout Roman Catholic and attended daily and Sunday Mass for many, many years. She was a member of St. John's Parish in Seattle. She loved to read and was especially interested in books about nutrition, prayer, saints and angels. She also enjoyed crocheting making scarves for literally everyone she met. She opened her home for extended periods to several people who needed a nurturing environment until they were ready to move on, much better as a result of Ursula's loving care.
We will remember and give thanks to God for her long life on Saturday, August 20, 2016 at a memorial service beginning at 11am. This will take place at Broadview Community United Church of Christ, where her son is the pastor. It is located at 325 N. 125th Street, Seattle, WA 98133. A reception will follow in the church hall. Burial will take place at Holyrood Cemetery later in the afternoon.
Our family wishes to thank all who have prayed for Mom and expressed their heartfelt sympathy to our family. Special thanks goes to the staff at Foss Home and Village who made the last years of her life so wonderful. We also wish to thank the medical providers at Northwest Hospital, Evergreen Hospice and all who visited her in her final years. May God bless you abundantly! In lieu of flowers, remembrances may be made to St. John's Catholic School, 120 N. 79th Street, WA 98103 or Broadview Community United Church of Christ, 325 N. 125th Street, Seattle, WA 98133.
---
Comments
Ursula and her family are in my prayers. May the angels lead her into Paradise.
Steve Sallis
---
Ursula will be sorely missed. She was a good neighbor and all around good person. My prayers and special memories are sent to her family.
Ida Dearinger
---
Ursula was such a special friend and her family very dear to me for many years.
I will miss our weekly visits, our faith sharing, our interest in reading, and our love of family..They were true exercises in JOY for me.
She will join her dear sister-in-law Camille Nevi, another "Good and Faithful
servant of the Lord.: They will have some catching up to do.
Loretta Fletcher
---
Eternal rest grant unto Ursula,O Lord. My prayers for her and her family.
Gary Morelli
---