Kai Reid Shimizu Johnson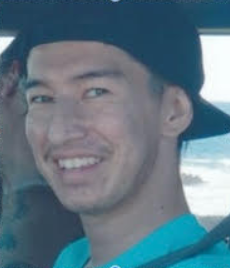 Kai Reid Shimizu Johnson broke the ties of his earthly life on December 27, 2018 at the tender age of 25. Despite years of battling the effects of Marfan's syndrome, a genetic disease, born December 1, 1993, Kai lived fiercely and fully. He wore his signature ball caps backwards. He was a good confident and keeper of secrets. He was tender. He was a master of satire. And he played a masterful game of Hanafuda cards.
He attended Bainbridge High School and graduated from Shelton High School. In school, he was encouraged to take an auto shop class where he discovered his love of autos, jeeps and trucks. At graduation in 2012, he was given a Mazda b3000 dubbed the Purple Panda. The ensuing years were spent "improving" the Purple Panda. The improvements included vastly increasing the height of the truck from the ground. He enjoyed off-roading jaunts at the Bon Jon pass followed by bonfires with his friends.
He was a brother in the Relentless Car Club and continued to embrace new friends wherever he went.
He was known for his big heart and could be counted on to help friends, neighbors and his family at Newlife. However, it was his physical heart that became problematic. Kai was diagnosed with Marfan's syndrome as a preteen. At sixteen, he underwent heart valve replacement surgery. At 22, he welcomed the birth of his son, Mason, and only weeks later received a heart transplant at the University of Washington Medical Center.
Kai had deep family roots in Hilo, Hawaii and his happiest times were spent on the Big Island. In his final weeks, he returned to Big Island for three weeks where he celebrated his 25 th birthday with his son and mother, family, and friends. Shortly after returning to Poulsbo, he was hospitalized at the UW Medical Center. Family, friends, and hospital staff were with him and his mother was singing to him as he quietly slipped away.
A Celebration of Life will be at the Restore Church, 20081 Viking Way, Poulsbo, WA on Saturday, January 26 at 1 PM. In lieu of flowers, please make a tax deductible donations to the Marfan Foundation at Marfan.org or UW Medicine Cardiology Research Fund. Checks can be made payable to UW Foundation and mailed to UW Medicine Advancement, Box 358045, University of Washington, Seattle, WA 98105-9950. Online gifts can be made at https:// www.acceleratemed.org/give/?source=CARRES.
Kai's son, parents, maternal grandmother, brothers, sisters, cousins, his many friends and colleagues will miss him but are happy he has been released from further pain. As his mother texted friends, Kai "has gone four wheeling with Jesus".
Kai is survived by his father Reid (Elise) Johnson, brothers Matt Smith and Mark Smith; by his mother Lindy (Steve) Belcher, sisters Amber Belcher and Lindsey Belcher; his son Mason and Caleigh Munoz.
---
Comments
Lindy, I was saddened to read about Kai's passing, my condolences to you and your family.
Rita (Kuehn) Sinclair
---
To Reid and Elise, Lindy and Steve all the families of Kai, Kathy and I wish for you comfort at this difficult time. We're sure Kai is off to his next adventure with all of you in his heart and soul.
Chris and Kathy Scheller
---
Lindy, I just found about Kai. I am so sorry that you lost that sweet boy. He was always so cute and such a nice person.
Rose Saunders
---