June Mack Motin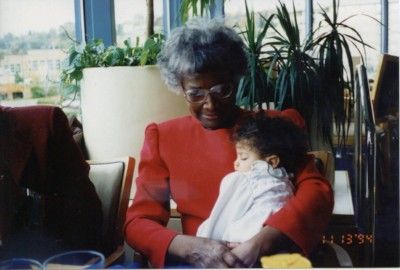 "My heart broke when I found out my grandmother had passed away this morning. As a well-respected teacher, she made a difference in the lives of countless children and adults, and she prepared me for the real world in a way no one else had. She taught me how to read, cook, listen to others and love patiently. I will carry her lessons with me as I continue my transition into that world. I wish that she could have seen me now, but I can only thank God for the time we had and pray that one day I'll see her again. Rest in Paradise June Motin, I love you."
-    By Shelby Allegra Goff on June 15, 2017
June Mack Motin came into the world on April 24, 1923 as the daughter of Mayme and Pearl W. (P.W.) Mack and sister to Frances Cave and P.W. Mack in Topeka, Kansas. After a long struggle with Alzheimer's disease, she passed peacefully on June 15, 2017. 
June married James Anthony Motin in 1951; they moved to Seattle in 1953, and later to Mercer Island. She lost a son, James Alan, to sickle cell anemia in 1979. Surviving children are Lisa Motin Starke and Galen Motin Crawford (formerly Goff). June was the proud grandmother of Galen's children, Shelby Allegra and Jameson Alan Goff.
 
In addition to her husband, daughters and grandchildren, survivors include son-in-law Kenneth Crawford; nieces LaVerne Marie Cave, Brooklyn, NY, and Rene Williams (and husband, Raymond), Port Townsend, Wash. Her three nephews are Herbert Cave, NY; Gary Mack, Alaska; and William Mack (Jane) Bonney Lake, Wash. Great nieces are Marie Grace Cave, Brooklyn; Cheyenne Cave, Brooklyn; and great nephews Taylor, Joey and Christian Mack of Bonney Lake. Her lifelong friend Barbara Tillmon (Edward) of Santa Monica, Calif. also survives her.
June devoted her life to raising her family and teaching for Seattle Public Schools. Her career path began after she received her bachelor's degree from the University of Kansas, Laurence, Kansas; a master's from Colorado State College of Education (now Northwestern University of Colorado), Greedy, Colorado; and librarianship credentials from the University of Washington, where she especially enjoyed storytelling under the late Professor Spencer G. Shaw, who became a lifelong friend. 
Recognized early on as an outstanding primary teacher, June was the first African American in Seattle appointed as a Helping Teacher for beginning primary teachers in the district. Her 25 years in Seattle Public Schools included serving for many years as an elementary school librarian.
Always keenly aware of and interested in meeting the needs of children, June was an active member of Madrona Presbyterian Church, where she served as a tutor, choir member, deacon and storyteller. She volunteered with the Medina Children's Service and served on the Washington State Bar Disciplinary Board. As a member of Delta Sigma Theta, June co-authored the sorority's sweetheart song. She was also an active member of the Greater Seattle Chapter of The Links, Inc. (25 years), Jack and Jill, the N.A.A.C.P., and the Central Area Senior Center. As the spouse of one of Boeing's first African American engineers, she was among the founders of the Engineer's Wives' Club. 
James, Galen and Lisa are grateful beyond words for the wonderful, loving care June received the past three years from Helen, Esther, Angie, Joey, Amor, Cheryl, Tess and others at Magnolia Home Care. We thank them for daily blessing mom and our entire family. We'd also like to thank Providence Hospice of Seattle for helping bring peace and ease to mom's final weeks. 
A celebration of the life of June Mack Motin will take place Saturday, July 15, at 3 p.m., at Madrona Grace Presbyterian Church, 832 32nd Avenue, Seattle, Wash. 98122. Interment will take place prior to the memorial service at Tahoma National Cemetery.
When June drafted this obituary more than 15 years ago, she asked that those wishing to honor her life donate in her name to Madrona Grace Presbyterian Church.
---
Comments
My mom, Gerry Longton, was a friend of June's. (My mom passed away after years of dementia 6 years ago). My mom became a friend of June's when they worked together in Seattle elementary schools in the 70's. My mom taught ESL at several different Seattle schools, so I don't remember where they worked together, but I remember mom saying that June was the librarian - maybe Bryant Elementary? or TT Minor? I know they also played tennis together occasionally when they both lived on Mercer Island in the 70's. Although I'm sure my mom wasn't a great tennis player, I know she always looked forward to getting together with June. My mom always talked so glowingly of June -- sharing that she was kind, warm, accomplished, a real role model. And reading her obituary, I can see she truly was a role model, and so involved in the community in so many ways! I'm sure she will be greatly missed. Just want to let you know I am thinking about you all as you honor your wife/mom. Sincerely, Nancy (Longton) Greer
Nancy (Longton) Greer
---
June was also a member of Delta Sigma Theta Sorority, Inc. She was a true Delta and left this 104 year old organization a lasting legacy. She co-authored the sorority's Sweetheart Song. This song is performed by members whenever there is a celebration for a sister: weddings, graduations, and birthdays. Heartfelt sympathy to Lisa (also a Delta) and family.
- Victoria E. Romero
---
My sincere condolences to the entire family and legacy of our dear departed Soror. Thank you Soror for laying the foundation for Soror like myself and your gift will forever be special to me. Rest on my Dear Soror till we meet again.
Tiffany Williams
---
My Dear Soror Motin,
I never got a chance to meet you but your love and compassion rest heavily in our beloved Sweetheart Song. That song is sung by hundreds of thousands of Delta Women celebrating monumental times in their lives. As co-author that means a snap shot of your essence is right there celebrating and honoring your Sorority Sister. The memories of my wedding day and our beautiful sorority sisters circling me and singing the Sweetheart Song...tears of joy flowing down my face (priceless), so special...thank you. Your life was beautiful and we honor your memory. Rest in God's Arms Soror Motin.
Soror Wilda White Delta Sigma Theta Sorority, Inc. Los Angeles Alumnae Chapter
---
I am eternally grateful for the life and legacy of Soror June Motin. Prior to graduating from high school I had the opportunity to hear the "Sweetheart Song". At that time I fell in love with it. After pledging Delta Sigma Theta Sorority (1964) I cannot count the numerous time I have sung and played (keyboards) this so loved and cherished song (local events, Regional Conferences, National Conventions, etc.) in addition to having be seranaded with it a few times. It will forever resound in the hearts and memories of Deltas worldwide. My heartfelt prayers and condolences are extended to your biological family and to our Delta sorors.
Sleep on Soror June,
Carolyn Kimble-Singleton, Director
Los Angeles Alumnae Chapter
Delta Choraliers
Successor to the late Soror Danellen Joseph
---