Geraldine (Jerry) Evalyn Rutherford
May 1922 – January 2022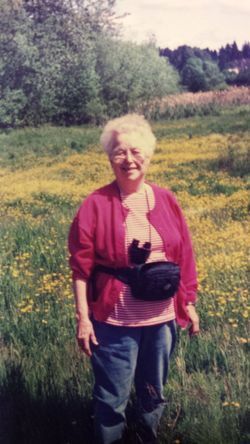 Jerry Rutherford of Bothell, Washington, passed away peacefully at Evergreen Hospital, a few months short of her one-hundredth birthday. Jerry was born to Henry and Helen Schillreff in Seattle, Washington, where she attended Oak Lake School through eighth grade, Queen Anne High School and the University of Washington. She is survived by her two children, Bonnie Marie Rutherford and Kerry Rutherford, and by her grandchild, Flux Rutherford.
Music was a big part of her life beginning as a child she sang with her sister, Shirley. They sang on radio KOL on the Al Pierce Show when her sister was four and Jerry was eight years old. They also harmonized as a duet on Uncle Frank's Children's Hour on Radio KOMO/KJR in Seattle. Adding another friend the trio sang at Queen Anne High School, later singing with a dance band. Jerry sang for over 60 years in the choir at Kirkland Congregational United Church of Christ. After her husband, Ron, passed Jerry moved to the Chateau at Bothell Landing where she continued to sing with the Chateau Singers.
Jerry always enjoyed writing and became the Juanita Reporter for the first East Side Journal for over 12 years, doing publicity for Juanita Improvement Club, Juanita School, as well as writing feature stories. The Kirkland Library asked her to give monthly seminars on the history of Juanita, which she did for several years. Jerry donated most of her information and articles to the Kirkland Heritage Society. She wrote for her church newsletter and later contributed to the Chateau newsletter.
Jerry worked for ten years at Simpson building Supply, starting as a receptionist and eventually becoming the first woman in sales in the company. After retiring with a small pension, Jerry decided she wanted to travel and joined the original Elderhostel program, attending 22 courses in the U.S., Mexico, and Canada, studying water color painting, folk dancing, singing, visiting historical sites and the covered bridges in Indiana. Jerry became one of Elderhostel's local Ambassadors and gave seminars in the greater Seattle area.
A celebration of her life is tentatively planned for mid-May near what would have been her 100th birthday. In lieu of flowers Jerry asked that donations be made in her name to her favorite nonprofit, North Cascades Institute: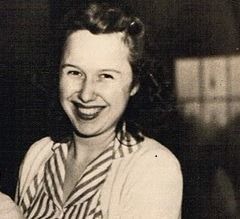 Online at:  
https://ncascades.org/support
Or mail: 
North Cascades Institute
810 State Route 20
Sedro-Woolley, WA 98284
---
Comments
I knew Jerry through our church since I was a young child. She was always involved. In church activities, the community and in people's lives. You always knew Jerry was in the room because she had a presence about her that just made you feel she cared. Not afraid to share her opinion and receptive of others. So very generous. The world is a better place because Jerry made the effort to do her part to ensure that. It's been an honor to know her and have her in our lives. You will be missed Jerry.
All our Love.
Michael & Lynne Gaskill
---
I love Jerry. She was the best
Ahmed Shahin
---