Evelyn Schellenberg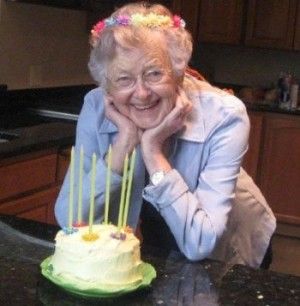 Evelyn Schellenberg passed away on April 1, 2017 in Shoreline, WA. She would have been 97 in July. She and her husband George Schellenberg were married for 57 years and made the Seattle area their home after spending some years in Manitoba, Vancouver, BC, New York, and New Jersey. Evelyn was preceded in death by George (2001), her sister Norma Bond, and brother Cecile Braun. She is survived by sister Maxine Brokofsky, brother Bob Braun, daughter JoAnne McClure (Terry), daughter Glenda Polwarth (John), grandchildren Robert Wilson (Dani), Mike Wilson (Marci), Nancy Schuermann (Michael), John Polwarth Jr, and Christina Polwarth. She is also survived by great granddaughters Morgan, Kenzie, Sidnee Shea, and great grandson Mitchell. She had a wonderful sense of humor, was a terrific mother & grandmother and a devoted & loving wife to George. She had a rich life and was surrounded by many much-loved friends and family. She will be greatly missed.
 
There will be a celebration of her life at a yet to be determined date.
---
Comments
Oh Mom, I miss you so much. I have so many wonderful memories from my childhood & have been so blessed to have you & Dad as my parents. One of my favorite memories was walking the beach with you & Dad at Cannon Beach. I loved you so much then & I love you just as much now. You will never be forgotten.
JoAnne
---
Dear Evelyn, I got a chance to meet you through your daughter's eyes and memories of you. JoAnne is the reflection of your love, your spirit and hard as nails when needs be. Thank you ever so much for giving me the love of a friend and person that has made my life richer with her around. Again Evelyn, thank you for giving me your daughter.
Kelly Glen
---
Same as Kelly; but my husband and I also had the privilege of having lunch and spending an afternoon with her and JoAnne at the Schellenberg home. So glad I got to meet Nana. What a lady! They dont make em like that anymore!!! Beautiful picture of Nana. My condolences to all especially to Rob and Mike.
Paula Nitsche
---
We had the good fortune of living next door to George and Evelyn... for many decades. The Schellenbergs were the greatest neighbors ever!! Evelyn lived life fully... surrounded by children, grandchildren, great-grandchildren, her travel club, friends... and neighbors who flocked to her house for wine and laughter. In fact, there was often laughter floating up from the picnic table in the backyard, or the lawn chairs out front. Such a comforting sound! Evelyn was funny, sociable, resilient, smart, a worrier, comforting, lively, caring... and we cannot even express how much we will miss her. She was a substitute grandmother for our son, Jason, who played in her basement. She was Heather's "other mother." She spent nearly every Halloween with us for the past 20 years, receiving trick or treaters. How lucky were we to live next door? And then to have a delightful year with her dear granddaughter, Christina, as our next-generation Schellenberg neighbor? We will miss Evelyn so much, but we have the fondest of memories.
Heather and James ("Luke") Olson
---
I will always remember "Mrs. Schellenberg" for her sense of humor, laughter, and her making me feel like I was a family member. There is nothing Glenda and I liked better than to raid the freezer and eat all of her Christmas cookies. Of course, we were always caught and she would say with a big grin on her face "you darn kids". Evelyn always welcomed me for dinner and where she was an excellent cook, it was the endless hours we spent sitting at the kitchen table visiting that I will remember most. She was always full of fun and gave such wonderful parties when their friends would come for the weekend. She was a true classy lady, but had a bit of mischief in her that always seem to surface when Ray and Audrey arrived. She was a devoted wife and mother and she certainly enriched my life. I will miss her always and remember how special she always made me feel. Love, Priscilla
Priscilla Crutcher
---
Aunt Ev was truly a great lady in every sense of the word. Everyone​ who had the fortune to know her loved her. It didn't matter how old or young. She will be so missed. My love to your family. So many great memories.
Janine
---
I am grateful to have been able to spend 69 years with my mother. I will miss seeing her every week and all the wonderful times spent with her at our house on the Columbia River with family and friends. She lived an incredible life and was a truly remarkable person. I am very sad to lose her. Glenda
Glenda Polwarth
---
To Evelyn's Family, we had the pleasure of meeting Evelyn through George's employment at Family Life Insurance Company. We spent several evenings--over cocktails--in their home where they had the knack of making us feel so very welcome. Dave and George had a close working relationship--almost a father-son relationship. Evelyn was famous at Family Life for her FUDGE which George would bring in every Christmas season. We hope someone has that recipe as Dave still talks about it and I'm afraid my recipe doesn't measure up! We always enjoyed Evelyn's sense of humor--especially stories of raising two delightful daughters. The picture above says volumes--that's how we think of her. We will always have fond memories of Evelyn. We know you have so many cherished memories of this lovely lady. Our sympathies to the entire family as you grieve but celebrate a rich and long life, well lived.
Dave and Lila Johnson, Mill Creek, WA
---
Glenda, as you may recall, your dad hired me at Milliman & Robertson, as we both began our careers in computers. I remember George for the glee in his eyes, and his enthusiasm and sense of humor. I knew your mother not as well firsthand, but in the grace and spunk of you! I remember a shower at your parents' house (perhaps a bridal shower for you?). And I remember the joy of your wedding. It was the happiest wedding I've ever attended! I wish you peace and comfort as you and your family mourn her passing, and remember the good memories of your time together.
Leslie Millspaugh
---
As a kid I always looked forward to your visits . You will always be remembered with smiles and laughter.
Kevin & Connie, Courtlyn,Logan,Paige Brokofsky
---
In my younger years, Ev. was more of a mother to me as she reminded me many times about looking after me as I was born with a broken arm. But as we grew older we became close friends and loved visits either at her place or mine. George ,Ev.,Elmer & I have lots of great memories of places we went & things we did, always lots of fun....Also many good times with the girls & still hope to continue. Will miss going to visit her but so glad I took my granddaughter with me last year & had a fun visit. I was planning to go again this year. We are so glad Ev. got to live her life to the fullest... no suffering! CHEERS!
Elmer & Maxine.
---
JoAnne and Glenda, our deepest sympathies on your mom's passing. No matter how old or how expected, it still hurts. Hopefully as time goes on, you can take comfort in all the terrific memories of one of the greatest people I have ever known. And comfort in the fact that she went out on her terms. It was always an event when Uncle George and Aunt Ev would visit us in Vancouver, or when we went down to Seattle to spend the weekend. The memories are thick....playing cards, Ray's ribs, Ev's crab dinners, the 4 of them drinking bloody marys in the morning, and SO MUCH laughter. I've enjoyed reading all the posts, as even in passing Ev is bringing people together. A wonderful lady, and a truly wonderful life!
    
Gary and Tracy Kandborg
---
My father and mother were lucky enough to have chosen a house next door to George and Evelyn over forty years ago. I think they must have been a great comfort to them, and somewhat like parental figures as well. My mother told me that as a baby I had a thing for blondes and couldn't seem to get enough of Glenda, and much to everyone's delight I would light up when she was near. I later developed a crush on George and Ev's granddaughter, Nancy, and thought everything she did was very cool. This was all under the roof of one of the most fun and hospitable roofs that I can remember. I loved George and Ev's laughs. I loved how George liked bourbon. I loved Ev's outfits, and broaches, and how she always put herself together so nicely. Later, when my parents separated, I am sure George and Ev were a comfort to me and my Dad as we forged ahead as bachelors. And when Dad married Heather they welcomed her with the warmth and interest. They still remained friendly with my mom as well. I am so glad Evelyn had so much love around her as she moved on from this life and into the next. I am only sad I didn't get to say goodbye to her. Her love and character had a profound effect on my family, and me as a person. I will never forget her and her sense of style and humor will live on in me, much like it will in her family. We are so fortunate George and Ev were our neighbors and friends.
Jason Olson
---
What a wonderful woman Auntie Ev was. We have so many special memories that will never be forgotten. We loved her and will miss her. Kevin, Nola, Rheannon, Cody
Nola Akister
---
Lovely Nana.... There is not enough space here to say how much this special lady means to us or how lucky we were to have her in our lives. We will miss you every day.❤️❤️❤️ Rob, Dani and Morgan Wilson
Dani Wilson
---
Auntie Evelyn was a very special person to me,apparently she chose my name which I didn't like at one time but got over that. When I got my first job I took Mom to Seattle to visit, then Grant and I went there on our honeymoon and When I was pregnant with Brent we went to see them again. In 1986 Grant, myself and the boys went to Expo in Vancouver and then down to visit Auntie Ev and Uncle George. We also had many great times when they came to Lucky Lake to visit . You had a great life Auntie Ev and now you, Mom and Uncle Cecil are back together. Love Valerie and Grant Millar
Valerie Millar
---
I always liked Aunt Evelyn for her gracious attitude towards all the cousins at our Schellenberg family reunions. I'll always cherish her sense of humour during our long phone calls, when she told me interesting things I'd never heard about the Schellenberg family. She loved to open up about family history with intriguing little stories, like how she & George met by accident at his brother Jake's and hit it off right away, despite (or maybe because of) some insulting first words from George. She talked about their first date and how she pretended to like smoking (the fad for women back then). She never seemed to have a mean streak or hold anything against the relatives when she discussed them. And like everyone who knew her, I wished I'd talked to her more than I did.
-Bruce Schellenberg, on behalf of the Bill Schellenberg family
---